The best Bluetooth speakers on the market can get pricey, but you don't need to spend a fortune to get great sound quality in a portable package. Sony's budget-friendly Bluetooth speaker just got a price cut over at Amazon.
The Sony SRS-XB100 Bluetooth speaker is on sale for $48 at Amazon right now. It's now $12 off, and the lowest I've ever seen this model go for. Best Buy also sells the speaker for $49.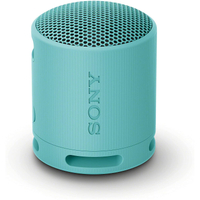 Sony SRS-XB100 Bluetooth Speaker: was $59 now $48 @ Amazon
Lowest price: The Sony SRS-XB100 is one of the best cheap Bluetooth speakers we've tested. In our Sony SRS-XB100 review, we praised its strong sound quality, portable design, and long battery life. It offers a playback range of 131 feet and is IP67 rated against sun, sand, rain, and accidental submersion. The Sony SRS-XB100 is at its lowest price ever right now.
Price check: $49 @ Best Buy
The Sony SRS-XB100 holds a spot on our list of the best cheap Bluetooth speakers, and it's easy to see why. In our Sony SRS-XB100 review, we had almost nothing but praise for this device.
The Sony SRS-XB100's setup includes a small driver, passive radiator and sound diffusion processor, which come together to create an awesome audio experience. We heard nuanced, detailed sound without any tinniness you might expect from a cheap Bluetooth speaker. Even in noisy environments, like a windy day on the beach, the SRS-XB100 still carried sound well. Plus, if you decide to pick up two SRS-XB100 speakers, you can stereo-pair them together to imitate a surround sound experience.
The Sony SRS-XB100's sound quality is especially impressive considering its size. Measuring 3.43 x 4.41-inches and weighing 9.7 ounces, this speaker is seriously portable and can be taken with you anywhere you go. A carrying strap is included and the speaker comes in a range of fun colors.
Potentially the best aspect of the Sony SRS-XB100 is its long battery life. It's rated for 16 hours of listening time, which we found to be accurate in our tests. If you use it for a couple of hours a day, you could go for more than a week without having to charge it. However, the SRS-XB100 takes a lengthy 4.5 hours to fully charge, and the included charging cable is a little short for our liking.
It's hard to find such a great Bluetooth speaker in this price range, so make sure to snap up this deal before it's gone. If you're hungry for more sales, check out our Amazon deals coverage.