It's actually been possible to buy a Steam Deck in Australia for a while now, but due to the lack of an official local release, Aussie punters have had no choice but to pay a fair bit extra from third-party sellers.
But what if we told you that for today only, you could buy one of these imported Steam Decks for roughly the cost as buying one directly from Valve? Well, thanks to the eBay Plus Weekend 2023 sales event, you can do just that!
In US currency, Valve's entry-level 64GB model Steam Deck is priced at $399. Converted into Australian dollars, and with GST applied, that works out to around AU$665 — and that's before factoring in shipping and freight forwarding costs.
As such, the fact that eBay Plus members can purchase Valve's entry-level 64GB model Steam Deck right now from a local seller for for AU$659 makes it pretty tempting — that's a huge discount on this seller's usual price of AU$897.
And simply put, it also easily makes it the cheapest Steam Deck price we've seen in Australia. To take advantage of this fantastic price, all you need to do is sign up for a 30-day free trial of eBay Plus and use the coupon code PWEDOCK at checkout.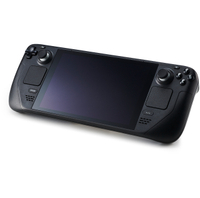 Steam Deck 64GB model | AU$897 AU$659 @ eBay
Sick of waiting for Valve's Steam Deck to officially release in Australia? You may want to consider this excellent offer for eBay Plus members. Get the 64GB model Steam Deck for just AU$897 AU$659 when you use the coupon code PWEDOCK at checkout. With price conversion and GST, that's roughly equivalent to buying direct from Valve (which you can't even really do).
Is 64GB of storage enough?
Admittedly, 64GB of onboard storage isn't much — especially when the file sizes of many triple-A games these days have been known to reach 100GB and beyond.
Thankfully, it's actually much cheaper to simply install an SSD into a Steam Deck than it is to buy a larger storage option. For instance, a compatible 1TB Western Digital NVMe M.2 SSD costs just AU$133.
Combined with the cost of the 64GB Steam Deck in the deal above, that works out to around AU$790. That's a far better price than the AU$1,250 or more that an imported 512GB model will set you back in Australia — and you'll end up with twice the storage space, too!
Better hurry, though — this Steam Deck deal is only valid until 11:59pm (AEST) tonight (Sunday, May 28) or until stock is exhausted.
More from Tom's Guide