The Asus ROG Ally is here to take on the Steam Deck. This new Windows 11 handheld features better specs than Valve's machine, including a 1080p 120Hz display and the new AMD Ryzen Z1 Extreme chip. It can also play Windows-compatible games right out of the box.
We've tested both systems and found them good enough to include in our best handheld gaming consoles list. They're both great for playing the best PC games on the go. But how do they compare against one another? Below, we'll go over what each machine has to offer to help you decide which one to get.
Asus ROG Ally vs Steam Deck: Specs
Swipe to scroll horizontally
| Header Cell - Column 0 | Asus ROG Ally | Steam Deck |
| --- | --- | --- |
| Price | $699 ($600 model coming Q3 2023) | $399 to start, $649 for 512GB model |
| Chipset | AMD Ryzen Z1 Extreme | Custom AMD Zen 2 APU |
| Storage | 512GB | 64 - 512GB |
| OS | Windows 11 | SteamOS |
| Display | 7-inch 1080p LCD touchscreen @ 120Hz | 7-inch 720p LCD touchscreen @ 60Hz |
| Ports | 1x USB-C port, 1x PCIe port, 1x headphone jack | 1 USB-C, 1 3.5 mm audio jack, 1 microSD card reader |
| Size | 11.0 x 4.4 x 0.5 inches | 11.73 x 4.6 x 1.93 inches |
| Weight | 1.3 pounds | 1.47 pounds |
| Battery life | 1 hour 43 mins (tested) | 1 hour 40 minutes (tested) |
Asus ROG Ally vs Steam Deck: Price
The Asus ROG Ally costs more than the Steam Deck but not by an exorbitant amount. Asus' handheld is available now for $699 at Best Buy. This configuration packs a 7-inch 120Hz 1080p LCD display, an AMD Ryzen Z1 Extreme APU, 16GB of RAM and 512GB of SSD storage. A $599 configuration with an AMD Ryzen Z1 chip is also listed on Best Buy and is expected sometime in Q3 2023.
The Steam Deck has three models, though the only difference between them is their respective storage sizes and displays. Storage options include 64GB for $399, 256GB for $529 and 512GB for $649. The latter model also has an anti-glare etched-glass display. All configurations come with a black carrying case that has a Steam Deck logo on top. The $649 unit's carrying case has gray lining on the inside and also comes with a cleaning cloth.
Right now, the ROG Ally costs $50 more than the Steam Deck with 512GB of storage. If you want to keep the Ally protected, you'll also need to spend another $39 for the Asus ROG Ally travel case. In the end, the Steam Deck is the more affordable option even if you get the high-end model.
Asus ROG Ally vs Steam Deck: Design
The ROG Ally and Steam Deck share similar features but there are important differences between the two.
The ROG Ally has an all-white design that distinguishes it from the all-black Steam Deck. RGB lighting underneath the two analog sticks is another feature the Steam Deck lacks. With that said, the Ally lacks the Steam Deck's touchpads — which is one of the handheld's most prominent features. Both systems have four face buttons, two analog sticks, a d-pad and four small buttons used for navigating through their respective User Interfaces. The Ally has two back buttons whereas the Steam Deck has four.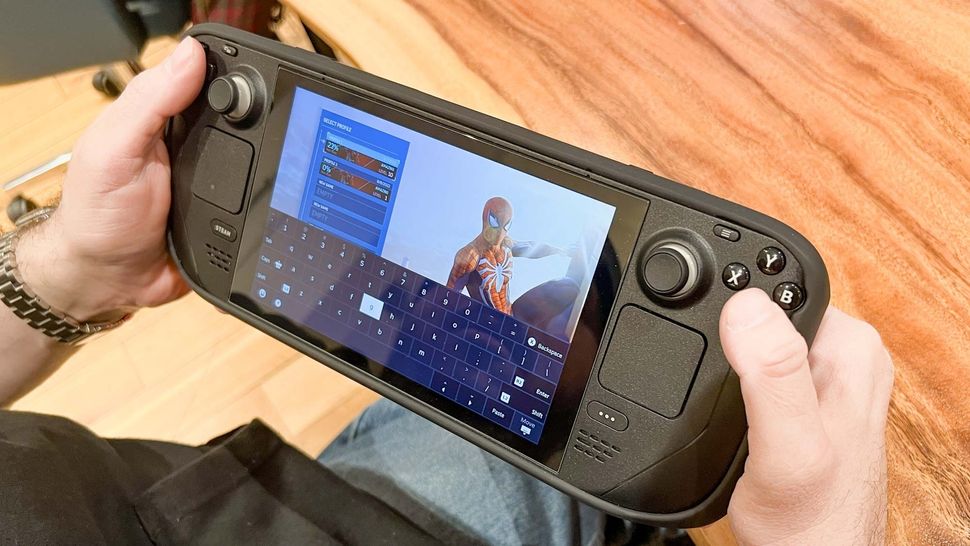 Asus' handheld measures 11.0 x 4.4 x 0.5 inches and weighs 1.3 pounds. Conversely, the Steam Deck measures 11.73 x 4.60 x 1.93 inches and weighs 1.5 pounds. Overall, the Ally is smaller and weighs less than the Steam Deck. Because it's so light, it's easy to hold and use Asus' device for hours at a time. While the Steam Deck is larger and heavier, it's just as comfortable to use for long stretches.
You'll find all of the ROG Ally's ports along its top. This includes a USB-C port, a PCIe port, a mini SD card reader and a headphone jack. The Steam Deck has a USB-C port and a headphone jack up top, with an SD card reader on its bottom. Both handhelds have their respective volume and power buttons on the top. Their air vents are also situated up top.
It's difficult determining a winner in this category since style and comfort are so subjective. Plus there are trade-offs. The ROG Ally has a more striking appearance thanks to its white chassis and RGB lighting, but it also feels somewhat plasticky. On the flip side, the Steam Deck looks big and bulky but it feels sturdier.
Asus ROG Ally vs Steam Deck: Display
Display quality is one of the main differences between the two handhelds. This is the area where Asus' system has a clear advantage.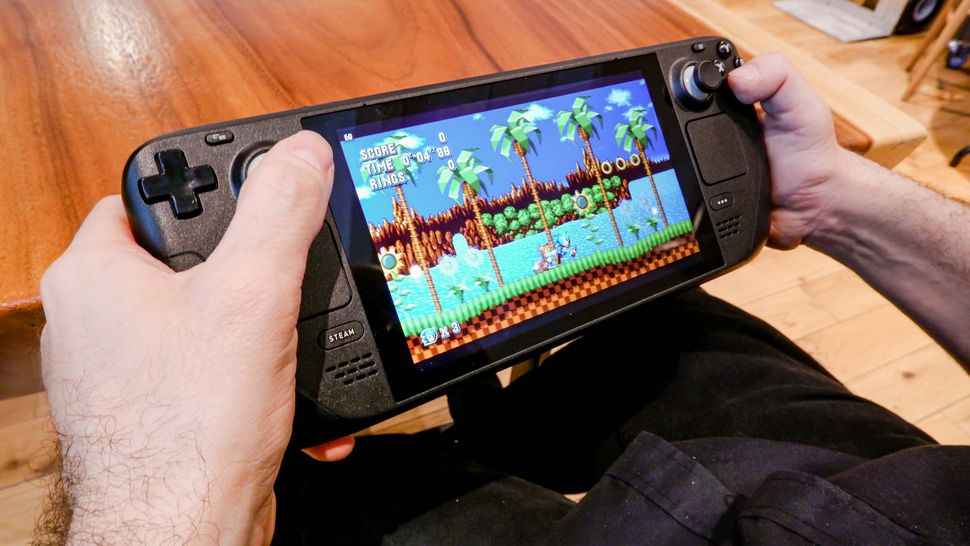 The ROG Ally has a 7-inch 120Hz 16:9 display with a resolution of 1920 x 1080. Valve's device also has a 7-inch screen, however, it tops out at 1280 x 800 with a refresh rate of 60Hz. Steam Deck has a bit more screen real estate thanks to its 16:10 aspect ratio, though games with a 16:9 aspect ratio can't take advantage of the extra pixels.
How did the handhelds fare in our lab tests? When we pointed our trusty Klein-10A colorimeter at the ROG Ally, we found that its display achieved an average of 465 nits of brightness. That's much brighter than the comparatively dim 169.7 nits the Steam Deck achieved in the same test.
Swipe to scroll horizontally
| Header Cell - Column 0 | Asus ROG Ally | Steam Deck |
| --- | --- | --- |
| Nits (brightness) | 465 | 169.7 |
| sRGB | 108.6% | 68.5% |
| DCI-P3 | 76.9% | 48% |
| Delta-E | 0.17 | 0.25 |
In terms of color reproduction, the ROG Ally delivered 108.6% of the sRGB color gamut and 76.9% of the DCI-P3 color gamut (closer to 100% is best) with a Delta-E score of 0.17 (closer to 0 is best). In comparison, the Steam Deck's display achieved 68.5% of the sRGB color gamut and registered 48% of the DCI-P3 color gamut, with a Delta-E of 0.25.
In both our lab testing and hands-on experience, the ROG Ally provides an overall better viewing experience thanks to its higher resolution and superior color reproduction. The Steam Deck can't match the ROG Ally here.
Asus ROG Ally vs Steam Deck: Performance
The Asus ROG Ally packs an AMD Ryzen Z1 Extreme processor. The new chip features 8 cores and 16 threads and has the efficiency of Zen 4 architecture, according to AMD. This processor is built on x86 architecture and is compatible with Windows 11.
The Ryzen Z1 Extreme is a custom Zen 4 RDNA3 4nm APU. The Steam Deck also uses an AMD APU, but its CPU is based on Zen 2 architecture while the GPU uses RDNA 2. This chip has four Zen 2 cores and eight RDNA 2 compute units. In comparison, the AMD Ryzen Z1 Extreme has eight Zen 4 cores and 12 RDNA 3 compute units.
On paper, the ROG Ally is twice as powerful as the Steam Deck. In fact, this is something Asus has directly stated. However, based on our testing, we found that the Ally's performance didn't live up to what was promised.
Swipe to scroll horizontally
Frame rate test results

| Header Cell - Column 0 | Asus ROG Ally (1080p) | Steam Deck (720p) |
| --- | --- | --- |
| Borderlands 3 | 23 | N/A |
| Cyberpunk 2077 | 24 | 29 |
| Dirt 5 | 45 | 40 |
| Grand Theft Auto V | 28 | 53 |
| Shadow of the Tomb Raider | 26 | 42 |
Our lab tests revealed some interesting results. Using their respective in-game benchmarks, Cyberpunk 2077 and Dirt 5 ran at 24 and 45 fps (respectively) at 1080p. Those values aren't far off from the Steam Deck's. There's an even wider gulf between Grand Theft Auto V and Shadow of the Tomb Raider, as you can see in the table above.
Despite its beefier hardware, the Ally doesn't match the Steam Deck in terms of framerates. But it's important to keep in mind that we're comparing games running at 1080p on the Ally against 720p on the Steam Deck.
Swipe to scroll horizontally
Geekbench 5

| Header Cell - Column 0 | Single-core | Multi-core |
| --- | --- | --- |
| Asus ROG Ally | 1,933 | 10,614 |
| Steam Deck | 834 | 3,579 |
We also ran the ROG Ally through Geekbench 5, which measures CPU performance. The handheld notched a single-core score of 1,933 and a multi-core score of 10,614. This obliterates the Steam Deck's Geekbench scores of 834 and 3,579, respectively. In fact, Ally's Geekbench results are comparable to the MSI Cyborg 15 gaming laptop (1,851 / 10,674, respectively).
As for my own testing, I found the Ally performed better at 720p resolution at medium settings with the refresh rate locked to 60Hz. Doom Eternal was the big winner, with frame rates remaining in the high 50s and low 70s, depending on how much action was happening on screen. Frame rates tumbled at 1080p, where they ranged between 35 to 45 fps. That's close to what I saw on Steam Deck, which tops out at 720p. Switching between 120Hz and 60Hz didn't affect performance, though 120Hz made the game feel smoother to play.
Spider-Man and Cyberpunk 2077 are both open-world games so it wasn't surprising that neither achieved similar performance to Doom Eternal. Spider-Man fared best out of the two, with framerates gliding between 35 to 55 fps at 720p and the high 20s and low 30s at 1080p. Cyberpunk 2077 mostly stayed within the 35 to 45 fps range at 720p but barely managed to hit 30 fps at 1080p. The frame rates I experienced at 1080p on the Ally are comparable to the Steam Deck.
Despite its power, the ROG Ally sometimes struggles to achieve smooth, playable framerates at its native 1080p resolution. Of course, optimization plays a major role in a game's performance. Steam Deck-verified games typically run great on the system since they've been optimized for SteamOS and the Deck's hardware. While the Ally can run Windows-compatible games, there's no comparable optimization initiative in place at the moment. Perhaps if developers optimize their games for this device it will deliver better performance.
Asus ROG Ally vs Steam Deck: Battery life and heat
Don't expect stellar battery life from either the ROG Ally or the Steam Deck.
In our battery test, which involves continuous web surfing at 150 nits of screen brightness, the ROG Ally lasted for 5 hours and 51 minutes. When we ran the more graphically demanding PCMark 10 benchmark to simulate how long the Ally would last while gaming, the time dropped to 1 hour and 43 minutes.
Swipe to scroll horizontally
Battery test

| Header Cell - Column 0 | Productivity test | Gaming test |
| --- | --- | --- |
| Asus ROG Ally | 5:51 | 1:43 |
| Steam Deck | 3:50 | 1:40 |
As you can see in the table above, the Ally outlasted the Steam Deck by three minutes in the same PCMark 10 test. Considering how Asus claimed 8 hours of battery life, the real-world results are disappointing.
What about heat? In our standard heat test, which involves playing an HD video for 15 minutes, then scanning the device with a heat gun, we found Asus' handheld got as warm as 86.5 degrees on the underside, peaking at 95 degrees on the screen. Those temperatures aren't bad as we generally consider temperatures over 95 degrees as being uncomfortable.
Things really heat up when playing games, with the screen reaching 111 degrees and the top of the handheld peaking at 115 degrees. Thankfully, heat isn't much of an issue when playing since your hand isn't resting near any of the vents.
As for the Steam Deck, we found that the underside near the vents reaches 109 degrees Fahrenheit, and the entire underside gets as hot as 90 degrees. The screen also reaches 90 degrees. As with the Ally, you'll never feel more than mild warmth when playing since the controls are far from any of the hottest portions. The Steam Deck runs almost as hot as the ROG Ally.
Asus ROG Ally vs Steam Deck: Software
The ROG Ally can run any Windows-compatible game or application right out of the box. This is both the system's strength and weakness.
The Steam Deck runs on SteamOS, which has a dedicated controller-friendly UI that's easy to navigate. Asus' Armoury Crate app is the Ally's closest equivalent, but it's not as intuitive to use. Armoury Crate lets you see and select all the games you've downloaded, regardless of their respective launchers. The app itself works as intended. However, once you've selected a title, you're then forced to use its associated launcher.
For instance, selecting a Steam game brings up the Steam desktop app. Clicking on an Xbox game pulls up the Xbox app. With the exception of Steam which has a controller-friendly Big Picture mode, you'll be forced to use the right analog stick as a mouse or use touch controls to navigate these launchers since they don't recognize the Ally's controller buttons.
Steam Deck runs on SteamOS 3.0. The OS supports Proton, which is a compatibility layer that lets Microsoft Windows-developed games run on the Linux-based SteamOS. The Steam Deck can run a slew of games, although not all titles are compatible or optimized for the handheld.
Instead of a UI similar to Steam's Big Picture mode, Steam Deck instead uses a modified version of the Steam desktop client that works well with controller inputs. If you're familiar with Steam's interface or the UI of any modern-day console like the PS5 and Xbox Series X, then you'll have little trouble navigating through its menus and sub-menus.
This is another area where the Steam Deck has an advantage. SteamOS is specifically designed to work harmoniously with the handheld. The same isn't true about Armoury Crate on the ROG Ally. Yes, it works well when you're in the application. However, you're booted out of the app the instant you select a game.
Asus ROG Ally vs Steam Deck: Game library
As a Windows 11 device, you can install games from a wide range of launchers on the ROG Ally. This includes (but is not limited to) Steam, GOG, Ubisoft Connect, Xbox Game Pass, EA Origin and many others. This gives you access to thousands of the best PC games — all of which get sorted in the Armoury Crate app.
In short, the system's game library consists of the titles you already own — which is also one of the Steam Deck's selling points. It's possible some games may not run well (or at all) on the ROG Ally so there might be some trial and error involved, same as Steam Deck.
As for Valve's handheld, its library consists of titles available on Steam. Right now, there are more than 2,000 "Verified" games for Steam Deck. This includes games like Elden Ring and Marvel's Spider-Man Remastered.
Four compatibility categories exist. "Verified" titles, such as Elden Ring, run correctly right out of the box. "Playable" games, such as Team Fortress 2, may require you to select a community controller configuration or may require you to use touch controls to navigate a launcher. "Unsupported" titles, such as the VR-based Half-Life Alyx are currently not functional on Steam Deck. Lastly, games such as Day of Defeat are designated as "Unknown."
This category is tricky. Though the Windows 11-driven ROG Ally ostensibly has a wider range of titles it can run, there aren't yet any specific titles optimized for the system. And while the Steam Deck's library primarily consists of Steam titles (at least out of the box), you're guaranteed a slew of games which are optimized for the handheld.
Asus ROG Ally vs Steam Deck: Bottom line
The Asus ROG Ally is a great system on its own and is arguably the best Windows 11 handheld on the market. Its display is gorgeous, it feels good to play on and it gives you access to all of your PC games. Despite its virtues, however, the ROG Ally fails to overthrow the Steam Deck.
Right now, Valve's handheld has an OS that's easier to use and that's tailor-made for gaming. Again, Armoury Crate is a poor substitute for SteamOS. In addition, there are hundreds of games optimized for Steam Deck, which is something the ROG Ally currently lacks. Lastly, Asus' device costs more than the Steam Deck.
It's possible we'll see what the Asus ROG Ally is truly capable of once games are optimized for it. A dedicated UI that's as functional as SteamOS would also help. But as things stand, the Steam Deck remains the best handheld for playing your PC games on the go.
More from Tom's Guide