New video game release season has begun with Forspoken and Dead Space remake releasing this week, and the likes of Hogwarts Legacy launching early next month. With so many must-play titles on the way, now is the ideal time to upgrade your PS5 hard drive to give yourself a little more storage space to play with.
Fortunately, for a limited time, the Samsung 980 Pro SSD w/ heatsink is on sale for $119 at Amazon. That's a discount of more than 20% compared to its full retail price and this drive adds an additional 1TB of storage to your PS5 console. This deal is also just $7 shy of the SSDs lowest price ever making it an easy recommendation.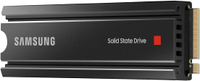 Samsung 980 Pro 1TB SSD w/ heatsink: was $149 now $119 @ Amazon
The Samsung 980 Pro SSD is fully compatible with Sony's PS5. It takes just minutes to add to the console's storage expansion slot and will significantly boost your hard drive allowing you to store dozens of games at once. This 1TB model also comes with a heatsink preinstalled so is ready for use with your PS5 console straight out of the box.
The Samsung 980 Pro comfortably makes the cuts in our roundup of the best PS5 internal SSDs. While it's not technically an officially-licensed PS5 accessory like the WD_Black SN850, it easily meets Sony's requirements for a compatible drive. Samsung itself has also confirmed its suitability, and there are literally hundreds of firsthand accounts of PS5 owners adding this SSD to their console without any hassle — and that group includes Tom's Guide staff members.
It's important to note that this particular model also comes with a pre-installed heatsink. While you can purchase the drive standalone without any form of cooling, Sony advises that any drive added to the PS5's storage expansion slot should come with a heatsink. Buying a model with the heatsink already attached saves you the hassle of needing to find a third-party one of the right size and is overall significantly more convenient.
Best of all, when you add an additional SSD to your PS5, it doesn't actually replace the console's stock hard drive. That means that by buying this Samsung 980 Pro SSD you're getting an additional 1TB of storage space on top of the 667GB of useable storage that comes with the console out of the box. That's great news as some of the best PS5 games can demand as much as 100GB of hard drive space to install — and that's before you also factor in any DLC or patches later down the road.
As the PS5 enters its third year on the market, you might be finding your base hard drive is struggling to hold your entire game library. And let's be honest, constantly deleting and then redownloading games is a real chore. That's why we judge a PS5 internal SSD as an almost essential console accessory. Being able to score one of the best models on the market at a reduced price is just a very sweet bonus.