Saatva's new mattress for back pain, the Saatva Rx, is a standout offer in the brand's Black Friday Sneak Peek sale. As of this weekend, you can save up to $400 on the Saatva Rx at Saatva and get free White Glove Delivery (including old mattress removal), a lifetime warranty and a 365-night trial. A queen size is reduced to $2,945 (was $3,295) with the biggest saving found on the Cal King Rx.
That may seem expensive in a cost of living crisis, but if back pain is ruining your sleep, investing in the best mattress for your body is well worth it. Saatva has designed the Rx to constantly deliver high levels of support to reduce the discomfort of 'serious and chronic back and joint pain'.
It features a lumbar crown and gel-infused memory foam to deliver constant pressure relief and support, keeping your spine in healthy alignment. The Saatva Rx is very tall though (15 inches), so keep that in mind if you need a lower profile bed. But if you want the best Saatva mattress for back pain relief, here it is – and with up to $400 off.
We'll be keeping an eye on this year's Black Friday mattress deals to see if Saatva prices drop further, but right now this is the best price you'll find on the Rx.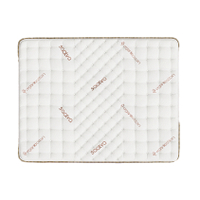 The Saatva Rx mattress by Saatva
Was: from $1,995
Now: from $1,695 at Saatva
Saving: Up to $400
Summary: In our Saatva Rx mattress hands-on review, our tester Alison Barretta, who's been suffering with recurring back pain and mild scoliosis, praised the Rx for its, 'outstanding support with loads of pressure relief along my shoulders, hips, knees and lower back'. The Saatva Rx achieves this via a new design feature called Unique Therapeutic Support Core. This ensures the Rx moulds itself to your curves when you move around in bed, reducing pressure points to boost circulation and eliminate aches and pains. Saatva's famous lumbar crown (as found in the Saatva Classic) is here too, plus gel-infused memory foam to support and comfort. There are no nasty chemicals used in the cover either – the Rx is treated with Guardin, an antimicrobial treatment that stops the growth of mattress mold. For normal aches and pains, we still recommend the Saatva Classic, which you can read about in our full Saatva Classic mattress review.
Benefits: 365-night trial | Lifetime warranty | Free White Glove Delivery (with old mattress removal)
Price history: Each month we track the best Saatva mattress sale offers to help our readers find the cheapest prices on Saatva beds, including the Rx. As it's one of the newest additions to the Saatva line-up we don't have as much price comparison data on the Rx as we do on the Classic, for example, but we do know that Saatva has previously offered a 15% saving on the Rx, which is fractionally lower than what we are seeing right now. That means this weekend is a great time to buy the Saatva Rx, however based on past years we wouldn't be surprised if Saatva dropped a bigger discount closer to Black Friday. If you don't want to risk it though, a queen size Saatva Rx for $2,945 (was $3,295) is very good for a handcrafted bed.
Do you need a specific mattress for back pain?
This depends on the level of back pain you're experiencing and where you are feeling that pain – upper or lower back, for example. It also depends on whether your back pain is temporary, and therefore may ease up soon, or long-term.
If you're dealing with short-term back pain that you're confident will clear up soon, yet your current mattress isn't offering enough comfort or support, consider getting one of the best mattress toppers instead. These can instantly change the feel of your bed so that it's more forgiving of back pain, and they cost a fraction of a new mattress in a box.
For people with chronic back pain and associated conditions, we'd recommend investing in the best mattress for back pain that matches your budget. These specialist mattresses feature different technologies to virtually eliminate pressure points on your back and hips, and to deliver varying levels of support and comfort at different parts of your body. Look for one that comes on a mattress trial of at least 30 nights, as it takes that long for your body to get used to a new mattress.