The best Nintendo Switch games typically hold their price a lot longer than must-play PS5 and Xbox Series X titles. This means that when the Nintendo eShop holds a promotional event it's definitely worth taking advantage of all the discounts. And the recently launched New Year Sale is currently offering some of the best deals on Nintendo Switch games we've ever seen.
The Nintendo eShop New Year Sale began yesterday (Thursday, January 5) and is scheduled to run through next week (Sunday, January 2). There are currently dozens of excellent deals available on the digital storefront sale. And these offers are well timed as over the holiday season plenty of people will have received a Nintendo Switch, Nintendo Switch Lite or Nintendo Switch OLED as a gift. If you're a new Switch owner now is the perfect time to build your dream library; longtime players will also want to shop these discounts as well.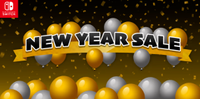 Nintendo New Year Sale: Switch games from $4 @ Nintendo eShop
Nintendo's latest eShop sale has landed, and offers some of the best Nintendo Switch games from just $4. The discounts include money off top Mario and Zelda games, as well as huge savings on beloved indie hits. The eShop New Year Sale is scheduled to run until Sunday, Jan. 15. The Nintendo eShop in the U.K. is also running its own New Year Sale with equally excellent discounts across a range of titles.
Best Nintendo New Year Sale deals
My personal favorite discount in this eShop sale is Persona 5 Royal for $41 (was $59). This lengthy JRPG combines a social sim with a turn-based dungeon crawler, and the soundtrack is crammed full of earworms. But if a meaty role-playing game isn't quite to your liking there is sure to be an alternate deal that does appeal to your gaming tastes.
Popular Nintendo first-party titles are included such as Paper Mario: The Origami King, Captain Toad: Treasure Tracker and The Legend of Zelda: Link's Awakening. Plus, the highly underrated Mario + Rabbids Sparks of Hope is on sale, our gaming editor has been waxing lyrical about this one for weeks so make sure you don't overlook this colorful strategy game.
If you're looking to play a lot but spend little, some of the best indie games on Nintendo Switch have been discounted to seriously low prices. Critical darling Celeste is just $4, whereas challenging rouge-lite Dead Cells is on sale for $8. There's also money off Hollow Knight, Tunic, Rogue Legacy 2 and Katana Zero. Plus, The Elder Scrolls V: Skyrim is on sale — it's certainly not an indie game, but no eShop sale is complete without a big discount on the juggernaut RPG.
Gamers in the U.K. will be pleased to hear that the Nintendo eShop in your region is also holding its own New Year Sale. Thanks to this sale you can pick up must-play Nintendo Switch games from as little as £4. The eShop U.K.'s New Year Sale also offers discounts on the likes of Persona 5 Royal and Link's Awakening as well as additional titles such as Mario Kart 8 Deluxe and Super Mario Party. .
Whether you're brand new to the world of Switch gaming or have owned Nintendo's handheld/home console hybrid since launch, there is likely to be a deal for you in this sale. So head over to the eShop and take advantage of these worthwhile discounts before the end of next week. And make sure you buy Persona 5 Royal, you'll thank me later.