Everyone knows I tend to carry a lighter load with my backpack whenever I commute to the office. That's why I've come to appreciate the mophie Snap+ Juice Pack Mini, since it effectively eliminates having to carry a charging cable and power adapter for my iPhone. Best of all, it's 51% off right now on Amazon thanks to an early Black Friday sale.
Normally, the mophie Snap+ Juice Pack Mini costs $49. At $24, it's an absolute steal.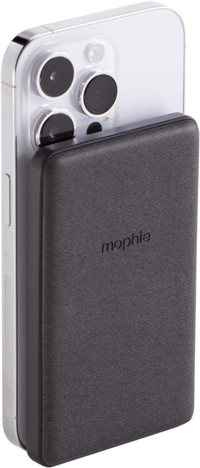 mophie Snap+ Juice Pack Mini: was $49 now $24 @ Amazon
Not only is it a battery pack that I use on the go, but the mophie Snap+ Juice Pack Mini also acts as a stand that lets me access StandBy Mode with iOS 17 on my iPhone when I'm on my desk.
The gadgets I love the most are the ones that offer a great deal of utility, which is exactly what the mophie Snap+ Juice Pack Mini offers. While this MagSafe charger fastens to the back of my iPhone 14 Pro Max for wireless charging, it also lets me charge my Android phones that are Qi-enabled wirelessly as well. It features 7.5W wireless charging, which may not be the fastest out there, but when I'm at my desk for 8 hours a day, it's plenty enough.
On top of that, I can also charge other gadgets I carry, like my GoPro Hero12 Black and Ray-Ban Meta smart sunglasses, by leveraging the charger's USB-C port. It puts out a slightly faster 12W charging speed through USB-C.
When I get to my desk in the office, I typically place the mophie Snap+ Juice Pack Mini nearby and then prop open its kickstand to get iOS 17's StandBy Mode to engage on my iPhone 14 Pro Max. That way, my setup can act as a digital photo frame scrolling through all of my photos automatically — along with the ability to access my smart home gadgets.
Even though the battery inside the charger is only 5,000 mAh, I've found that size battery more than enough to completely recharge most of my phones. I also love how it's still compact enough to stow away in my pocket if I desperately need to top up my phone while I'm out of the office. Furthermore, the strong magnetic connection is perfect at propping up my iPhone for video calls, so I'm not constantly being forced to hold on to my phone.