When the Meta Quest Pro came out last October, it signaled a shift from pure virtual reality to a mixed reality world where you can switch between immersive VR worlds and holographic augmented reality overlays with ease. But at $1,499, the price point wasn't accessible for a lot of people.
But that's now changing. For a limited time, you can get the Meta Quest Pro for $1,099 at the Meta store. That's $400 off and a slightly more affordable price.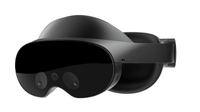 Meta Quest Pro (256GB): was $1,499 now $1,099 @ Meta
At $1,099, the Quest Pro is still not cheap. However, it now falls in line with rivals like the HTC Vive XR Elite or the combined cost of a PlayStation 5 and a PlayStation VR2. Meta's top-of-the-line headset allows you to play games and work out in VR just like the Quest 2, but with upgraded visuals and performance. It also allows you to take your immersion further with AR full-color passthrough and enhanced productivity features for working in mixed reality.
When we went hands-on with the Quest Pro, it definitely impressed us. It was incredibly comfortable to wear — which is important for a VR headset — came with speakers that produced convincing spatial audio and combined VR and AR for an excellent mixed-reality experience. It was definitely a great example of what a VR headset can do going forward, from gaming and workouts to working in VR and AR for meetings and more.
But we struggled to get past the $1,499 price tag. In terms of mainstream VR headsets, $1,499 was a massive leap forward — especially compared to the Meta Quest 2 at $399. While the Quest Pro certainly provided better performance and expanded features, including full-color AR passthrough and improved controllers, it was tough to justify to most people looking to get into the world of VR why they should spend nearly four times as much for the Quest Pro over the Quest 2. The Quest Pro seemed destined to be limited to businesses and hardcore VR users.
At $1,099 though, that price becomes a lot more reasonable. The HTC Vive XR Elite is the same price but lacks Meta's massive app store and comes with only half the storage of the Quest Pro. The PS VR2 headset is just $549, but when you add in at least $399 for a PS5, suddenly the Quest Pro becomes a lot more appealing. For those only interested in gaming the PS VR2 may still be the better choice, but the Quest Pro gives users more versatility in a standalone design and additional non-gaming features.
If the Quest Pro is ultimately still too pricey for you, the Quest 2 remains a great choice for those looking to get into the world of virtual reality. It remains our pick for the best VR headset and starting February 5 you'll be able to get one with two bonus games free for $399. Either way, there's never been a better time to pick up a VR headset.