The official Prime Day mattress deals are pretty underwhelming this year. That's partly because almost none of our best mattress picks are sold through Amazon, and there's only a handful of mattresses on Amazon that I (as Tom's Guide's Sleep Editor) would actually recommend – and even then, with the caveat that these are good picks for the price, rather than models that'll fulfill all your mattress dreams.
Good news, then, because a number of bed brands have decided not to let a little thing like 'not being available on Amazon' stop them from participating in the Prime Day sales. Most have chopped the word 'Amazon' out of the equation (fair) and launched 'Prime Time deals', and there are quite a few brands getting in on the action.
Mattress sales and deals take place all year round, and some offers are better than others. Partly to help you guys out and partly for my own enjoyment, I've come up with a super scientific method of ranking how good these deals are. Using the queen size as the comparison point, I will be awarding each deal a score out of 5 based on five key value-based metrics: the percentage discount, how cheap the (discounted) price is, how much money off there is, how unusual the deal is compared to the mattress' price history, and finally how good the mattress is. I'll add those scores together to give a total score for each deal and that will determine my official hot deal ranking. All clear? No? Let's go ahead anyway.
1. DreamCloud mattress
Queen size: was $799 now $1,332 at DreamCloud
Hot deal score: 19/25
How did it do in our ranking?
Based on our scientific method, DreamCloud has the best Prime Time mattress deal. This brand has the biggest money-off saving ($533), and also scores highly on affordability (it tops our best affordable mattress guide), being the second cheapest of all the mattresses featured here. This is the lowest price we've seen this mattress go for, coming in $100 less than the usual DreamCloud sale price. However, this particular deal has been running for a few weeks now, so it's not super unusual.
Should I buy it?
Yeah! Even at its usual price, this mattress offers excellent value for money – it ranks amongst the best mattresses under $1,000, and it tops our best hybrid mattress list too. In our DreamCloud mattress review we found this mattress would suit a wide range of sleepers, with a hybrid design that delivers sturdy support via pocket springs, subtle contouring comfort via a memory foam layer, and a luxurious cashmere-blend cover. It also offers excellent temperature regulation and above-average motion isolation (important if you share a bed). Our testers found it ran fairly firm, which is good news if you suffer from back pain, but it might not suit lightweight sleepers or side sleepers who prefer a softer feel (if that's you, consider the Helix at #4 instead). The extras are outstanding – a full year's trial and forever warranty – but actually, all the models in this ranking have those extras, so it's a bit of a moot point.
2. Awara Natural Hybrid
Queen size: was $1,399 now $999 at Awara
Hot deal score: 16/20
How did it do in our ranking?
The Awara actually got exactly the same overall score as the Nectar below. I've decided to put it above the Nectar because it's a more unusual deal – it's the lowest price we've seen on this mattress, and this particular deal hasn't been running long at all (whereas the Nectar offer looks like it's sticking around a while).
Should I buy it?
The Awara is an affordable natural mattress with a luxurious feel. We rank it amongst the best organic mattresses around, and the design is a bit different to what you might be used to: instead of synthetic memory foam, this bed uses latex foam, which provides a buoyant, weightless feel and is also super-durable. This works alongside a tier of individually wrapped innersprings, and in our Awara Natural Hybrid mattress review our tester found it provided excellent support and pressure relief in any sleep position.
A few caveats – the bouncy latex means this mattress won't isolate movements as well as ... basically any of the other mattresses on this list. It's on the firmer side, and although we still consider it one of the best mattresses for side sleepers, if you know you prefer a softer sleep feel, you'll likely get on better with the Nectar (#3) or Helix (#4).
3. Nectar memory foam
Queen size: was $1,049 now $699 at Nectar
Hot deal score: 16/20
How did it do in our ranking?
This Prime Time mattress deal got the same score as the Awara above, but I've ranked it below just because this is a very common Nectar deal, and also because it has occasionally been slightly cheaper. It is, however, the outright cheapest mattress in our roundup, with the joint highest percentage discount (33% off).
Should I buy it?
We're huge fans of the Nectar Original. This simple but very effective all-foam mattress sits at the top of our best memory foam mattress guide, partly because it offers such good value for money. In our Nectar memory foam mattress review, our testers found it had a little sink-in softness but not too much, and overall delivered a comfortable balance of cushioning and support. It's softer than the Awara (#2) and the DreamCloud (#1), which makes it particularly well suited to side sleepers. Those who weigh over 230lb, as well as back/stomach sleepers, might get more effective support from one of the firmer options.
4. Helix Midnight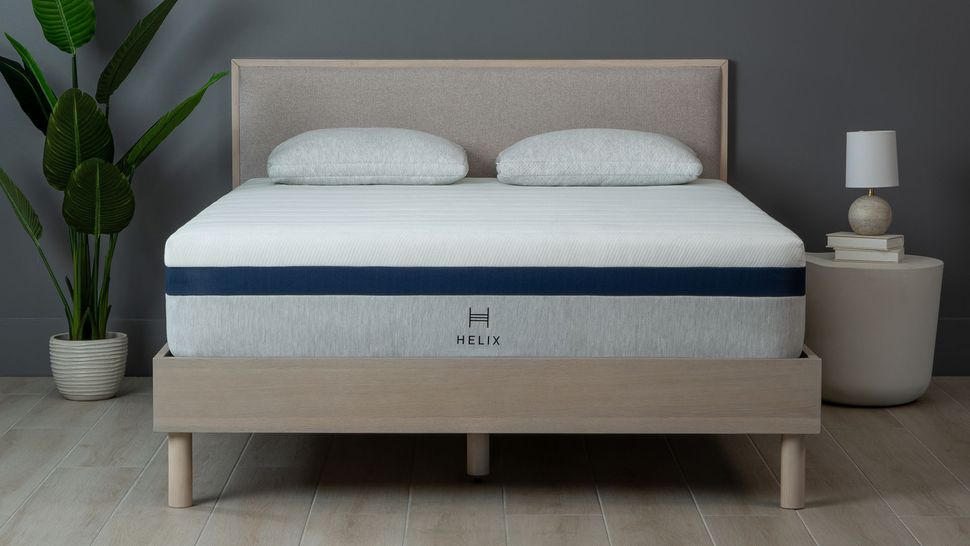 Queen size: was $1,332 now $999 at Helix
Hot deal score: 14/25
How did it do in our ranking?
This deal got average scores on all my metrics. It's a fairly affordable price, a medium sized discount, and you get a medium amount of money off, too. It gets a few extra marks for being an unusually good deal – the regular Helix mattress sale only knocks 20% off. This 25% off is reserved for special occasions, and this time it coincides with a drop in MSRP to deliver the lowest prices we've seen all year. It has been this price for a few weeks, though.
Should I buy it?
The hybrid Midnight is outstandingly comfortable if you like to sleep on your side and are either average or light in body weight. The medium feel, with contouring memory foam, molds around the shoulders and hips to provide ample pressure relief but still plenty of support. In our Helix Midnight review we were also impressed by the motion isolation (good for restless sleepers and those who share a bed) and temperature regulation. It won't be supportive enough for most back or stomach sleepers – but the good news there is that Helix makes a whole range of mattresses, at the same price and with the same discount, for different sleep styles and preferences. Consider the Helix Dusk – officially, this has the same medium firmness as the Midnight, but we found it much firmer. Instead of sink-in memory foam, it has a more responsive latex-alternative foam.
5. Saatva Classic
Queen size: was $1,995 now $1,695 at Saatva
Hot deal score: 11/25
How did it do in our ranking?
Overall, not that well. It scored highest on mattress quality (this is our #1 rated mattress) but fairly poorly elsewhere. It's the priciest mattress in our roundup, with the smallest percentage discount (15%). This is also a pretty standard Saatva mattress sale – the Classic has been this price for most of 2023, and occasionally slightly cheaper.
Should I buy it?
Despite being officially the least hot Prime Time deal, it's still worth considering. I'd always recommend investing as much as you can afford on the best mattress for you, and the Classic is simply an outstanding mattress. This luxurious innerspring hybrid is available in two heights and three sleep feels, which means it can be tailored to your exact preferences. In our Saatva Classic review, we were most impressed with the build quality and fantastic pressure relief, and it still held up a year on.