The Asics Gel-Nimbus 24 running shoes are hands-down one of the comfiest pairs of sneakers I've tested during runs and workouts, and now you can scoop them up in the Prime Day 2023 sales at Amazon for a limited time.
As a personal trainer, I pick my workout shoes with serious care and attention. And while my editor tipped the Asics Gel-Nimbus 25 running shoes as some of the best running shoes to own, I'm a big fan of its predecessor — the 24s. I've worn both running shoes during training and recently hit the road on the Asics London 10K wearing the 24s — it was a game changer.
Now the Asics Gel-Nimbus 24 running shoes are on sale for $77 at Amazon — that's a hefty 52% off, saving you $83 during Prime Day sales.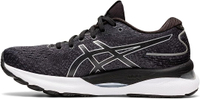 Asics Gel-Nimbus 24 running shoe: was $160 now $77 @Amazon
Save 52% on the Nimbus 24 running shoes, some of the best running shoes you can buy right now. Featuring an engineered mesh upper and Asics Lite rubber sole, these sneakers are light, strong and sustainable. The AHAR rubber outsole boosts durability, and GEL technology cushioning feels like you're walking on clouds while absorbing shock during impact and toe-off. There's no other shoe I'd wear for comfort during long runs.
My editor recently expressed how impressed she was with the 25th iteration of the Gel-Nimbus in her Asics Gel-Nimbus 25 running shoe review. Asics claims it's the "most comfortable running shoe yet." I've worn both, and in my opinion, the 24s win hands down.
While I enjoyed running in the 25s, they swallowed up my feet with cushioning (you can have too much of a good thing, right?), and I struggled to set pace. Fast forward to my first ever competitive London 10K, and the 24s pretty much propelled me to the finish line.
These shoes feature an in-built and discreet knit tongue that wraps the top of the foot and distributes pressure evenly while maintaining ample support. The engineered mesh upper is breathable and cradles the foot without feeling too restrictive, and the neutral support and 13mm heel drop fit perfectly for my "normal" arch sizes. If you have a high arch or flat feet, you might want to test a few models before committing.
Undeniably, this shoe's cushioning system is the star of the show, featuring rearfoot and forefoot PureGEL technology, helping absorb shock during impact and toe-off phases of your footstrike, and supporting your foot transition as you run. These shoes truly feel like you're running on clouds without slowing you down.
Lightweight, durable and boasting Asics' AHAR outsole rubber, the shoe works suit road running or light trails, and while there's not a crazy amount of grip, I felt supported on slippery wet pavements as I ran.
Post-10km and the Asics Gel-Nimbus 24 are now a staple in my exercise routine. Despite tired feet the next day, I experienced zero rubbing, chafing, sore points or aches and pains. Basically, they fit like a glove from start to finish.
But if you don't fancy running in the clouds and are looking for more of the best running shoes, these are the best under $100 right now, and a quick guide on how to buy running shoes for all fitness levels.