The Legend of Zelda: Tears of the Kingdom is the talk of the gaming world right now, and has already cemented itself as one of the best Nintendo Switch games. By most accounts, it's more than worth its full $69 price tag. However, thanks to Nintendo Switch Online you can actually score this must-play game for just $49.
To be clear, this isn't a traditional money-off discount, instead the $49 deal on Zelda: Tears of the Kingdom comes via the Nintendo Switch Game Vouchers promotion. A pair of vouchers cost $99, and each is redeemable for a full game on the Nintendo eShop. Essentially, if you buy a pair of Nintendo Switch Game Vouchers, you get to choose two full-price Switch games for just $99.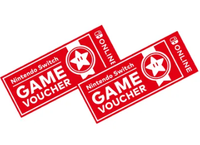 Nintendo Switch Game Vouchers: $99 @ Nintendo
Purchase a pair of Nintendo Switch Game Vouchers and you can select two full-priced games from a list of qualifying titles. The selection includes The Legend of Zelda: Tears of the Kingdom, as well as recent releases like Advance Wars 1+2: Re-Boot Camp. You can even use one of your vouchers to pre-order the upcoming Pikmin 4. Please note, you must be a Nintendo Switch Online member to purchase a set of game vouchers.
Not every single Nintendo Switch game is included in the game voucher promotion, but the list of qualifying titles includes practically every Nintendo-published title for the Switch. For example, you could opt for Zelda: Tears of the Kingdom and the also recently-released Advance Wars 1+2: Re-Boot Camp. Alternatively, if you're a fan of online multiplayer, you could pick the new Zelda and last year's excellent Splatoon 3.
Other highlights include Pokémon Scarlet and Violet, Xenoblade Chronicles 3, Bayonetta 3, Pokémon Legends Arceus and Metroid Dread. There are even other Zelda games in the list including Skyward Sword HD and the remake of Link's Awakening. Plus, Breath of the Wild is one of the titles you can select with a game voucher, so you could get Tears of the Kingdom and its direct predecessor for just $99 — that's a bargain.
You can even use one of your game vouchers to place a pre-order for the upcoming Nintendo Switch exclusive Pikmin 4. The full list of games redeemable with a Nintendo game voucher can be found on the eShop. Overall, it's a pretty fantastic assortment of games that highlights the strength of Nintendo's first-party output over the last six years.
Remember that Tears of the Kingdom retails for $69 while the other games included in the promotion all cost $59, so you're making a total saving of $30 here. And you don't have to redeem both vouchers at the same time either. So you could pick up the latest Zelda game and hold onto the other voucher until a later date. Just be mindful that you must have an active Nintendo Switch Online membership when redeeming a voucher.
Speaking of Nintendo's online subscription service, the game voucher deal is exclusively for members. A 12-month base-tier subscription costs $19, or it's $34 for a family plan that covers up to eight accounts. Fortunately, if you redeem both your game vouchers and then let your membership lapse, you will still retain access to your selected games.