Prime Day deals mean you can enjoy some great savings on phones that might normally be well out of your price range. Phones like the Samsung Galaxy Z Flip 4, which is enjoying a hefty price drop in Amazon's sale event. So hefty, in fact, it might make you forget the new Galaxy Z Flip 5 is on the way.
Right now you can buy the Samsung Galaxy Z Flip 4 for $750 over at Walmart. That's 25% off the normal price, saving you a massive $250. And if you'd rather get a little more storage, the 256GB model is $849 on Amazon — which is $210 less than you'd normally pay.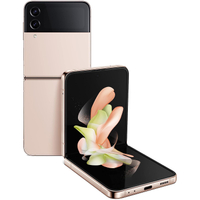 As you'll see in our Galaxy Z Fold 4 review, this is one of the best foldable phones, offering a fantastic boost in performance and battery life compared to previous flip-phone foldables — aided by the Snapdragon 8 Gen 1 chip. That flip-style design also means it's incredibly compact, and can discreetly fit in a range of bags and pockets.
That folding mechanism may still leave a very visible display crease, but it does offer a range of new features. Samsung's Flex Mode is a big one, letting you do two different things on each half of the main screen. Likewise, you can take selfies using the main camera, using the cover display as a viewfinder. All the kinds of things you can't do with a standard non-folding phone.
On top of that you have 5G, a 6.7-inch folding main display, and some colorful options to match your own personal tastes. The cover screen may not be the largest around, but it is big enough to make a bunch of information available at a glance — and without the hassle of unfolding your phone first.
The Galaxy Z Flip 4 isn't as good as the larger (and more expensive) Galaxy Z Fold 4, especially in the camera department. You also have to contend with the fact rumors claim a newer Galaxy Z Flip 5 model will be arriving in just a few short weeks with a larger cover display. But this deal means the Z Flip 4 has price on its side, and just happens to be one of the cheapest ways to enjoy a foldable phone right now.
Better still ,the discount is available to every Prime member, which is more than you can say for the Motorola Razr+. That particular phone costs the same $849 as the Z Flip 4's 256GB model thanks to Prime Day, but the deal itself is only available if you have an invite. The Z Flip 4 has no such limitation.