The Asus Vivobook 13 Slate is the world's first OLED detachable 2-in-1 laptop, and it just saw a massive price cut.
The Asus Vivobook 13 Slate OLED is $299 at Amazon right now. That's a huge $300 off its usual price, making it one of the best cheap laptop deals around right now.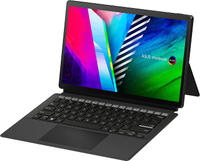 Asus Vivobook 13 Slate OLED: was $599 now $299 @ Amazon
The Asus Vivobook 13 Slate OLED is a 2-in-1 device that converts between a laptop and a tablet. It has a 13.3-inch detachable OLED display and runs on Windows 11 Home. This deal comes with a keyboard and the ASUS 2.0 pen included.
While we haven't reviewed the Asus Vivobook 13 Slate, it looks to be a great 2-in-1 laptop. Its main draw is the OLED screen — it should be able to faithfully recreate a huge color range with true blacks; which would makes it ideal for creatives, like photo editors.
Furthering its appeal is the included Asus 2.0 pen. This pressure-sensitive stylus allows users to write or draw on the Vivobook's screen, whether it's in laptop or tablet mode.
The Asus Vivobook 13 Slate isn't smashing any records for its specs, but its 4GB of RAM and Intel chip are fine for everyday tasks like browsing and streaming. Additionally, if you fancy this 2-in-1 as a movie-watching device, Asus promises a pseudo cinematic experience with Dolby Atmos audio.
There are some decent cameras on the Asus Vivobook 13 Slate, too. It has a 5MP front camera and a 13MP back camera. These are perfect for selfies and video calls, and also work well for documenting ideas on the go by snapping inspirational photos.
This device could be an awesome replacement for the iPad for artists and those who like to take hand-written notes. Buying an Apple tablet, Apple Pencil and Smart Keyboard could set you back almost $600 — which, admittedly, is the same price as the Asus Vivobook 13 Slate before discount. But getting everything in one package for under $300 is a steal.
Still looking for your perfect laptop? Check out our laptop deals page. Or, these AirPods just dropped to $99 at Amazon.