How To Edit Video with Handbrake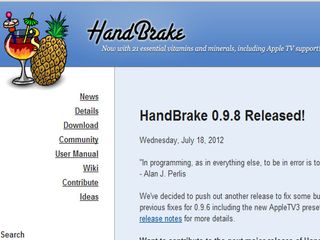 HandBrake, an Open Source video encoder
HandBrake is a simple, open source program designed to convert videos, movies, and obscure media files into formats that can be read by various devices such as the iPod, Apple TV and others. In this tutorial, we'll show you how. You'll be converting videos in no time!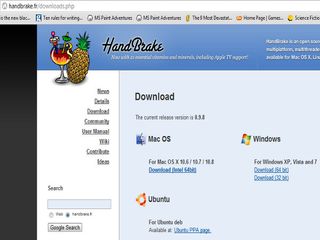 Installing Handbrake
First, you'll need to download and install HandBrake. Windows users should note that you'll need to have Microsoft .NET Framework 3.5 SP1 installed in order to run the program.
Handbrake for Mac OS
HandBrake for Windows (64 bit)
HandBrake for Windows (32 bit)
Microsoft .NET Framework 3.5 SP1 (Required for Windows version)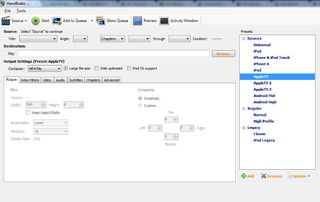 The Interface
Once you've installed HandBrake, you'll be confronted by the user interface. Don't let all the buttons and options intimidate you, as the program isn't too difficult to use.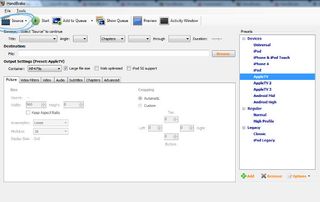 Choosing the Source File/s
The first thing you'll need to do is select the Source of the videos that you will be converting. The 'Source' button will allow you to select individual video files, entire folders, DVDs and Blu-Ray DVD, or DVD images (but not Blu-Ray images) such as an .ISO file.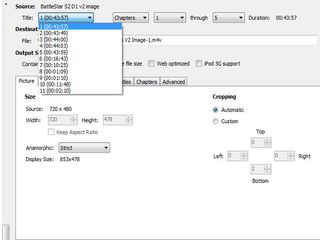 Titles, Chapters & Frames
Once your Source has been selected, you may have multiple files to work with. The next step is to go to the title tab to pick out specific ones for tweaking. You can even choose to convert only parts of the selected files. The "Chapters" button allows you to narrow down the encoding to certain chapters of a movie file, a particular time stamp, or even specific frames!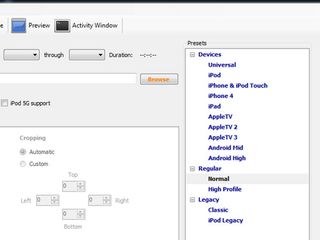 Encoding Presets
Once you've selected the material for encoding, you'll need to think about the device you want to display the video on. Fortunately, HandBrake comes with a series of handy presets that allow you to configure your encoding for particular types of devices, such as the various Apple platforms or Android devices. If you intend to view your files on a PC or TV, then select "Normal" or "High Profile."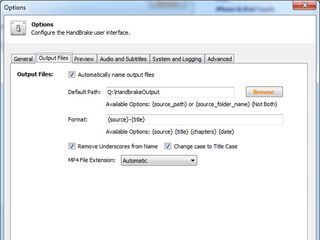 Configuring your Output
The Presets tab should configure most of the options for you, leaving only some nagging details, such as where the finished product will go, as well as naming conventions for the output files. In the "Tools>Options>Output Files" tab, you can select the folder that your output files will go. Make sure that your target folder is in a drive with a lot of free space, as videos can take up a lot of space quickly. You can also define the naming conventions of your output files, which is especially useful if encoding an entire batch.
Users of Apple devices and QuickTime might want to make sure that the "MP4 File Extension" is set to "Always Use M4V" if they want to keep a video file's Chapters and AC3 audio.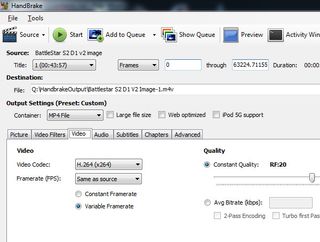 Video Options
With the output options defined, we're just a few steps away from the final encoding. Experienced users may want to tweak the Video tab, which allows you to select specific video codecs and tweak the bitrates for the encoding. Most casual users can make do with the Preset options.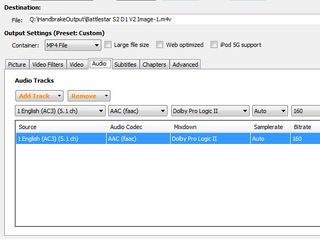 Audio Options
The Audio tab allows you to tweak the encoding of various audio tracks available in your source material, which can include multi-language dubs or commentary tracks. The "Add Track" and "Remove" buttons allow you to select the particular tracks you want to keep. Extra tracks such as commentaries and language dubs can provide a richer experience, but they will make your output file larger, so choose carefully. Detail junkies and techies also have more options to play with here, such as playing with the codecs and bitrate.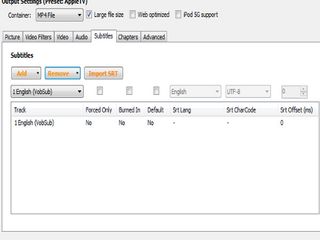 Subtitle Options
With Audio and Video options set, the last tab worth mentioning to the first-time or casual user is the "Subtitles" tab, which allows you to keep any subtitle data in your source file and encode it into your output. As with audio tracks, additional subtitle tracks can inflate the size of your output, but it's not significant. Subtitles can be set as "soft subtitles" that are enabled by your device or viewer's programs, or a "Burned In" option can be triggered to have subtitles hard coded into the video.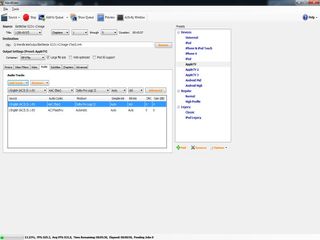 Encode!
With the settings configured, it's time to hit the "Start" button and let the program do its work. Time to sit back and relax with a cup of tea or coffee while the machine chugs away.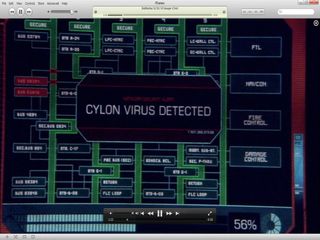 Enjoy!
Once your video is done encoding, simply look for the video file in your output folder, load it into your media viewer or onto the device of choice, and enjoy your video!
Users who want to know more can check out the handy Users Guide on the Handbrake webpage and forums for more information, tips, and tricks. This tutorial only scratches the basics of this program, and a motivated learner can easily do more with it!