11 Best Shows on CBS All Access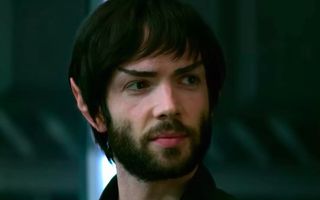 CBS Access has been around for five years, but the service didn't really take off until Star Trek: Discovery premiered in September 2017. Since then, CBS All Access has expanded tremendously, with a handful of high-quality original shows and a deep backlog of classic favorites.
If you want something to binge watch between the USS Discovery's latest adventures, CBS All Access has plenty to offer, from classic comedies, to hit primetime dramas, to backlogs of popular talk shows. There's also more ambitious fare on the way, from Jordan Peele's new take on The Twilight Zone, to a brand-new adaptation of The Stand by Stephen King.
Credit: CBS All Access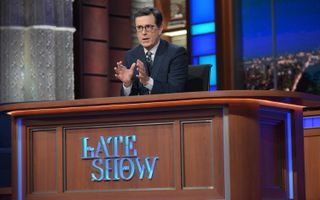 The Late Show with Stephen Colbert (2015 – Present)
When Stephen Colbert announced that his beloved Comedy Central satire The Colbert Report was coming to an end, fans were inconsolable. For years, they'd watched this erudite, affable and extremely geeky host tackle both politics and entertainment with his tongue planted firmly in his cheek, and late-night TV would be poorer without him.
CBS agreed, as they hired Colbert as the new host of The Late Show. CBS All Access has a huge backlog of Late Show episodes, where Colbert sits down with big stars from David Cross to Joe Biden, and from Jennifer Lawrence to Michelle Obama. His old friend Jon Stewart even got to turn the tables and spent an episode interviewing Colbert.
Credit: Scott Kowalchyk/CBS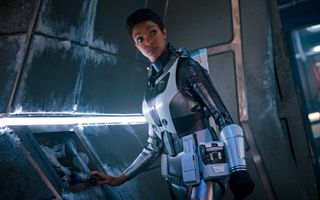 Star Trek Discovery (2017 – Present)
If you subscribed to CBS All Access, it's probably for Star Trek: Discovery. The latest entry in the long-running Star Trek franchise, Discovery tells the story of Cmdr. Michael Burnham: a disgraced Starfleet officers whose insubordination kicks off a galactic war.
Season 1 was all about her struggle to redeem herself; Season 2 focuses on her quest to track down her foster brother, Spock, so that they can decode a series of mysterious signals. If, somehow, you have CBS All Access and haven't watched it, you really should — and you can also watch the other six Star Trek series once you're done.
Credit: Jan Thijs/CBS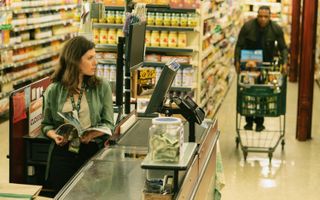 One Dollar (2018)
One Dollar is a CBS All Access Original, which lasted just one season after earning only mild interest from both audiences and critics. And yet, One Dollar is worth checking out for its inventive premise alone. The show follows a single dollar bill as it changes hands across various members of a small-town community. As such, every episode has a radically different plot, even though all of the characters and narratives connect in subtle ways. The main thrust of the story involves a grisly murder mystery, which is fairly interesting to follow on its own. But the real appeal of One Dollar lies in its clever storytelling method.
Credit: Patrick Harbron/CBS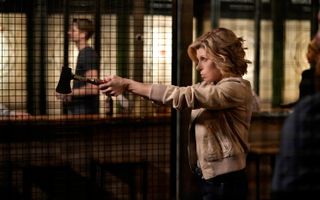 The Good Fight (2017 – Present)
CBS All Access doesn't have that many original shows yet, and some of them are just OK. The Good Fight, though, is a strong contender all around. Using popular CBS drama The Good Wife as a jumping-off point, this spinoff is a legal drama that follows Diane Lockhart: a powerful lawyer forced to reinvent herself after a disastrous downfall. The show stays current by exploring political and social issues of the day, particularly as they relate to career-minded women. So far, fans and critics alike have enjoyed the show's tight plotting and incisive morality tales, and more seasons are on the way.
Credit: Patrick Harbron/CBS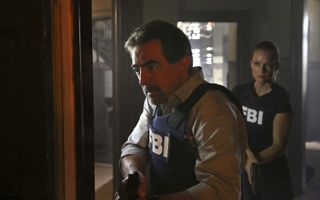 Criminal Minds (2005 – Present)
When a show's been on the air for 14 years, whether you love it or hate it, you've got to admit that it's doing something right. That seems to be the case with Criminal Minds: a police procedural about FBI agents who use behavioral psychology to track down bad guys. Each week, there's a crime that seems straightforward, but further investigation reveals details that seem to defy explanation. The FBI suss out the unexpected truth, all while dealing with their own interpersonal dramas. What sets Criminal Minds apart from other shows is its complex ongoing story and its star-studded cast, which includes Mandy Patinkin, Aisha Tyler and Joe Mantegna.
Credit: Michael Yarish/CBS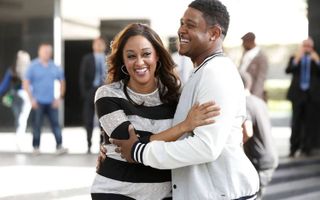 The Game (2006 – 2015)
Remember Girlfriends on UPN? Back in 2006, network executives decided to create a spinoff, focusing on a minor character from the original sitcom. As the name suggests, The Game is about football — sort of. Melanie Barnett wants to attend medical school at Johns Hopkins, but puts her dreams on hold to follow her boyfriend, who's just accepted an offer to play football with the San Diego Sabers. Various relationship ups and downs follow, as well as a broadening of scope to focus on a whole cast of eclectic supporting characters.
Credit: Tyler Golden/BET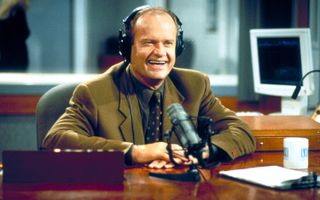 Frasier (1993 – 2004)
Frasier Crane, a cultured psychiatrist with a dry wit and expensive tastes, debuted on the sitcom Cheers. But even though Cheers ended, Frasier was too popular a character to let go, and he got his very own show. Rather than the blue-collar comedy of Cheers, Frasier was a bit more upper-crust, lampooning the Seattle intelligentsia, while exploring how the working class and the upper-middle class can get along — or not — usually with hilarious results. Just about everyone from Cheers came back at some point, which only helped Frasier's diverse and interesting cast of characters feel that much more well-rounded. To this day, it's still one of the highest-ranked sitcoms of all time.
Credit: Gale Adler/Paramount/Getty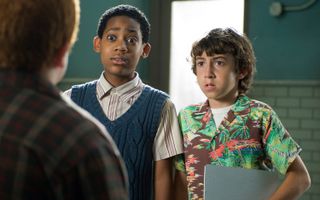 Everybody Hates Chris (2005 – 2009)
Chris Rock had his very own entry in the "famous comedians make lightly fictionalized sitcoms about themselves" genre back in the mid-2000s, and it was actually pretty good. Everybody Hates Chris was based on Rock's own teenage trials and tribulations, from being one of the only black kids in a wealthy white school, to family feuds about money and status.
The show featured a surprising amount of continuity for a comedy, but it's mostly memorable for its ability to look critically at issues of race and class without ever taking itself too seriously. Rock himself plays the narrator, in case you needed yet another reason to watch.
Credit: Jaimie Trueblood/CBS Photo Archive/Getty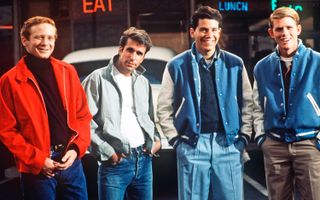 Happy Days (1974 – 1984)
AAAAAAAY! Happy Days is the show that put both Ron Howard and Henry Winkler on the map, and it deserves some credit for that alone. Howard plays Richie Cunningham: an ordinary teenager from Milwaukee, who gets up to all sorts of adolescent hijinks with his best friend, Arthur "Fonzie" Fonzarelli (Winkler).
The show is pretty much everything you'd expect from a nostalgic teen sitcom, but the strong cast and variety of interesting supporting characters helped solidify its appeal. (At one time, it was the most popular show in the United States.) However, be warned that Happy Days doesn't stay strong forever; the phrase "jumping the shark" actually comes from a bizarre fifth season episode of this show.
Credit: ABC Photo Archives/ABC/Getty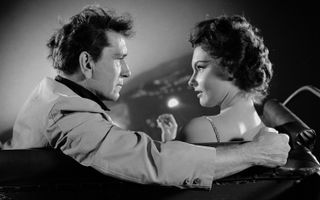 The Twilight Zone (1959 – 1964)
Jordan Peele, who directed Get Out and Us, is hard at work on a Twilight Zone reboot. But until then, CBS All Access has every episode of the unsettling original series available to stream. The Twilight Zone is a sci-fi/horror anthology show, meaning that every episode has a different mind-bending premise, as well as a unique set of actors.
Rod Serling plays an otherworldly host, who introduces viewers to each episode's unearthly premise, and unexpected conclusion. Some memorable episodes include stories about aliens who seem almost too eager to serve man, a lone survivor of an apocalypse who wants only time to read and a man (played by a certain captain of the USS Enterprise) who insists, beyond all reason, that a gremlin is terrorizing him on an airplane.
Credit: CBS/Getty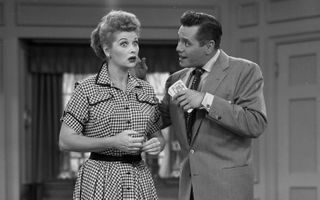 I Love Lucy (1951 – 1957)
I Love Lucy is a little dated and a little cheesy, but considering the show ended more than 60 years ago, it's still surprisingly funny. The setup is about as typical as sitcoms get: Lucy and Ricky are a married couple in New York City, who get into all sorts of misadventures with their friends Fred and Ethel. What elevates the show is Lucille Ball's timeless performance as the titular protagonist. Ball was a natural at slapstick, which balanced perfectly with the show's snappy dialogue and bizarre situations. Lucy's harebrained schemes to be as famous as her nightclub-singer husband invariably go wrong in the most entertaining way possible.
Credit: CBS Photo Archive/Getty