15 Games to Play After Binge-Watching Stranger Things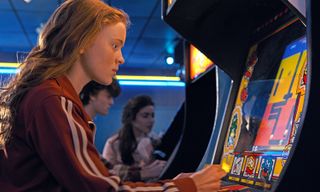 Beyond Strange
If you're one of the countless number of viewers who have already watched the entire second season of Stranger Things, you're probably looking for something else to fill your time. The next season of the show likely won't be on Netflix for a long time, so what is a fan supposed to do for the next year (or more!) while we wait around? There are always video games! Whether you want to track down some of the arcade games featured on the show, or play something in the comfort of your own home, there are plenty of other options to fill the time after your binge session.
Credit: Netflix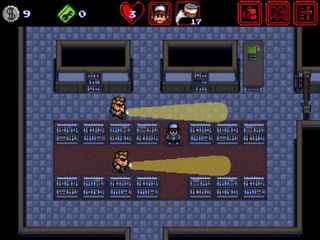 Stranger Things (2017 - Mobile)
Did you know there's a mobile video game tie-in for Stranger Things? And that it's apparently pretty good? It was released for iOS and Android devices in October, and it features art similar to Super Nintendo-era retro games. Specifically, the team behind the game made it look like The Legend of Zelda. It's based on the first season of Stranger Things, and the player begins as Jim Hopper looking for the boys. In its first week of release, three million people downloaded it, and the developers added an update after Season 2 came out.
Credit: BonusXP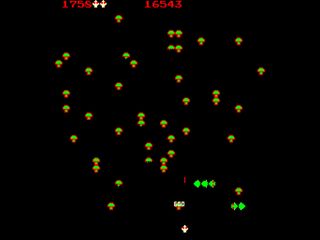 Centipede (1980 - Arcade)
In the premiere episode of the second season, the boys hit up a local arcade, pockets filled with quarters, to play their favorite games. When Lucas boasts to Dustin that he has the high score in Dragon's Lair, Dustin counters that he's got the best score on Centipede and Dig Dug. Centipede is a 1980 "fixed shooter" game by Atari, and it's been released on various non-arcade gaming platforms ever since. In it, the player fights off centipedes and other creepy crawlies — which sounds like a nightmare to me. But if that's your sort of thing, tracking down a version of the game is worth your time.
Credit: Atari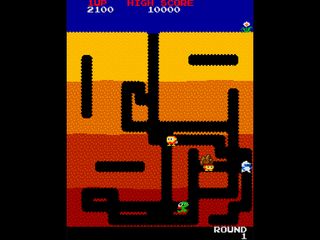 Dig Dug (1982 - Arcade)
The other game Dustin initially thinks he has the high score on in the arcade is Dug Dug. But he quickly learns that a mysterious other player, MADMAX, actually has over 100,000 points more than he does. Eventually, the boys figure out that MADMAX is actually a girl named Max. Hooray for girl gamers! That makes Dig Dug, the 1982 arcade game developed by Atari, an excellent choice to check out after finishing Stranger Things. The object of the game is to wipe out monsters living underground as a figure called Dig Dug that can dig tunnels through dirt. Pretty self-explanatory.
Credit: Namco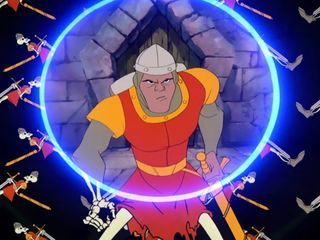 Dragon's Lair (1983 - Arcade)
In Stranger Things Season 2, Lucas beats Dustin in Dagon's Lair: a game that was kind of a legend in its time. It was expensive compared to other arcade games (50 cents per play), and it was extremely popular. Dragon's Lair was animated by Don Bluth, who also worked on films like The Land Before Time and The Secret of Nimh (one of my favorites!). A sort of "choose your own adventure" game, the main point is to rescue a princess named Daphne. It has spin-offs on all sorts of other platforms, so if you get a chance to play, you should take it.
Credit: Cinematronics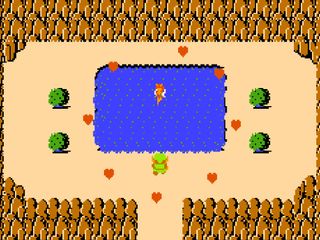 The Legend of Zelda Series (1986 to Present - Nintendo Consoles)
Everybody knows the Legend of Zelda games, right? But to really get that nostalgic feeling, you should try to track down the original game, released back in 1986. In it, the chief protagonist, Link, needs to rescue a princess, Zelda, and save the fictional kingdom of Hyrule. A lot of gamers have said that the Stranger Things mobile game has a distinct Zelda vibe. If the Stranger Things mobile game hit the spot and you're looking for something similar, the first Zelda or any of its myriad sequels are an excellent option.
Credit: Nintendo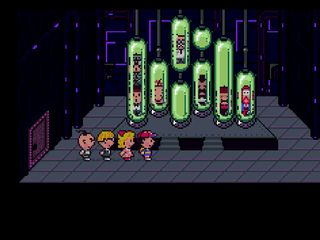 Earthbound (1994 - Super Nintendo)
Moving on from the 80s, the 1994 game Earthbound is a Japanese role-playing video game published by Nintendo. It's another fun vintage game to check out if you loved Stranger Things. In it, the main character, Ness, has to travel around the world to try to stop an evil entity called Giygas, with the help of his friends. The whole "power of friendship" theme can be found in both this game and Stranger Things, so if that's what you like about the show, Earthbound is an obvious choice. It's got a cult following and an active fandom, too, if you love that sort of thing.
Credit: Nintendo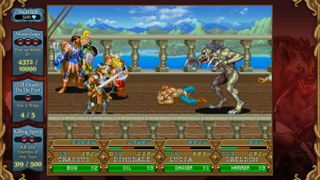 Dungeons & Dragons: Shadow Over Mystara (1996 - Arcade)
It's no secret that Dungeons & Dragons is a huge part of Stranger Things. In the very first episode of the show, Mike, Will, Dustin and Lucas all play the game together, and it's after a session that Will first goes missing. If you're already a fan of Dungeons & Dragons, then the 1996 arcade game, which takes place in the campaign setting of Mystara, is an awesome Stranger Things follow-up.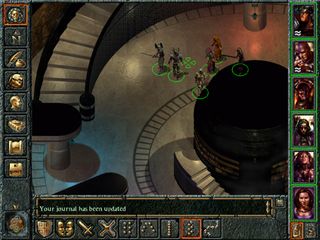 Baldur's Gate (1998 - PC)
The original Baldur's Gate is a fantasy role-playing video game, which uses a version of Advanced Dungeons & Dragons 2nd edition rules. The title takes place in the Forgotten Realms, a "high fantasy" campaign world. If you're a fan of Dungeons & Dragons and are looking for a video game adaptation of it, or if you're just curious now because Stranger Things mentions D&D so much, Baldur's Gate is an excellent option. There are several titles in the series, which are all available for PC (with a few console spinoffs), but try to find the original and play it if you can.
Credit: BioWare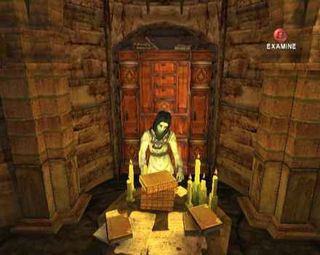 Eternal Darkness: Sanity's Requiem (2002 - Gamecube)
Eternal Darkness: Sanity's Requiem is categorized as a horror video game, and Stranger Things relies heavily on horror elements, too. This might be a good option if you're looking for a scary follow-up to the show. Its gameplay mechanics are similar to the Resident Evil series, and it features fairly young characters investigating a mystery and taking on a powerful otherwordly force. Sound anything like the Stranger Things kids facing the Demogorgon, or the Demo-dogs? A sequel to the game was cancelled, but a movie or TV property may be in the works.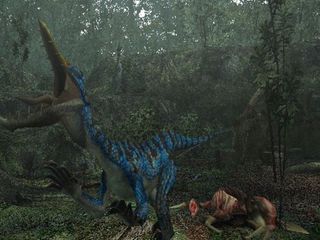 Monster Hunter Series (2004 to Present - Various)
Let's jump forward in time and check out some titles from the early 2000s. Monster Hunter is the first in a series of fantasy-themed action/role-playing games. The franchise debuted on Playstation 2, but has now expanded across several other platforms. The main objective is to slay fearsome monsters. Lest we forget, David Harbour (Jim Hopper) said in his acceptance speech for the cast's SAG award that he and the cast would "shelter freaks and outcasts" and "hunt monsters," just like their characters. So be like Eleven and Hopper, and go hunt some monsters!
Credit: Capcom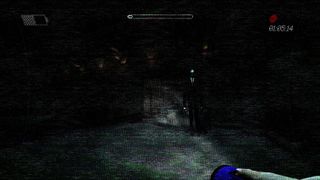 Slender: The Arrival (2013 - Windows, Mac)
Have you heard of The Slender Man? He's a supernatural creature reportedly created on the Something Awful Internet forums, but the figure has become infamous in other ways since then. In fact, certain violent acts back in 2016 may have been linked to teenagers who read about Slender Man. His creation was supposedly influenced by the writings of H.P. Lovecraft, which also influenced the writers behind Stranger Things. The main objective is to escape both Slender Man and another creepy character, so if Slender Man creeps you out already, maybe steer clear of this one.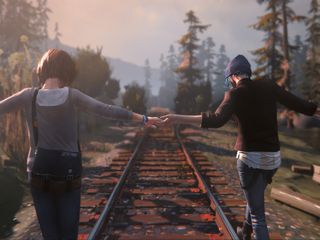 Life is Strange (2015 - PC, PS4, Xbox One)
Life is Strange was released in five episodic parts throughout 2015, initially available on Microsoft Windows, and PlayStation and Xbox systems. In it, the main character, Max Caulfield, learns that she can rewind time and trigger a butterfly effect. After foreseeing a catastrophic storm in her town, Max decides to try to stop it. Every action she takes changes the narrative of the story. Does the whole "teenager tries to save a town" storyline sound a little familiar? A sequel is in development, so this is a good time to try the original out.
Credit: Square Enix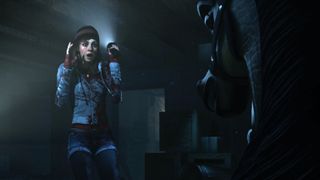 Until Dawn (2015 - Playstation 4)
Until Dawn is a survival/horror video game, published by Sony and available for PlayStation 4 consoles. The game follows eight teenagers, who go on vacation one year after a mysterious disappearance in the same remote cabin. They find themselves under attack by an unknown figure, and the objective is to survive — you guessed it — until dawn. Players can switch between the characters, which can affect who survives to the end of the game. It's another game that's perfect for people who loved the horror elements in Stranger Things.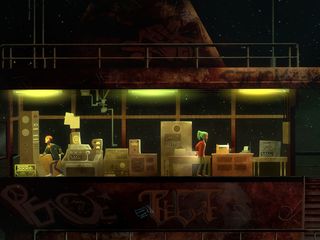 Oxenfree (2016 - PC, Mac, Xbox One)
Described as a supernatural mystery game, Oxenfree is another video game that casts the player in the role of a teenager. When several strange events occur, the protagonist, Alex, and her friends have to uncover the secrets of an island she's visiting. The developers were specifically influenced by classic coming-of-age TV shows and teen movies like Stand By Me — which also reportedly influenced Stranger Things. The game is also in the process of being adapted into a film and a web series.
Credit: Night School Studio
Night in the Woods (2017 - PC, Mac, Linux, PS4)
Another recent option on this list, Night in the Woods is a single-player game that gamers funded on Kickstarter. It also follows a group of young people as they uncover a dark mystery in a small town. (Are you sensing a pattern in a lot of the choices on this list?) The game is currently available for several different gaming platforms, and is slated for a tentative release on mobile devices in 2018.
Credit: Finji