Best Galaxy Note 8 Cases: Our Top Picks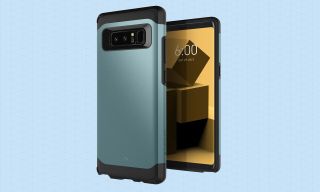 Protect Your Note 8
Samsung's Galaxy Note 8 brings a bigger and completely new look for the Galaxy Note smartphone line. As with any device revamp, it's going to take a completely new set of cases to keep your latest Samsung phablet looking pristine. Fortunately, casemakers already have new designs available to accessorize this 6.3-inch handset. Options range from completely clear cases that show off the design and wallet cases to super-tough shells that survive 10-foot drops. You'll probably want to get your hands on one of these before grabbing the Note 8 to protect your $930+ investment.
Credit: Caseology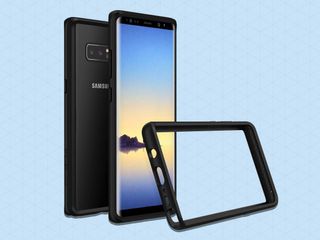 RhinoShield CrashGuard Bumper Case
RhinoShield promises to protect your pricey Note 8 without adding too much in the way of bulk to the sleek looking phone. The CrashShield Bumper Case can absorb impact energy thanks to the in-house material RhinoShield uses on the accessory, while a hexagonal structure helps disperse shock. RhinoShield says a Note 8 can survive a 3-meter drop, and it's got the video to prove it.
Credit: RhinoShield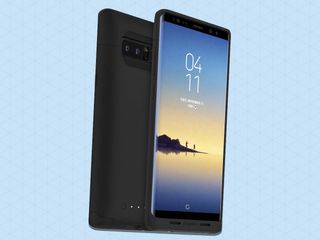 Mophie Juick Pack
The Note 8 proved to be a long-lasting phone in our battery testing, but it never hurts to have added juice on hand. The Note 8 version of Mophie's Juice Pack boosts the device's talk time to more than 36 hours, thanks to a 2,950 mAh built-in battery. It's also compatible with the Note 8's wireless charging capabilities so you can keep your phone in the case even when you spy a charging pad.
Credit: Mophie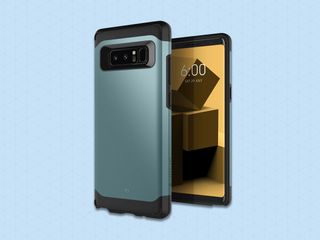 Caseology Legion Series
Caseology's heavy duty Legion Series for the Note 8 offers the greatest level of protection out of the four lines being released. It boasts a military-inspired design, including shock absorbent thermoplastic and polycarbonate that results in a hard-based rubber build. The Legion Series comes in Charcoal Gray, Rose Gold, Warm Gray and Aqua Green, and each case features a raised bezel to prevent scratches on your precious infinity display. And with tactile button covers guarding your Note 8 from the elements, Caseology's Legion Series is well worth the price.
Credit: Caseology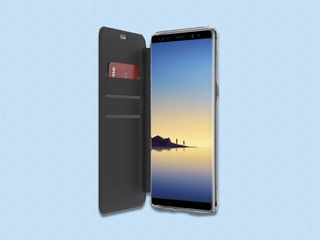 Griffin Survivor Clear Wallet
The Griffin Survivor lineup gets a clear addition for the Galaxy Note 8. With a transparent polycarbonate casing, the Survivor Clear Wallet puts your Samsung phone on display, while also protecting it from drops and scratches. With a convenient and minimalistically designed folio wallet that can hold your cards and folded bills, Griffin provides more with less. The wallet cover can be shut to keep your valuables and screen safe. Griffin's Survivor Clear Wallet comes with a one-year warranty, but hopefully with its MIL-SPEC tested design and anti-yellowing body, you won't have to use it.
Credit: Griffin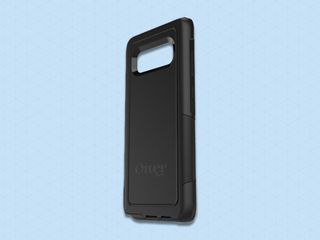 Otterbox Commuter Series
Otterbox combines protection and portability with its slimmer Commuter Series for the Galaxy Note 8. It features dual-layered cases that guard against bumps and shock with a polycarbonate shell and synthetic rubber slipcover, making it easier than ever to slip in and out of pockets while on the go. Port covers prevent lint and grime buildup for the headphone jack and USB Type-C charger, while making space for the Galaxy Note 8's dual cameras and S Pen. Otterbox's Note 8 Commuter Series comes in black, indigo and pink.
Credit: Otterbox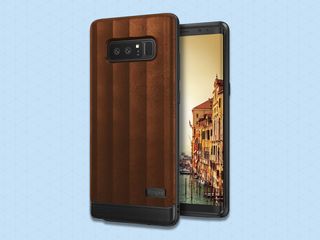 Ringke Flex S Series
Ringke's sophisticated Flex S Series for the Galaxy Note 8 is a stylish option that offers dual layer protection. Made from thermoplastic and PU leather, the Flex S is scratch resistant and shock absorbent. Tactile grips provide a comfortable hold, while anti-slip sides helps minimize drops and raised bezels safeguard your infinity display. With a slim and lightweight design, the Flex S case is easy to carry for busy individuals who want portability and professionalism. Available in brown, red, blue, silver, black and pink, Ringke's Flex S lineup is a versatile case for your Note 8.
Credit: Ringke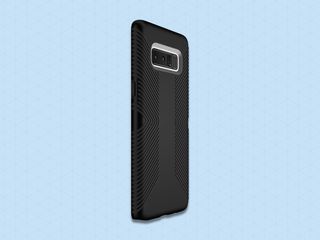 Speck Presido Grip Series
Ideal for serious cases of butterfingers, Speck's Presido Grip Series provides solid protection for your Galaxy Note 8. Textured ridges offer a sturdy grip, while the shock absorbent materials that make up the trademarked Impactium perimeter can survive drops up to 10 feet. Raised bezel guards protect the Note 8's screen, yet the Presido Grip is slim enough to slip in and out of pockets easily. Speck's Presido Grip is available in black, white, gray and dark blue, and a glittery pink version costs a bit extra.
Credit: Speck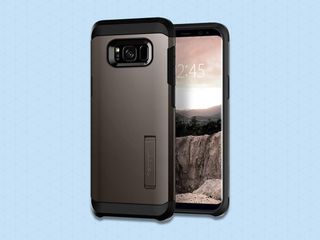 Spigen Tough Armor Series
Spigen's durable Tough Armor Series for the Note 8 offers double layered protection that absorbs shock without the bulk. Made from thermoplastic and polycarbonate, the Tough Armor has earned a MIL-STD-810G rating, proving itself fit for active settings. The case comes in five colors that can be matched to your Note 8: black, Maple Gold, Gunmetal, Orchid Gray and Deep Sea Blue. For added functionality, the Tough Armor has raised lips to protect the screen and camera, and a reinforced kickstand for a hands-free viewing experience.
Credit: Spigen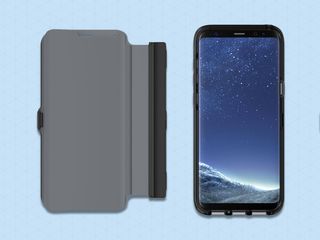 Tech21 Evo Wallet
A new addition to Tech21's Evo lineup, the Galaxy Note 8 Evo Wallet lets you access all your prized possessions quickly in one conveniently slim case. With two concealed card slots in its folio cover, your cards and folded bills are kept secure. The Evo Wallet also utilizes patented and trademarked materials like FlexShock will protect your Note 8 from drops up to 10 feet. Tech21's case comes in black and features a stylish geometric pattern on the folio cover's exterior.
Credit: Tech21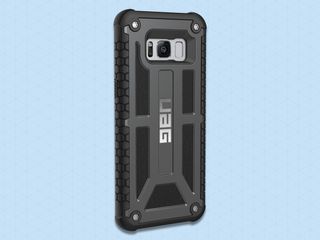 Urban Armor Monarch Series
Urban Armor has extended its MIL-SPEC tested Monarch line to include the Galaxy Note 8. Available in crimson and black, the Monarch case combines minimalistic design and durability for innovative protection that withstands up to 8-foot drops. Featuring top-grain leather, alloy metal hardware, honeycomb traction grip and protective screen surround, Urban Armor's Monarch case will last you a long time, especially since it's backed with a 10-year warranty. The Note 8 Monarch Series is also slim enough to be carried by active individuals and features wireless charging compatibility.
Credit: Urban Armor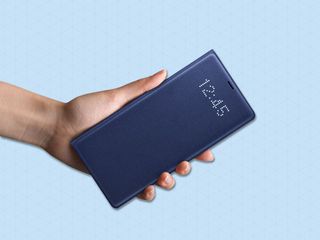 Samsung LED View Cover
Stay alert even when your case is closed with Samsung's unique LED View Cover for the Galaxy Note 8. Check the notifications, turn off alarms or answer and reject phone calls with a simple swipe to the cover's LED display. You can even customize a caller ID with one of the cover's 54 special icons to identify your favorite contacts. Available in black, Deep Sea Blue, Orchid Gray and Maple Gold, Samsung's LED View Cover is stylishly designed and takes the work out for you with its automatic wake and sleep functionality. The cover's interior features a card pocket that allows your Note 8 case to double as a wallet.
Credit: Samsung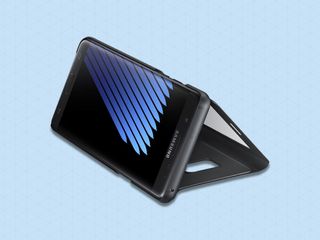 Samsung Protective Standing Cover
Protecting your Note 8 is paramount, but you don't have to be locked into a bulky or flat accessory. Samsung's Galaxy Note 8 Protective Standing Cover offers durability and diversity with a MIL-SPEC tested case with an attached kickstand that makes watching videos a breeze. An automatic pop off mechanism activates when exceeding pressure is applied to the kickstand to prevent breakage. Available in black and Deep Sea Blue, the Protective Standing Cover provides a stylish design, though you'll need to remove it if you want utilize wireless charging.
Credit: Samsung