11 Essential Mario Kart 8 Deluxe Tips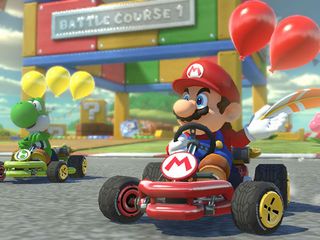 11 Essential Mario Kart 8 Deluxe Tips
Whether you missed Mario Kart 8 on the Wii U or want a great party game for the Nintendo Switch, Mario Kart 8 Deluxe will bring out your competitive side. If you haven't played a Mario Kart game since marathoning the Nintendo 64 version back in your dorm room, there's a lot to learn.
Nintendo's latest racer will feel familiar, especially with its wide variety of characters based on the company's storied franchises. In addition, there is a revamped Battle Mode, and plenty of new maps to learn and new features to master. Whether you're a returning veteran or a novice driver, here are 11 tips you should know before getting behind the wheel.
Image: Nintendo
6 Essential Mario Kart 8 Deluxe Tips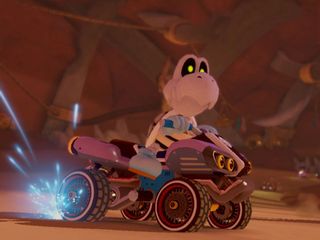 Stop Fire Hopping
Fire hopping, the act of jumping along the track while boosting to prevent drag, was a contentious tactic in the original Mario Kart 8, and it's been removed from the Switch version.
Not only does it not work, but it can slow you down when you're trying to go faster. That's a no- no. If you were using it in the Wii U version, you'll have to rethink your strategy on the Switch.
Image: Nintendo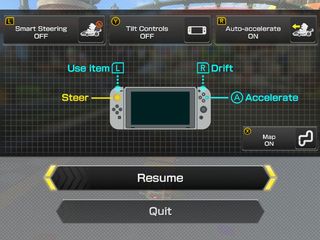 Try the New, Easier Settings
Whether you're new, or you're playing with friends who haven't tried Mario Kart before, you'll want to give the game's new accessibility settings a try. There's smart-steering, which will prevent you from falling off the track, and auto-acceleration, which propels you forward automatically without holding down the A button.
These options can be found in the pause menu, so they're easy to switch on and off.
Screenshot: Tom's Guide / Nintendo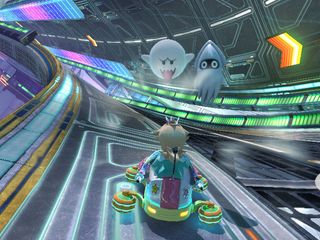 Use the New Items
There are two new items to master in Mario Kart 8 Deluxe. When you race, there's Boo, a manipulative ghost that will steal other other players' items. In Battle Mode, the jumping feather lets you leap over incoming bananas, shells and other attacks.
Screenshot: Tom's Guide / Nintendo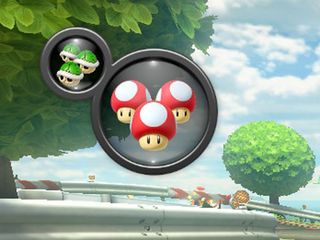 Carry Two Items
Speaking of items, now you can carry two of them. You should try to always have a backup item on hand to be ready for any situation. This also gives you the chance to collect a better item than what you're currently holding without wasting it. And always drive through item boxes on the course to make sure you're getting the best stuff.
Screenshot: Tom's Guide / Nintendo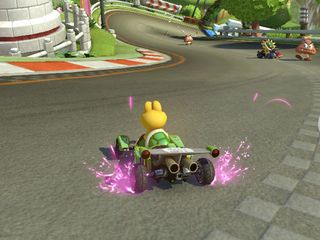 Drifting Is Your Friend
Lean into the curves. Holding down the R button lets you drift, power-sliding around corners and producing sparks.
Those sparks indicate just how much of a boost you'll get when you let go of the button. They'll start at blue, then move to orange and pink. It will take a bit of practice before you get to the orange and pink levels, as it's difficult to steer while drifting, but the payoff is worth it.
Screenshot: Tom's Guide / Nintendo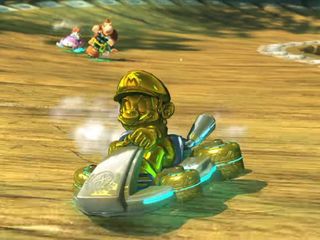 Unlock Golden Mario
There's very little to unlock in Mario Kart 8 Deluxe, minus some car parts, but there's one character to earn: Golden Mario. It's actually a palette swap for Metal Mario, but it looks really cool.
You'll have to get a gold trophy in every single cup at the 200cc level, a new, insanely fast addition to the game. It will take time and effort, even for veteran racers, but being able to play as a trophy-colored Mario will earn you major bragging rights online.
Image: Nintendo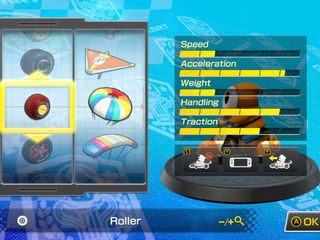 Balance Out Your Kart
You don't just pick your kart's body, wheels and glider for looks. Each element has its own set of stats that have an effect on your top speed, acceleration rate, weight and more. Hit the plus button when choosing your parts to see how your current setup will change your performance on the track.
Screenshot: Tom's Guide / Nintendo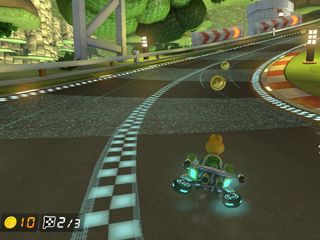 Collect Coins
While you're racing, you'll find coins spread throughout the course. Be sure to pick these up, as they'll get you speed boosts (up to 10 coins). When you're out of the race, those coins go to unlocking new parts for your karts — some of the only items that aren't available when you first start the game.
Screenshot: Tom's Guide / Nintendo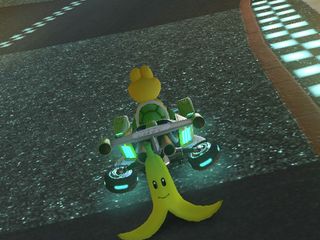 Protect Your Rear View
You won't always see or hear projectile attacks coming, so it's important to keep the back of your kart protected. If you have three red or green shells, they'll spin around your kart for 360-degree protection. Otherwise, you can hold the L button to hold an item behind you, and your current item will deflect oncoming attacks. Hold the X button to look behind you -- but don't do it too long, lest you end up running into a wall.
Screenshot: Tom's Guide / Nintendo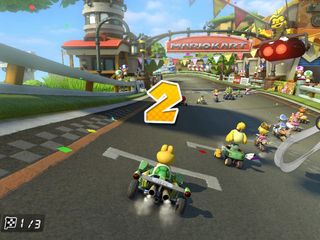 Boost Out of the Gate
If you time it right, you can get an advantage on other racers as soon as the checkered flag is waved. In the countdown, start accelerating between "2" and "1" for some extra oomph right out of the gate. Don't start too early, though, or you'll spin out, leaving your kart compromised at the beginning of the race.
Screenshot: Tom's Guide / Nintendo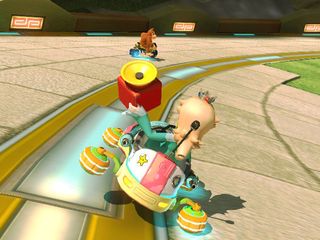 Stop Blue Shells
You're in first place when suddenly, the dreaded blue homing shell comes out of nowhere, blowing you sky-high and letting others zoom past you. If you have the right timing, you can stop the shell from hitting you. It's rare to get the Super Horn when in first place, but if you have it, a well-timed blast can stop the blue shell in its tracks, and let you continue your lead.
Screenshot: Tom's Guide / Nintendo