The best point and shoot cameras give you much more photographic power than your smartphone, while being much lighter, smaller, simpler and cheaper than the best mirrorless cameras and best DSLR cameras.
Thanks to being literally pocket-sized, these point and shoots are the ideal choice for travelling, as they won't take up much (if any) of your precious backpack space. This also makes them good for special occasions like weddings or parties, where you don't want a large camera hanging around your neck and being obtrusive.
What's more, because they're often very affordable, the best point and shoot cameras are perfect for introducing kids to photography, teaching them photographic principles that they won't learn on a smartphone, while also offering better features.
Good point and shoot cameras feature long optical zoom ranges, decent image and video quality, built-in flash, respectable low light performance and even image stabilization. To find out which one is right for you, read on to see our roundup of the best point and shoot cameras you can buy today.
The best point-and-shoot cameras you can buy today
The Sony Cyber-shot DSC-W800 is the best point-and-shoot camera for those on a budget; its low cost makes it a great option for younger kids interested in photography, too.
The camera is a portable 2.1 x 2 x 0.9 inches, and weighs 3.5 ounces. It has a 5x zoom, and shoots 20-MP photos that have strong color and detail in bright conditions. However, quality drops as things get dark, and the camera's flash is easily covered by your finger.
Read our full Sony Cyber-shot DSC-W800 review.
The Lomo'Instant Automat is the best point-and-shoot camera for those who want an instant camera. It gives you sharper images, better low-light performance and a wider field of view than its competitors.
The Automat has a remote built into its lens cap, so you can more easily take group shots or exposures up to 30 seconds. (It has a tripod mount, too.) Zone focusing helps measure the proper distance for the best shot, and we liked its optical viewfinder. The camera and remote use two different batteries (sold separately).
Lomography sells several versions of the Lomo'Instant Automat, some of which include add-on lenses, such as a "Splitzer" gizmo that divides the frame into different sectors, and a lens for shooting extreme close-ups, up to a foot from your subject.
The best point-and-shoot camera for taking on underwater excursions, the Olympus Tough TG-6 features a 12MP sensor, f/2.0 lens, Olympus' TruPic VIII image processor and a 4X optical zoom. The TG-5 also sports what Olympus calls a Field Sensor System, which tracks your movement, temperature and location, so that you can see your stats later, or embed that info directly into your footage.
And because this camera is part of Olympus' Tough line, you get some serious durability that includes water-resistance up to 50 feet, shock-resistance up to 7 feet, and operating temperatures that extend down to 14 degrees Fahrenheit.
While its numerous dials give it a decidedly retro feel, the Panasonic Lumix DMC-LX100 is a packed with forward-looking features, including great 4K video and fast autofocus. It has a large 16.8 megapixel sensor and a sharp 3.1X Leica optical zoom lens that has an f/1.7 maximum aperture for very shallow depth-of-field photos, a quality found in many professional images. In addition, the LX100 has a rear LCD and an electronic viewfinder. All this in a sturdy, nearly pocketable magnesium alloy frame that makes the LX100 a pricey, but great compact camera.
Read our full Panasonic Lumix DMC-LX100 review.
While it doesn't have the longest reach of the cameras we tested, the 65X telephoto lens of the Canon PowerShot SX60 HS is the best compact camera with an ultrazoom lens. It gets you very close to the action, and captures everything in sharp detail, whether you're taking photos or shooting video. It also has an external mic jack, and can shoot in RAW, something few other ultrazooms can do. Its very comfortable handgrip, swiveling LCD, and powerful image stabilization make it capable of capturing sharp photos or jitter-free video of hard-to-reach shots, such as shooting over your head. And, it does all this for less than $500, making the SX60 HS a great deal.

If you're looking for an even longer zoom, check out the Nikon CoolPix P1000, which is twice as expensive, but has a 125x (3000mm-equivalent) zoom lens.
Read our full Canon PowerShot SX60 HS review.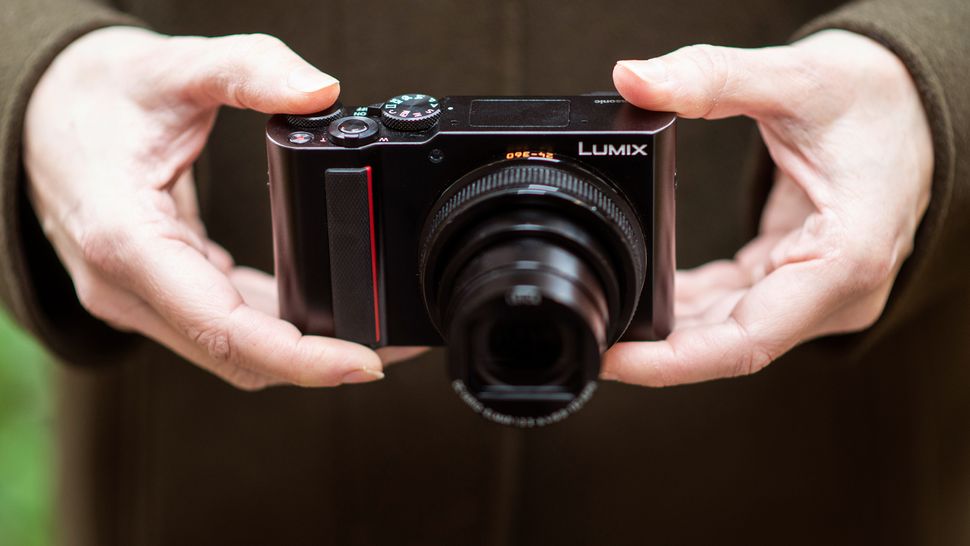 With a 15X zoom (24-360mm equivalent), the Panasonic Lumix ZS200 is the best compact camera for travelers who are looking for a small yet versatile shooter. It's easy enough for beginners, but has an array of dials and controls for advanced amateurs to take command of all of the camera's settings.
Although its rear display doesn't tilt, we also liked its sharp electronic viewfinder. Low-light shots were good, and also did great when shooting 4K video.
Read our full Panasonic Lumix ZS200 review.
How to choose the best point-and-shoot camera for you
While many consumers choose to shoot most of their photos and videos on smartphones, some still like the convenience and quality you can get with a stand-alone point-and-shoot digital camera. But with so many changes taking place in the camera market, what features are you getting in the models that are available?
Not surprisingly, the better features — such as longer optical-zoom lenses or in-camera image stabilization — are found in the pricier models, but competition is still keeping prices lower than in years past. In fact, a point-and-shoot that costs more than $300 will most likely be classified as a bridge camera or a rugged-and-waterproof camera.
Use the following list as a guide of what features you'll begin to see at particular price points. Note that almost all point-and-shoots at this time have between 16 and 20 megapixel sensors:
$50 or less: No optical zoom (fixed-focal length); 4x digital zoom; built-in flash; 1.8-inch LCD; runs on AA or AAA batteries; 720p HD video
$75: 3x-5x optical zoom; 2.7-inch LCD; 28mm wide-angle lens; small selection of scene modes, such as panorama, beach, and sunset modes;
$120: 8x optical zoom; 24mm wide-angle lens; smart auto mode (automatically determines the proper mode for the scene); digital or electronic image stabilization; larger selection of scene modes; includes help features or in-camera tips.
$160: 10x optical zoom; built-in Wi-Fi and NFC connectivity; optical image stabilization; improved low-light performance.
$200: 12x optical zoom; stylish camera-body designs; 1080p full HD video; 3200 ISO; burst mode at 7 frames-per-second.
$250: 25x optical zoom; RAW still-photos.
$300-plus: 30x optical zoom; touchscreen and/or swiveling LCD; very good performance in low light; manual settings; burst mode of 10 frames per second; top ISO of 12,800 ISO.
Be sure to check out all of our camera picks:
Best cameras | Best DSLR cameras | Best action cameras | Best waterproof cameras | Best instant cameras | Best mirrorless cameras | Best cheap cameras | Best GoPro camera | Best GoPro accessories | Best drones | Best 360 cameras | Best iPhone lenses | Best iPhone tripods |DSLR vs. mirrorless | Best Nikon accessories | Best Sony a6000 accessories

The best apps and software for editing, managing, and sharing your photos:
Best photo organizer apps | Best photo storage sites | Best photo editing software | Best photo editing apps | Best photo collage apps