Aura Mason Luxe Frame: Specs
Dimensions: 9.8 x 7.8 x 1.9 inches
Touch screen: No
Wi-Fi: Yes
Remote: No
Built-in storage: No
Motion sensor: No
Music player: No
Video: Yes
USB/SD slots: No/No
Cloud Services: Yes
Aura's Mason Luxe is a mid-sized 9.7-inch frame with a 2K screen that's bright, clean, and in your face, wrapped in a decorative, rustic granite-styled enclosure. It lets you view both still images and videos with exquisite detail and deep, true color rendition. Operated via a proprietary smartphone app, the frame has no onboard storage and does not accept camera cards or thumb drives, but can show an unlimited amount of media from your Camera Roll, Gallery, or online photo sources like Google Photos.
The image quality is superlative on its wide screen with realistic color and a wide viewing angle. Two touch bars — one on the top and the other on the side of the frame — offer minimal controls, while the real center of gravity is the Aura app for iOS or Android, where you can control all of your Aura frames at once. Read our full Aura Mason Luxe review to see why this is one of the best digital photo frames.
Aura Mason Luxe Frame review: Price and availability
This flagship product is among the highest quality photo frames available, and it does not come cheap. It comes in Sandstone (a whitish gray) or Pebble (a medium gray) for $249 on Amazon or for the same price on the Aura website.
Aura Mason Luxe Frame review: Design
The Aura Mason Luxe frame is a true designer piece that will go with every decor. Its neutral color scheme and natural textured stone-like exterior (actually constructed of plastic) blends in equally well with rich colors and bright hues or minimalist, monochromatic color schemes. While it could be compared with the older Aura Mason frame, it's actually a better design, as the bezel is thinner while the glass is larger. Overall, the impression is a larger, brighter image that stands up equally well in either landscape or portrait orientation.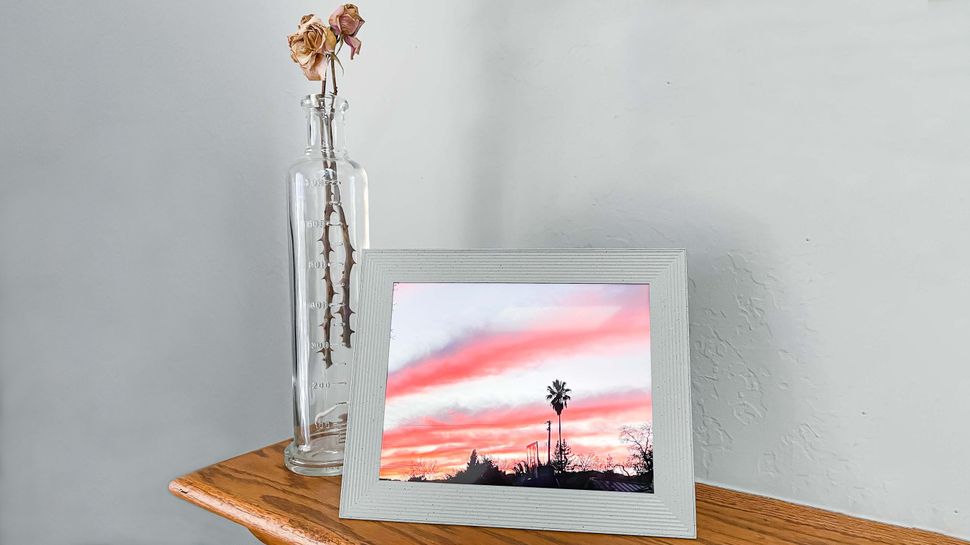 The Mason Luxe is strictly a tabletop frame, with no way to hang it on the wall, but unlike many other frames, its exterior bezel is thick and sturdy so it will not tip over with ordinary use.
Aura Mason Luxe Frame review: Image quality
Image quality at a resolution of 2048 x 1536 is nothing short of outstanding — and it's the highest resolution digital frame we've seen. If you care about having the best quality images, this is the frame to get. The Mason Luxe pairs perfectly with photos and videos from Apple or Android smartphones, plus a web uploader that lets you add images — but not videos — directly from your computer. The frame also can pull in photos from your iCloud or Google Photos accounts.
You can be certain your images will show up looking crisp and clear behind the frame's semi-matte glass. Photos and videos are integrated and play in slideshows together, but videos load and play silently by default — you must tap the touch bar to control the volume. Videos are limited to 30 seconds of playback, which is plenty for a digital photo frame. Sound quality is about what you'd expect with tiny speakers located on the back of the frame. Playback tends to stutter a wee tad at times, so it's best when videos stay short.
The viewing angle is reasonable, however images will appear dimmer the farther away from the center of the frame you move.
Aura Mason Luxe Frame review: Interface
When it comes to frame interface, there's nothing much to it — and that is a good thing. Two touch bars — one at the top and the other at the side — allow control of the frame without tapping or swiping the glass. There is no remote control or touch screen capability. While touch screens are easy and convenient, they also can look messy with oily fingerprints interfering with the view. Touch bars ensure that the screen always looks pristine.
The top bar lets you advance photos until you find the one you want to view. A long press lets you close the menu, remove an image, or turn the frame off. The side touch bar, when swiped, reveals minimal metadata like location, date and time shot, and photographer. You can also like a photo from the slider. The frame accepts only cloud input — no SD cards or thumb drives, and no internal storage.
Friends and family can add photos to your frame (with permission) via email, their own app, or the website. Screen brightness adjusts automatically based on ambient light, but at night when the lights are off, the frame automatically goes into sleep mode. I would much prefer a motion detector, as found in our favorite Pix-Star frame, because that governs frame operation when there's actually someone to view it. A dark room doesn't mean it's not occupied. However, you can also schedule on-off times, which gives users more scheduling and energy saving options.
The app's setup panel gives you some flexibility in photo presentation. You can set the overall speed, rotation, and crop. If you rotate the frame, images will rotate with it automatically. If you own more than one Aura frame, the app lets you share photos and videos between all of them so you can pick and choose who gets which pictures and save time by not having to re-upload multiple shots. While you can choose either random or chronological presentation, you cannot otherwise specify photo or video order.
Aura Mason Luxe review: App
Like the other Aura frames we looked at, the Mason Luxe relies on a mobile app for most of the uploading and image tracking chores. We found Aura's proprietary mobile app easy and efficient. It syncs with your device gallery and connects via its own server so there's no storage limit on the number of photos the frame can display. You can also manually upload the photos or videos you want the frame to display. The app lets you crop and rotate images for the best view. You can set slideshow timing in intervals anywhere from 15 seconds to 24 hours with 13 choices.
You can invite friends and family to contribute to the frame via the app as well as comment and favorite images. You can also add images from your Google Photos, control images on your frame from Aura's web uploader, crop images using the positioning tool, and even move or share images between multiple Aura frames, if you own or control more than one. It can also be programmed to work with Google Assistant or Amazon Alexa.
Aura's app accesses your device's photo library to collect metadata, including facial recognition, and uploads this data to the cloud. This is used for the app's Smart Suggestions feature, which we are not overly impressed with. It's designed to group your photos according to similar metadata, so similar times, places, and people appear in close proximity in the frame's photo rotation. Metadata is not shared or sold, and photos are not uploaded without your permission. Even if you disable Smart Suggestions, Aura retains access to the metadata of the photos you share, but does not upload data about unshared photos.
Aura Mason Luxe Frame review: Verdict
For a mid-size tabletop digital photo frame, the Aura Mason Luxe is the best you can get if you crave beautifully detailed, high resolution photos that are rich and dynamic without being flashy. Colors are realistic with no artifacts. If you want to go larger, consider Aura's Carver frame, while the original Mason frame appeals to a smaller, more quiet and artistic overall presentation.
The Mason Luxe frame is great for non-technical folks, as its setup is simple and flawless, or you can set one up and manage it as a gift so that viewers don't have to do anything but watch and enjoy.