Asus ROG Zephyrus G14 (2022) specs
Price: $1,649 to start, $2,499 as reviewed
Display: 14-inch (2,560 x 1,600 pixels) 120Hz
CPU: AMD Ryzen 9 6900HS
GPU: AMD Radeon RX 6700S - 6800S
RAM: 16GB
Storage: 1TB SSD
Battery: 10:14 (Tested)
Size: 12.28 x 8.94 x 0.77 inches
Weight: 3.79 pounds
The Asus ROG Zephyrus G14 (2022) ($1,649 to start) is the latest iteration of one of the highest-rated gaming laptops we've ever reviewed, and after spending a few weeks with it I can tell you it's still one of the best gaming laptops you can buy.
The 2022 Zephyrus G14 we reviewed has a better, brighter screen than its predecessor, with good speakers and an AMD CPU/GPU combo that delivers solid gaming performance. It also sports a built-in webcam, something earlier models lacked.
But despite these upgrades, the new Zephyrus G14 is in some ways weaker than its predecessor. It can't last quite as long on a single charge, the gaming performance is good but not always better than what you'd get from similarly-priced competitors, and the webcam is bad.
Still, those are minor flaws in what I think is a great gaming laptop for under $2,000. Read on to find out why.
Asus ROG Zephyrus G14 (2022) review: Price and release date
$1,649 to start
Expect to pay up to $2,499 for one with a mini-LED display on rear
The Asus ROG Zephyrus G14 (2022) we reviewed is available for purchase right now at a starting price of $1,649 at select third-party retailers like Best Buy. At the time of publication there are multiple models on sale, all with pure AMD hardware.
The entry-level $1,649 model ships with an AMD Ryzen 9 6900HS CPU, an AMD Radeon RX 6700S GPU, 16GB of DDR5 RAM and a 1TB SSD for storage. If you want a bit more graphics power, there's also an $1,899 model with the same stats except for an upgraded AMD Radeon RX 6800S graphics card.
There's also a deluxe model you can get that has Asus' AniMe Matrix mini-LED display on the back of the lid. It's a purely cosmetic feature that you'll probably want to disable when trying to conserve power, but it does give the laptop a cool, unique look. That's really all that sets it apart from the upgraded $1,899 model, as it otherwise has the same specs (AMD Ryzen 9 6900HS CPU, AMD Radeon RX 6800S GPU, 16GB DDR5 RAM, 1TB SSD). This is the model of Asus ROG Zephyrus G14 we received for review, and you can buy one yourself (when they're in stock) for a cool $2,499.
Asus ROG Zephyrus G14 (2022) review: Design
Compact, attractive chassis
Comfy keyboard feels good to type on
Plenty of ports
Our Zephyrus G14 (2022) review unit measures 12.28 x 8.94 x 0.77 inches, weighs 3.79 pounds and is decked out in Asus' bright Moonlight White color scheme. It's especially eye-catching if you enable the optional AniMe Matrix mini-LED display on the back of the lid (not included on all models, more on that later). But even if you don't, the Zephyrus G14 looks slick, with rounded corners and tapered edges balancing out the sharp diagonal vents scattered across the chassis.
Open it up and you'll find a well-sized keyboard and touchpad laid out beneath a bright 14-inch display, which has nice thin bezels on either side that thicken along the top and bottom. Personally I like how the laptop's hinge juts out a bit on the screen side, which causes it to lever the laptop up off the table a bit when you open it up. That seems to increase airflow underneath the laptop (critical for cooling) and pushes the keyboard slightly up at the top, which feels more comfortable under my hands.
Asus ROG Zephyrus G14 (2022) review: Ports
Around the edges of the laptop you'll find a nice selection of ports that give the Zephyrus G14 (2022) a lot of versatility. On the right side you get two USB-A ports, one USB-C port and a UHS-II microSD card reader.
On the left side is another USB-C port that can also deliver power, an HDMI 2.0b port, a 3.5mm audio jack for headphones/headsets and a port for plugging in the power cable. Oddly, the power port is in the center of the lefthand side, rather than being located back near the screen like it is on most laptops.
All the USB ports are USB 3.2 Gen 2, and both the USB-C ports also have DisplayPort support. The only big complaint I have about the port selection is that all the USB-A ports are on one side, so if you're plugging in an older mouse and keyboard you'll have to do some frustrating cable routing.
Asus ROG Zephyrus G14 (2022) review: Display and audio
Bright, vibrant screen
Speakers get surprisingly loud
The 14-inch WQXGA (2,560 x 1,600 pixels) display on the Asus ROG Zephyrus G14 (2022) looks good in person, and the 16:10 aspect ratio feels roomy when you're juggling a lot of open windows on the desktop. With a 120Hz refresh rate, 3ms response time and support for Dolby Vision HDR, the display is well-suited to making games and movies look their best.
Swipe to scroll horizontally
| | | | | |
| --- | --- | --- | --- | --- |
| Row 0 - Cell 0 | Alienware x14 | Asus Zephyrus G14 (2022) | Razer Blade 14 | Razer Blade 17 |
| Average brightness (nits) | 377 | 473 | 332 | 349 |
| DCI-P3 color gamut (%) | 77 | 74 | 78.8 | 80 |
| sRGB color gamut (%) | 109.7 | 104.5 | 111 | 112.9 |
| Delta-E | 0.22 | 0.23 | 0.24 | Row 4 - Cell 4 |
When we performed our lab tests, we found the screen on the 2022 Zephyrus achieves an average brightness of 473 nits, peaking at 515 nits in the upper right portion. That's quite bright for a gaming laptop, easily outshining competition like the Alienware x14 and Razer Blade 14. It's also quite a bit brighter than the 1080p display on its predecessor the ROG Zephyrus G14 (2020), which we measured as achieving an average brightness of 323 nits.
Color accuracy on the new display is also pretty good, as the 2022 Zephyrus delivered 104.5% of the sRGB color gamut (100% is most accurate) with a Delta-E score of 0.23 (0 is most accurate). These are good scores if you care about color accuracy, and they're competitive with some of the best gaming laptops on the market.
The quad-speaker system built into the Zephyrus G14 can get good and loud, kicking out music, speech and effects that sound full-bodied (that is, not tinny or distorted) even at high volume. This may have something to do with what Asus calls its Smart Amplifier Technology, which the company claims can make the speakers sound really loud without sacrificing sound quality. The Zephyrus G14's speakers also support Dolby Atmos, and they're paired with a triple-mic array that's more than good enough for in-game voice chat and video calls.
Asus ROG Zephyrus G14 (2022) review: General performance
More than powerful enough for PowerPoint
Speedy (for a laptop) file transfer and video compression speeds
Though it's designed for gaming, the Zephyrus G14 can double as a decent work laptop thanks to its comfy keyboard and better-than-average (for a gaming laptop) battery life. Heck, if you disable the RGB lighting and the (optional) AniMe Matrix, the G14 can blend in among the ultraportables you usually see at a coffee shop or coworking space thanks to its compact chassis and understated design. It's also a pretty respectable machine for getting work done, in my experience, and in our suite of general productivity tests it performed quite well.
Our Zephyrus G14 (2022) review unit earned a score of 10,004 in the Geekbench 5.4 multi-core CPU benchmark, which is a great score. It's not good enough to match the Alienware x14 (Core i7-12900HK, GeForce RTX 3060, 16GB RAM) but it does outpace the Razer Blade 14 (Ryzen 9 5900HX, GeForce RTX 3070, 16GB RAM) we tested last year.
Swipe to scroll horizontally
| | | | | |
| --- | --- | --- | --- | --- |
| Row 0 - Cell 0 | Alienware x14 | Asus Zephyrus G14 (2022) | Razer Blade 14 | Zephyrus G14 (2020) |
| Geekbench 5.4 | 13,353 | 10,004 | 7,471 | 7,509 |
| Copying 25 GB from flash drive (MBps) | 1,156 MBps | 1,260.45 MBps | 908.65 MBps | 881 MBps |
| Handbrake video encoding (minutes:seconds) | 5:04 | 5:58 | 7:20 | 7:10 |
If moving files around quickly is important to you, you'll be pleased to know the Zephyrus G14's SSD achieved an impressive speed of 1,260.45 MBps when tasked with copying 25GB of multimedia files. That's faster than most gaming laptops we've tested, including the Alienware x14 and the Razer Blade 14.
The 2022 Zephyrus G14 is pretty speedy with video encoding work too, taking just under 6 minutes (5:58) to transcode a 4K video down to 1080p using Handbrake. That's a pretty good time that outpaces a lot of gaming laptops (including the Razer Blade 14) but it's not quite as quick as a laptop like Alienware x14, which completed the same task nearly a minute faster.
Asus ROG Zephyrus G14 (2022) review: Gaming performance
Good performer when plugged in with all settings cranked up
Mid-tier gaming laptop performance drops quickly when unplugged
Gaming performance is what matters most in a laptop like this, and the 2022 Zephyrus G14 delivers — if you configure it right. Plugged in, with all extraneous apps closed and all power and fan management settings cranked to max, this laptop managed to hit 30-40 frames per second (fps) in Cyberpunk 2077 on max settings. However, that was with AMD's FidelityFX Super Resolution upscaler running; without it, the game is really only playable at low settings.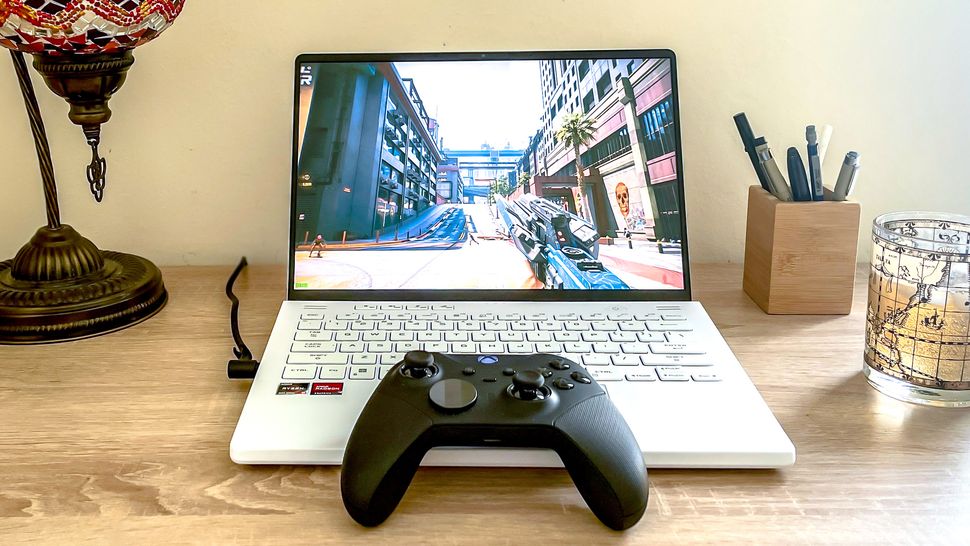 Performance in demanding games like this dips even further when the laptop is unplugged, or has its various power management settings tweaked to favor power efficiency. This is the trade-off you make with the G14: It's small and well-designed, as gaming laptops go, and it can be a great performer or a power-sipping productivity tool — but not both.
Swipe to scroll horizontally
Gaming benchmark performance in frames per second (FPS)

| | | | |
| --- | --- | --- | --- |
| Row 0 - Cell 0 | Alienware x14 | Asus Zephyrus G14 (2022) | Razer Blade 14 |
| Assassin's Creed Valhalla (1080p) | 57 | 73 | 62 |
| Red Dead Redemption 2 (1080p) | 48 | 48 | 60 |
| Grand Theft Auto V (1080p) | 70 | 70 | 93 |
| Far Cry New Dawn (1080p) | 94 | 86 | 85 |
When we subjected this new Zephyrus G14 to our suite of gaming laptop tests, it put some pretty good numbers on the board. It managed to achieve a very playable 48 fps in Red Dead Redemption 2, 73 fps in Assassin's Creed Valhalla, and 86 fps in Far Cry New Dawn.
Those scores put it on par with the likes of the Alienware x14 and the Razer Blade 14, and in fact the 2022 Zephyrus G14 outperformed both in Assassin's Creed Valhalla. However, it fell behind the competition when running other games, as you can see from our results chart above. The Razer Blade 14 ran Rockstar games like RDR2 and Grand Theft Auto V at higher framerates than the Zephyrus G14, while Far Cry New Dawn ran better on the Alienware x14.
Note that these tests were run at 1080p, so you may see noticeably lower framerates when playing these games at the laptop's native resolution (2,560 x 1,600 pixels).
Asus ROG Zephyrus G14 (2022) review: Keyboard and touchpad
Keyboard feels comfortable, even during extended typing
Touchpad just works
I really like the keyboard on the 2022 Zephyrus G14. While it doesn't quite span the width of the laptop, I never felt cramped while typing on it, and each chiclet-style key has a satisfying amount of travel. There's RGB backlighting underneath that you can customize via Asus' pre-installed Armoury Crate app to do things like strobe or cycle through different colors, though since it's backlit rather than per-key the light looks like it's coming from beneath the keys, rather than from them. It's a neat effect, albeit one I almost never noticed unless I looked down at the keyboard.
The touchpad beneath the keyboard feels accurate and responsive to the touch, and while I wouldn't recommend you use it for serious gaming it shouldn't cause you any issues when tapping and swiping through your day-to-day tasks. Navigating Windows 11 via gesture commands is also a cinch, and in my time with the laptop I noticed no lag or misread inputs.
Asus ROG Zephyrus G14 (2022) review: Camera
720p webcam captures blurry, grainy images and video
IR camera supports biometric authentication via Windows Hello
Older models of Zephyrus G14 didn't come with a webcam built in, but Asus finally added one into the 2022 model. Unfortunately, the 720p webcam embedded in the center of the display's top bezel captures grainy, washed-out images and video. It's good enough for Zoom calls, but don't expect to look your best. If that's important to you, consider investing in one of the best webcams for your laptop.
There's also an IR camera that supports facial logins via Windows Hello, which is nice if you go in for that sort of thing.
Asus ROG Zephyrus G14 (2022) review: Software
Little bloatware, which is good
Asus' Armoury Crate is the MVP here
The ROG Zephyrus G14 ships with a reasonable selection of pre-installed software from the likes of AMD, Asus and Dolby. The standout is Armoury Crate, Asus' all-in-one application for managing system performance, configuring macros, customizing the AniMe Matrix (if you have one) and more. That makes Armoury Crate the most useful pre-installed app on the Zephyrus, albeit one that feels slow to respond and sometimes crashes for no reason.
There's also the Aura Creator, Asus' software for choosing and customizing the RGB lighting profile for the Zephyrus and any compatible connected devices.
Finally there's the OMNI Virtual Pet, an app that causes an animated robot to appear on your desktop. The little robot can appear on the AniMe Matrix, display system stats or play mini-games with you. I didn't find it to be of much use, but it is a fun throwback to play with for a few minutes.
Asus ROG Zephyrus G14 (2022) review: AniMe Matrix
Mini-LED display on lid does nothing but looks cool and drains battery
I want one on everything I own
Select models of Zephyrus G14 can be ordered with an AniMe Matrix, Asus' name for its monochromatic mini-LED display built into the back of the lid. It's made up of thousands of programmable mini-LEDs, and in person it looks pretty cool.
You can design your own animation patterns in the Armoury Crate, which has a decent selection of tools and downloadable animations for you to work with. You can also configure the AniMe Matrix to display details like time/date, remaining battery power and unread message count via its System Mode, or set it up as a visualizer in Audio Mode which responds to whatever music you're playing out of the G14's speakers.
I love it, even though it's a completely extraneous, cosmetic feature that you'll probably want to switch off whenever you're unplugged to conserve power. If you don't want one I don't blame you, but if you do, keep in mind that it'll cost you an extra $600.
Asus ROG Zephyrus G14 (2022) review: Battery life and heat
Battery lasted 10 hours 14 minutes in our test
That's worse than earlier models, but still better than most gaming laptops
We were astounded by the longevity of the previous Asus ROG Zephyrus G14, which lasted over 11 hours (11:32, to be exact) in our battery test. Since our battery testing involves tasking the laptop with endlessly browsing the web via Wi-Fi (with screen brightness set to 150 nits) until the battery croaks, it doesn't really measure how long the laptop can last while gaming, but it's still a useful benchmark.
Sadly, our Zephyrus G14 (2022) couldn't quite match the battery efficiency of its predecessor, as our review unit lasted roughly 10 hours and 14 minutes in the same test. That's over an hour less than its predecessor, which is disappointing. Obviously, it lasts far less time when gaming without the power cord plugged in. When we ran the PCMark 10 battery test on it, which is a decent approximation of running a graphically demanding modern game, the 2022 Zephyrus G14 barely lasted an hour before powering off. This is definitely not a great laptop for gaming unplugged.
These numbers are decent but disappointing, and they line up with my personal experiences using the laptop. I like to keep my display set a bit brighter than our 150-nit standard, so it's not too surprising that I was rarely able to get more than 5-8 hours of (non-gaming) use out of the laptop before having to plug in the charger.
10+ hours of battery life is still pretty good for a gaming laptop, don't get me wrong. Just know that the new Zephyrus may not be quite as long-lived as its predecessor, so it's a good idea to keep a charging cable handy whenever you're not plugged in. Luckily it charges pretty quickly, as in a 45-minute charging session I saw the battery indicator climb over 60%.
Asus ROG Zephyrus G14 (2022) review: Verdict
The 2022 ROG Zephyrus G14 is a great gaming laptop, delivering a potent blend of performance, portability and power efficiency. The bright 16:10 120Hz display makes games and movies look great, while the speakers sound good enough that you won't feel compelled to use headphones.
But this new model can't match the incredible battery efficiency of the old Zephyrus G14, perhaps because of its revamped design, upgraded internals or brighter display. Whatever the reason, the 2022 ROG Zephyrus G14 no longer offers the positively outlandish battery life of its predecessor, though its still far longer-lived than most gaming laptops. And while it's now got a webcam, the quality of images it captures is so low that you won't enjoy using it.
Still, this remains a small, slick gaming machine that delivers performance competitive with the best 14-inch gaming laptops on the market. If you don't like the cut of the Zephyrus G14's jib you could get similar performance out of the Alienware x14 or Razer Blade 14 for a similar price, but neither's screen gets nearly as bright. And only the Zephyrus G14 can be had with an AniMe Matrix, a flashy $600 frivolity that I can't help but love.