There's never been a better time to game on the go now that the best handheld gaming consoles are experiencing their own little renaissance.
The current crop of handheld gaming consoles owe a lot to the Nintendo Switch, but we've seen the Steam Deck and even the recently released Asus ROG Ally build on the momentum of Nintendo's hybrid console. While all of these devices run games locally, others are bolstering their libraries by turning to cloud gaming services like Xbox Game Pass, GeForce Now and others.
One such handheld gaming console is the Razer Edge 5G. However, in addition to letting you play games via the cloud, its Qualcomm Snapdragon G3x Gen 1 chip and 8GB of LPDDR5 RAM mean that it's more than powerful enough to play the best Android games, and even more demanding titles via emulation if you're willing to go that route.
While I've spent the last month or so familiarizing myself with Razer's new handheld gaming console, I decided to leave my Nintendo Switch behind and only take the Razer Edge 5G on a week-long trip. Although we've had our doubts about cloud gaming on 5G in the past, I was left pleasantly surprised by everything Razer's 5G mobile gaming handheld can do.
A modular approach to handheld gaming
The Razer Edge 5G combines the best parts of Razer's existing experience with Android smartphones and mobile game controllers. Just like with the Razer Phone 2, the device itself features an almost stock Android experience and as for its controls, it uses a modified version of the Razer Kishi V2.
This modular approach to a handheld gaming console is quite different from the route Logitech took with the Logitech G Cloud since if you end up with stick drift or a broken controller, you can replace the Kishi as opposed to the entire console. It's worth noting that the Razer Edge 5G doesn't actually ship with the Kishi V2 and instead sports the Kishi V2 Pro which adds a headphone jack on the left and uses Razer HyperSense haptics for vibration.
Besides being modular, the Razer Edge 5G includes 5G connectivity from Verizon (there's also a cheaper Wi-Fi-only version available) along with support for Wi-Fi 6E which really helps when playing games via the cloud at home or streaming them from your Xbox Series X, PS5 or gaming PC locally. Keep in mind though that you will need one of the best Wi-Fi 6E routers to take full advantage of this handheld gaming console. This is another way that Razer has set this device apart from the Logitech G Cloud which only supports Wi-Fi 5.
Even though the Razer Edge 5G almost feels like a phablet with its 6.8-inch FHD+ 144Hz AMOLED display, it's a handheld gaming console first and foremost which is why it's locked to landscape mode right out of the box but you can turn on auto-rotation. Its front-facing 5MP camera is also positioned in the middle of the display instead of on the side.
If you're familiar with the Razer Kishi V2, then you've likely already tried out the Razer Nexus app. I personally like how all of your installed games, remote play apps and cloud gaming services are just a tap away in the app. This means that you don't have to waste time scrolling through your app drawer when looking for something to play.
The perfect cloud gaming companion
With my Razer Edge 5G review unit configured and set up with all of my favorite apps and games, I set off on a week-long trip to San Antonio. As Razer also provided unlimited 5G data from Verizon for me to test out the device, I knew I would still be able to play games via the cloud even if my Airbnb had a spotty Wi-Fi connection.
With GamePass Ultimate, I was able to use the Xbox Cloud Gaming Beta app to play some newer Xbox titles like Halo Infinite as well some classic Xbox 360 games like Skate 3. While I expected slower games like RPGs and indie titles to run well over a 5G connection, I was really surprised at just how responsive both Halo and Skate 3 were when playing on the Razer Edge 5G.
The Razer Edge 5G is no slouch when it comes to Android gaming either and in between my cloud-powered Xbox GamePass sessions, I also played a fair bit of both Dead Cells and Rocket League Sideswipe. Playing the mobile version of Rocket League looked gorgeous on the device's AMOLED screen and it helped keep up my Rocket League momentum since I've been playing a match here and there on the Razer Edge 5G remotely at home from my Xbox Series S.
Even though the Razer Edge 5G has a 5,000 mAh battery, I often found I needed to charge the device after putting it down for a bit. The reason for this is that the Kishi V2 Pro drains the battery when left attached to the Razer Edge 5G which is why Razer currently recommends taking it off in between play sessions. However, the company is working on a fix to prevent idle battery drain.
Tabletop and even docked mode both work surprisingly well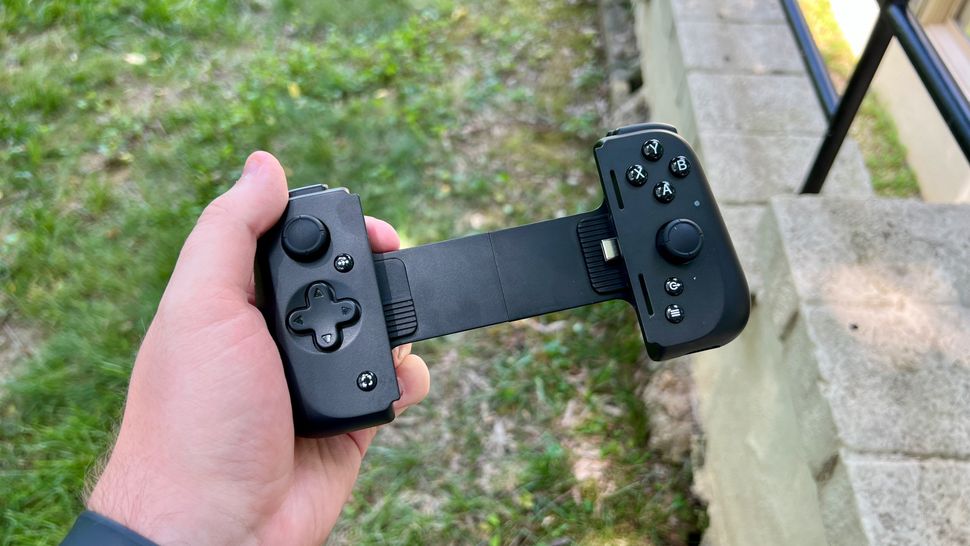 Playing the Razer Edge 5G in handheld mode was quite comfortable even for long stretches and I attribute this to the drastic improvements in the design of the Kishi V2. Besides the microswitch face buttons and its D-pad with mechanical clicks, I really like the placement of the programmable buttons at the top of the Kishi V2 which are located between the controller's bumpers and triggers.
Just like with rear paddles on a pro controller, they let you keep your thumbs on the controller's joysticks instead of having to move your right thumb to hit the face buttons. The Kishi V2's programmable buttons are mapped to the A and B buttons right out of the box and I found this really convenient in Skate 3 which uses EA's 'Flickit' controls to perform tricks on your skateboard. However, I also liked using these extra buttons for boost and jump when playing Rocket League Sideswipe.
As the Razer Edge 5G essentially functions as one of the best Android phones albeit without the ability to make actual phone calls, it's compatible with a wide range of third-party controllers including those from 8BitDo.
When I wanted to sit back and play with a full-size controller while gaming on the Razer Edge 5G, I propped the device up on the Lamicall T Stand ($16, Amazon) and used the 8BitDo SN30 Pro+. Since tabletop mode is actually one of my favorite features of the Nintendo Switch, I really enjoyed playing this way when I had a few minutes before heading off to the next stop on our itinerary.
And while I didn't have a chance to play on the Razer Edge 5G in docked mode during our trip, I was impressed when I plugged the device into the USB-C port on my Samsung M7 Monitor and everything just worked. If your monitor doesn't have a USB-C port, don't worry as you can also use the Genki Covert Dock Mini ($50, Amazon) to achieve the same result even though it's intended for use with the Nintendo Switch.
Playing docked mode on a monitor with the Razer Edge 5G worked well with Xbox GamePass games streamed from the cloud as it did with most of the native Android games I tried. However, for some reason, Rocket League Sideswipe had some black borders around the side of the screen. Also, as the Razer Edge 5G has an impressive Virtual Controller Mode, you can use it to play games like Call of Duty Mobile or Genshin Impact on a larger screen too.
A great alternative to gaming on your phone
With the Razer Edge 5G and other handheld gaming consoles designed with cloud gaming in mind, the question most people are going to ask is "Why wouldn't I just use my phone instead?" and I completely understand.
At a starting price of $399 for the Razer Edge or $599 for the Razer Edge 5G, you could pick up a Nintendo Switch OLED, a Steam Deck or even the Asus ROG Ally instead and be just as happy. However, when you factor in the Kishi V2's $99 price tag and realize you can use the Kishi V2 Pro on other devices, this can help soften the blow. Also, you won't need to take your handheld gaming console apart if it begins suffering from stick drift or stuck buttons.
Another thing worth considering is that not everyone wants to game on their smartphone. Perhaps you have one of the best iPhones and want to dip your toes into the Android ecosystem for a wider selection of emulators. Likewise, you may be the kind of person that just isn't ready to let go of your current phone like I am with my OnePlus 7T Pro 5G McLaren or maybe you prefer using one of the best small phones that just won't work well with a mobile controller like the Kishi V2.
There are plenty of reasons the Razer Edge 5G might or might not be the right choice for you when gaming on the go. However, after spending a week gaming on it exclusively, I'm thoroughly impressed with its performance and just how good games can look on its AMOLED screen. My time spent with the Razer Edge 5G also has me kicking myself for not picking up a Razer Phone back when I had the chance to.
More from Tom's Guide