Kids have spent a whole lot of time separated from friends and relatives recently, but the new Amazon Glow could help them connect remotely — and in a more fun way than ever.
The Glow, revealed today at Amazon's 2021 event, is designed to remotely connect kids to family members like never before, giving the typical video call a definite upgrade. It does this using projection and video technologies, which brings the virtual interaction between the two to new levels.
Amazon Glow: Price and Availability
The Amazon Glow is available at an early access price of $249.99, but will cost $299.99 as standard. It comes with a mat as well as a mat case and 1 year of Amazon Kids+. You can request to be part of the early access Glow program from today.
Amazon Glow: Design
The Amazon Glow has quite a sturdy and tall appearance, with a standing s-shaped case and an 8-inch display on which kids can see and speak to relatives. It projects a 19 inch touch-sensitive space where kids can take part in all sorts of activities including puzzles, drawings, card games and storytime.
From the other end, the family member can call from their own smartphone or device and can participate using the free Glow app. By using this combination of digital and physical interaction, the Amazon Glow makes virtual calls more worthwhile and engaging for both parties.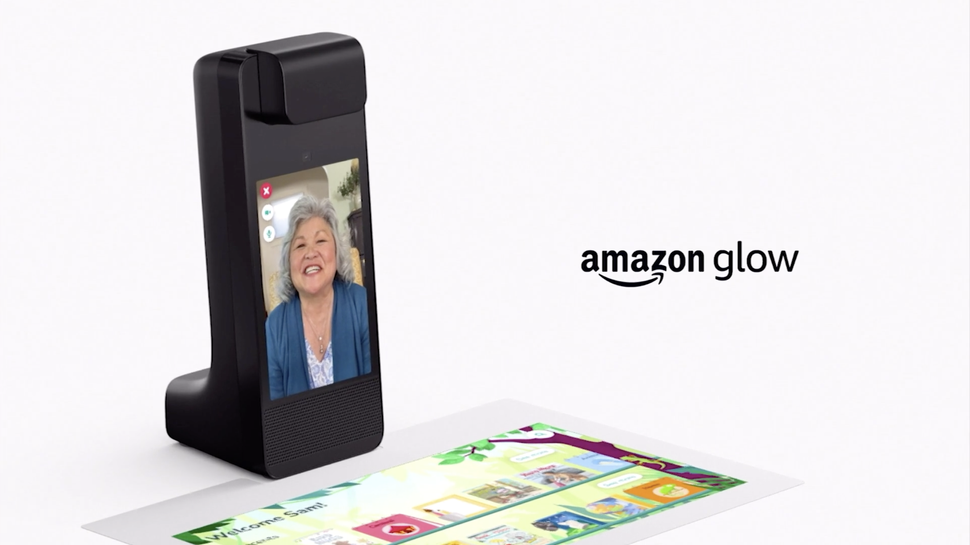 Amazon Glow: App and features
The Glow app includes content from Disney, Mattel, Nickelodeon, and Sesame Workshop, so kids can choose activities which feature their favorite characters, such as Elmo or Barbie.
For added personalization, the Amazon Glow will also come with Object scanning, which can turn your kid's favorite toys into digital stickers or even a puzzle. Even without this, there's thousands of books to choose from and dozens of games, with more coming later this year, so you won't run out of things to do together.
Amazon Glow: Privacy
Kids will only be able to call pre-approved contacts and parents can also see who they are calling from the Amazon Parent Dashboard. There's also a privacy shutter which can be closed to disable the cameras and microphones if security is a concern.
It's nice to see more investment in the smart home for kids from Amazon and we can't wait to try out the Amazon Glow. The design appears durable, but it will be interesting to see how responsive the projected touch-space is. It would also be useful if the relatives could set preferred call-times, in case there's a time difference or inconvenient time to call. Otherwise, this looks like an innovative product which will be in high demand given the lack of physical contact between families as of late.