Update: Sony is now sold out of the Hogwarts Legacy PS5 DualSense controller. It's unclear if more stock will be released later today.
The hotly-anticipated Hogwarts Legacy launches today and it allows gamers to step into the Wizarding World and explore some of the most iconic locations from the beloved Harry Potter franchise. And now you can play in style with your very own Hogwarts Legacy-themed PS5 DualSense controller.
As confirmed via the PlayStation Blog, the Hogwarts Legacy DualSense controller is available in the U.S. and U.K. exclusively via PlayStation Direct. And the order floodgates have now been opened as of 1 p.m. ET / 10 a.m. PT. You can buy the Hogwarts Legacy PS5 DualSense controller via this link. But be quick, the blog post notes the controller will only be available in "limited quantities."
Meanwhile, in Harry Potter's native Britain, the limited edition controller went on sale earlier at 10 a.m. GMT and sold out in less than an hour. It's also appeared on various resale websites with an inflated price tag, so it seems this will be another limited edition item that scalpers ruin for everybody.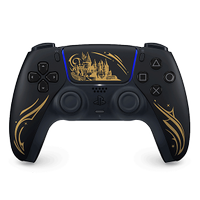 Hogwarts Legacy PS5 DualSense: $79 @ PlayStation Direct
IN STOCK: This special version of the PS5 DualSense controller marks the release of the hotly-anticipated Hogwarts Legacy. It's a standard black PS5 pad with gold detailing and an image of the iconic Hogwarts castle on the touchpad. It's being sold exclusively via PlayStation Direct and as a limited edition item, it could rapidly sell out.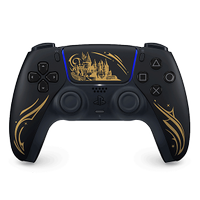 Hogwarts Legacy PS5 DualSense: £69 @ PlayStation Direct
Check stock: To mark the launch of Hogwarts Legacy, Sony has released a limited edition PS5 DualSense controller themed after the Harry Potter game. It's a black controller with gold detailing and an image of the iconic Hogwarts castle on its touchpad. It costs £69, which is £10 more than a standard PS5 DualSense controller. It currently appears to be sold out, but there could be restock over the launch weekend.
The controller is a black PS5 DualSense with gold detailing on the sides, and most strikingly a golden image of the famous magical school on the touchpad. It's a pretty nifty-looking pad and it's sure to become the PS5 accessory of choice for Harry Potter fans everywhere. It's important to note this is just a special edition of the regular DualSense, and not the recently released premium DualSense Edge controller.
Meanwhile, if you're looking to pick up the game before the weekend, be sure to read our Hogwarts Leacy review. We labeled the Wizarding World RPG the "Harry Potter game we've been waiting for" and were particularly impressed with its fully-explorable recreation of the beloved castle, and also greatly enjoyed its flashy combat.
Although, we did find some of its open-world activities a little bland, and its visuals can be inconsistent. It's nevertheless a treat for Potterhead and those unfamiliar with the Boy Who Lived alike. It's an especially noteworthy release as the first (non-mobile) Harry Potter video game in more than 10 years and is already breaking concurrent player base records on Steam
Plus, if you're a Hogwarts Legacy superfan and want to get every extra possible, Amazon is currently listing a collector's art book and an official strategy guide. There is also a very pricey Hogwarts Legacy Collector's Edition although this has been sold out since preorders went live last year. However, we could see a restock in the next few hours now that it's the game's official launch day (Friday, February 10).