This year's Black Friday deals are well and truly underway, even though there are still a few days until the day itself. We're seeing some awesome sales on home and kitchen appliances, including massive discounts on the best air fryers.
Luckily for my partner and I, right now the Ninja Foodi dual basket air fryer is £70 off at John Lewis. That's almost a third off and very nearly as cheap as we've ever seen this awesome air fryer.
I've been keeping my eye on this air fryer for a while, as its dual baskets will settle some domestic culinary disagreements in my house — I snapped it up at this price. If you've been waiting for a great air fryer deal on Black Friday, especially if you want or need a dual basket fryer, this is the deal for you too!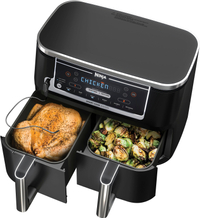 Ninja Foodi dual basket air fryer: was £219 now £149 @ John Lewis
The Ninja Foodi dual basket air fryer is ideal for cooking two things at once — whether that's making two parts of the same meal, or cooking separate food for people who like different things. No more arguing over whether it's chicken or Quorn for tea... you can cook both! Currently, John Lewis is selling this air fryer at £70 off. We've seen it go for less before, but only slightly, so now's a great time to snap up this deal and have a new air fryer at hand ahead of the festive season.
While my partner and I have a huge amount in common, eating habits aren't included. She's a vegetarian; I am not. Any couple who has ever been in a similar situation know this can get a little tricky, especially if the meat-eating side of the equation isn't partial to many vegetarian foods. I, for example, really don't like the taste of meat alternatives that use pea protein — the smell just goes right through me.
While we've got by like this for several years now, disagreements started to arise when our oven recently broke and we decided to invest in an air fryer. Who would use the air fryer? How would we avoid cross contamination? Headaches ensued.
Well, heads don't have to ache, as the people who make air fryers — like Ninja — have thought about this already. Dual zone air fryers like the Ninja Foodi dual basket have (you guessed it) more than one cooking zone, which means my partner and I can cook our food at the same time, completely separately.
In our Ninja Foodi 2 basket review, which is a similar model, we praised this air fryer's dishwasher safe baskets that make cleaning a doddle. We also loved that you can programme separate cooking times for each of the baskets so each one is ready at the same time.
At £70 off, this air fryer is very nearly as cheap as it's ever been, so it's well worth snapping up this deal if you've been eyeing up this or similar air fryers.