As Tom's Guide's Sleep Editor, I keep a close eye on prices all year round. One of the very best Prime Day deals was on the Tempur mattress topper. That exact deal has expired (Prime Day is over, folks!) but we're pleased to see it has been replaced with one that's almost as good: 44% off the queen size Tempur-Pedic + Cooling mattress topper.
That drops the price to $279 – the same model is currently $415.20 if you buy direct from Tempur. It's not as good as the 52% off we saw yesterday, but it's still far, far cheaper than the usual price. The maximum discount we ever see on this topper is 40% off.
If you want another size, you'll probably be better heading to Tempur direct, where there's 20% off, with a free pillow and eye mask included (there's 22% and 21% off the Twin XL and Cal King sizes at Amazon, but with no freebies).
There are a handful of genuinely good Prime Day topper deals still available, but this one is by far the standout of the bunch. Let's take a closer look...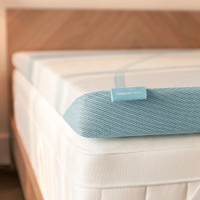 Tempur-Adapt + Cooling mattress topper (queen size)
Was: $499
Now: $279 at Amazon

Overview: This is a 3-inch tall mattress topper made from the same Tempur Material that makes up this brand's extremely popular (and very expensive) luxury mattresses. It's a super-soothing kind of memory foam that'll meld around your joints, reliving pressure and lulling you into a dreamy sleep. It has elasticated straps to anchor it securely in place, and the cover can be removed and machine washed. In our Tempur-Adapt topper review, we found it delivered ultra-plush comfort and was especially well suited to side sleeping. This version comes with the cooling cover upgrade, designed to keep you at the perfect temperature while you snooze.
Price history: Over Prime Day itself, this topper was $237.49, which was is the cheapest price we'd seen this mattress for, anywhere. The current price ($279) is higher, but there's still a big gap between this and the price this topper usually sells at on Amazon.
What about the Tempur-Pedic mattress deals on the brand website? We have occasionally seen 40% off deals in the past, but the current offer running only knocks 20% off, taking the queen size down to $415.20. (You'll get a free pillow and sleep mask, but they're only worth $118).
At Amazon, that 44% discount is only on the queen size (which to be fair is the most popular bed size), while others have smaller price drops (this was also the case in the Prime Day deals). For most other sizes, you're probably best heading to Tempur. The Twin XL and Cal King are 21% or 22% off on Amazon, but without the freebies.
Extras: Purchasing from Tempur gets you a 10-year warranty, and this should also be available via Amazon, although looking on the product listing, it's not hugely clear.