If you've been waiting for the Black Friday deals to drop to upgrade your running shoes, I've got good news — the Adidas Ultraboost 23 has dropped to $88 on Amazon in this Black Friday deal. That's over $100 off one of Adidas' best-selling easy-run running shoes. You don't want to miss this.
The Adidas Ultraboost 23 (also known as the Adidas Ultraboost Light) was released in March 2023. Adidas made the shoe 30% lighter than previous iterations, to make it feel a little faster and more responsive on the run. The shoe is currently on sale in both the men's and women's sizes, as part of Amazon's Black Friday event.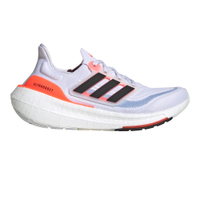 I've tested this shoe on a number of different running sessions — from easy recovery miles, to long runs, and tempo sessions. The shoe handled everything I threw at it well. And I was able to use it for faster miles, making it a versatile option for runners looking for a one-size-fits-all kind of running shoe.
The midsole of the Ultraboost Light is where things get interesting. Adidas' new Light BOOST foam is 30% lighter than previous iterations of the Boost midsole foam for a more responsive feel underfoot. The Ultraboost 22, for example, weighed in at 11.7oz for a men's US 9, and 10oz for a women's US 7. The Ultraboost Light is 10.3oz in the men's shoe, and 9.7oz in the women's.
The Ultraboost Light still has the same lower instep height as the Ultraboost 22, as well as a narrower heel fit to reduce heel slip and prevent blisters. There's also the same Linear Energy Push (LEP) system — this is a fancy name for the plastic insert Adidas added to the outsole, designed to give runners 15% more torsional rigidity, allowing you to use the shoe to pick up the pace when you need it.
Overall, this is a fantastic easy running shoe, that looks cool enough to wear casually, or in the gym. Plus, at $88 it's a great price, so grab it while you can. Not for you? Check out the best Apple Watch deals and the best The North Face Black Friday deals we've rounded up.