The OnePlus 11 is a truly impressive phone, especially for its price. And if you want to get your hands on it, this pre-order deal is one of the best ways to do so.
The OnePlus 11 (8GB/128B) is $699 at Amazon right now. That's the regular low price, but buy from Amazon and they'll throw in a $100 Amazon gift card for free. This gift card can be spent on anything from Amazon, making this one of the best cell phone deals around right now.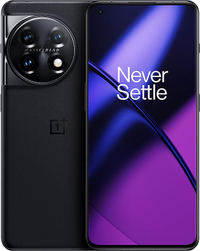 OnePlus 11 (8GB/128GB): free $100 gift card @ Amazon
The OnePlus 11 was already an incredible value phone at $699, and now Amazon is throwing in a $100 Amazon gift card with it for free. This gift card can be spent on anything at Amazon.
After evaluating the newest OnePlus flagship in our OnePlus 11 review, the phone immediately took a very high spot on our best Android phones list. With a killer combination of battery life, performance, and price, this is the best value you can get out of a big-name Android phone.
The OnePlus 11 also has the best cameras we've seen on a OnePlus phone to date. It can't beat the Samsung Galaxy S23 Ultra in a shoot-out, but the OnePlus 11 is still one of the best camera phones you can buy.
There's one major omission with the OnePlus 11: there's no wireless charging. But when you consider that the phone has over 13 hours of battery life and can be fully charged up in 30 minutes, it's hard to complain about that.
If you pre-order the OnePlus 11, we doubt you'll be disappointed. The $100 Amazon gift card just makes the deal even sweeter. But if you're still looking for your perfect phone, take a look at our iPhone deals coverage.