The only thing better than spending an entire Sunday watching football is getting to enjoy all the NFL action for free. And that dream scenario is now possible with an NFL Sunday Ticket free trial courtesy of YouTube TV.
In case you missed it, NFL Sunday Ticket has left DirecTV and moved over to YouTube as part of a seven-year agreement between Google (YouTube's parent company) and the National Football League. And in a move that is a little surprising, but very welcome, YouTube is offering you a chance to enjoy all the football action without spending a dime via a free seven-day trial.
Of course, a week's-long trial will only cover a single Sunday, but it's still an offer worth taking as it allows you to watch every single out-of-market game as well as condensed game replays and bespoke highlight packages. For local games, you'll need to stick to your regular channels (subject to any blackouts).
To claim your NFL Sunday Ticket free trial, head over to the NFL YouTube page and sign up from either a desktop or mobile browse. You should be offered a seven-day free trial before checkout. However, YouTube notes that the trial is "gradually rolling out," and if you don't get the option for a free trial at checkout you should "try again soon." Hopefully, by this Sunday (Sept. 10) the rollout will be complete.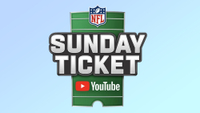 NFL Sunday Ticket 7-day trial: FREE @ YouTube
NFL Sunday Ticket lets you watch every out-of-market Sunday NFL game online for a single per-season fee of $349 (currently discounted to $299 till Sept. 19). However, new accounts can enjoy a seven-day NFL Sunday Ticket free trial right now. Additionally, you can add NFL RedZone for just $40 more. Hosted by Scott Hanson, the commercial-free NFL RedZone gives viewers access to seven hours of football.
Naturally, as with any free trial offer, there's some small print that you'll want to be aware of before signing up. Namely, if you opt for a monthly subscription, you are not eligible for the trial, and there's also no free trial with an already discounted student plan either. Plus, existing or former NFL Sunday Ticket subscribers are not able to claim a free trial. But these terms and conditions are pretty boilerplate.
After the free trial, if you already have a YouTube TV subscription, NFL Sunday Ticket costs $349 for the season, or $389 if you also want access to NFL RedZone. But YouTube is offering $50 off either package until Tuesday, Sept. 19. So be sure to get signed up by then so you can enjoy an entire season of football at a reduced price.
If you want NFL Sunday Ticket and you don't have YouTube, you'll need to sign up via YouTube Prime Channels. This will set you back $449 per season, or $489 with NFL RedZone thrown in. Fortunately, YouTube is also offering the aforementioned $50 discount on these packages as well, making the current prices $399 or $439.
If the addition of NFL Sunday Ticket has you curious to learn more about YouTube TV, be sure to check our YouTube TV review where we labeled it a "reasonably priced cable TV alternative" and we also have a comparison piece that pits YouTube TV vs Hulu + Live TV. And, for more freebies, see our guides on getting Apple TV Plus for free and how to get a Max free trial.