While Carhartt may be trendy with young fashionistas and influencers, the brand has well over a hundred years of experience manufacturing rugged outerwear for hardworking outdoor folks. So you know they are legit. And one of my favorite Carhartt pieces, the Rain Defender hooded sweatshirt, is 40% off right now ahead of Black Friday.
That knocks the price down to around $40 if you buy the Carhartt Rain Defender Hoodie through Cabela's. At the moment, there are plenty of sizes to choose from. And while don't love the logo on the sleeve — I personally own the black version without it — for $40, I can definitely live with it.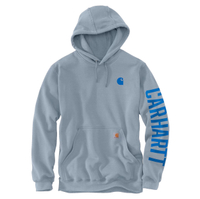 Carhartt Rain Defender Hoodie: was $64-$69 now $38-$41 @ Cabela's
Treated with Carhartt's Durable Water Repellent (DWR), the Rain Defender is perhaps the world's best hooded sweatshirt. Warm, comfortable and oh-so-stylish, you may have to hide this one from your partner because they're definitely going to want to steal it. Better yet, buy two.
So, what sets this hoodie apart from others? For starters, it's the most weather-resistant sweatshirt I've ever owned. I frequently wear it out sans-jacket during Seattle's cold and rainy months. In all but a downpour, it stays dry.
The Rain Defender is also the thickest and warmest hoodie I've come across. Pro tip: Get it in a size or two larger than you ordinarily wear. The extra material makes it all the more comfy. The size of the hood is also generous, which I appreciated. And there's a handy hidden pocket within the communal pocket for storing small accessories.
Want more early Black Friday deals goodness? Check out these deals on some of our favorite jackets, smartwatches, massage guns and cold-weather socks.