The Black Friday deals are now starting to roll in thick and fast ahead of the day itself. If you're in the market for a new action camera, there are some awesome GoPro deals to be had.
Right now, the GoPro Hero12 Black Accessories Bundle is $100 off at Amazon. Normally $449, this bundle is now $349 for Black Friday, and given all the accessories you get included, it's an absolute steal at this price.
For context, the base GoPro Hero12 Black retails at $399, with the best price we've seen for the standalone unit being $349 so far. This Accessories Bundle includes the standalone unit plus some awesome starter accessories... for the same price!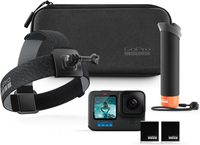 GoPro Hero12 Black Accessories Bundle: was $449 now $349 @ Amazon
Amazon is offering the GoPro Hero12 Black Accessories Bundle for $100 off its usual price. In this bundle, you'll get dual enduro batteries (although no charger), a sturdy hand grip, a head mount and a carrying case. It's a useful starter kit for anyone beginning their adventures! Price check: $449 @ GoPro | $449 @ B&H (w/ SD Card)
The GoPro Hero12 Black tops our list of the best action cameras around. The biggest revelation when it was launched earlier in 2023 was the fact that GoPro dropped the list price from $100 over the launch price of the GoPro Hero11 Black, without dropping any features.
The Hero12 Black keeps the same core imaging credentials from its 1/1.9-inch sensor, shooting up to 5.3K/60p video. It also features the same 33-foot water resistance.
The Hero12 has a couple of advantages over its predecessor, though. It features the newest iteration of GoPro's image stabilization (which was already best in class in the Hero11) and now lets users hook up bluetooth headphones like AirPods to be used as an external microphone.
While the competition creeps every closer to GoPro, with rivals from the likes of Insta360 and DJI producing fantastic cameras (in particular the DJI Osmo Action 4), the competitors still haven't taken the GoPro Hero's crown and the Hero12 remains the best action camera around. Reason enough to scoop it up in this deal.
If you still aren't convinced, this accessories bundle gives you great value for money, and in particular will be a great starter kit if you're new to the GoPro line. There's two extra batteries so you can shoot all day, a grip for stable handheld shooting and a head mount for POV action footage. There's also a carry case to keep your kit protected when you aren't using it. Grab this deal while you still can!