Cyber Monday Lego deals are almost finished for another year. But there's still a little time left to save on some of the most popular sets including top picks from best-selling themes such as Star Wars, Harry Potter, Marvel and more.
Lego is notorious for being pretty pricey. And in recent years the average price seems to be only creeping up. That's why the last chance Cyber Monday sales are the best time to grow your collection, as retailers are now slashing prices and offering up rare discounts on the ever-popular Danish construction toy.
Even better there are currently Lego deals to fit every budget and experience level. From smaller builds that are suitable for newcomers to massive sets with thousands of pieces that will take you hours to complete, here are the best Lego Cyber Monday deals that you can still get right now.
Cyber Monday Lego deals — Quick links
Best Cyber Monday Lego deals right now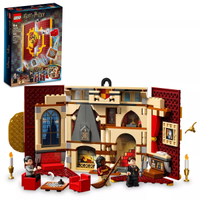 Lego Harry Potter Gryffindor Banner: was $34 now $28 @ Target
This dual-purpose set functions as both a recreation of the Gryffindor common room and a decorative wall banner. Adorned with the Gryffindor crest, it folds out to create a miniature playset complete with lots of movie-accurate details. It also includes three Minifigures: Harry Potter, Neville Longbottom and Angelina Johnson.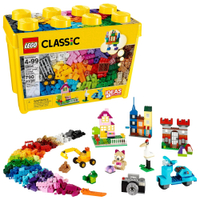 Lego Classic Large Brick Box: was $48 now $32 @ Walmart
Sometimes all the fancy licensed sets are too much, and you need to go back to basics with a big box of Lego bricks. This box comes with 790 different pieces for you to build and destroy your own Lego creations on a whim. All with a big yellow box to keep it in and $16 off the normal price.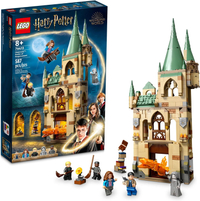 Lego Harry Potter Room of Requirement: was $49 now $39 @ Amazon
Re-create one of the most firey scenes from the Harry Potter and the Deathly Hallows Part 2 movie with this set. This Lego recreation of the Room of Requirement hidden in Hogwarts Castle comes with five Minifigures including Harry Potter, Hermione Granger and Draco Malfoy. It's also part of the Hogwarts modular range which means it can be combined with additional sets to create a full-scale Hogwarts castle.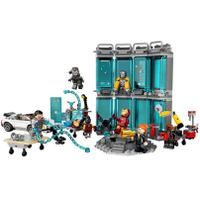 Lego Marvel Iron Man Armory: was $89 now $45@ Amazon
Iron Man's base is under attack by Whiplash, and it's up to Tony Stark and War Machine to save the day. This comes with a mini sports car from Iron Man 2, alongside three different suits of armor. Also along for the ride are Pepper Potts, Nick Fury and everyone's favorite robot arm Dum-E. It's on a significant sale in Amazon's Cyber Monday sale dropping to a new lowest price of $41.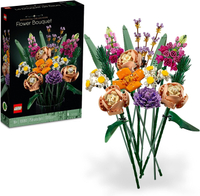 LEGO Icons Flower Bouquet 10280 Building Decoration Set: was $59 now $47 @ Amazon
For those creatives who enjoy flower arranging, check out this LEGO artificial flower bouquet. Created from 17 new elements with realistic petal shapes and colors, this will make the ideal home decoration. This also makes a good alternative to real flowers and a great deal.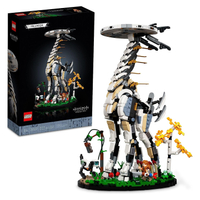 Lego Horizon Forbidden West Tallneck: was $89 now $73 @ Amazon
This awesome tribute to the most iconic machine in the Horizon franchise is wonderfully detailed. Not only does it come with a stand full of colorful, post-apocalyptic plant life, you also get a little Aloy and one of those annoyingly perceptive Watchers to build. Just make sure you carve out a couple of free evenings out of your week, as this sizeable set consists of 1,222 Lego pieces.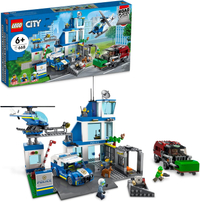 Lego City Police Station: was $69 now $55 @ Amazon
This all-action set includes a three-level Lego City police station building, a police cruiser, a helicopter and a garbage truck (for a criminal break-out), alongside five Minifigures. It also packs a road plate that can be combined with additional Lego City sets to create a larger city scene. It's on sale for $55 at Amazon.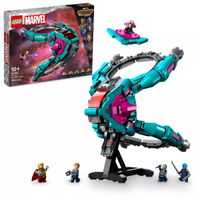 Lego Marvel The Guardians' Ship: was $99 now $69 @ Target
Straight out of Guardians of the Galaxy Vol 3 is the new Guardians Ship — dubbed The Bowie after Ziggie Stardust himself. This is an odd-shaped ship so it comes with its own stand, a miniature detachable fighter and five minifigures: Nebula, Quill, Drax, Mantis and Adam Warlock.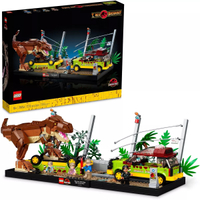 Lego Jurassic Park T. Rex Breakout: was $99 now $69 @ Target
One of the most iconic scenes in movie history is immortalized in a Lego diorama. Featuring a posable T-Rex, one and a half Jurassic Park jeeps and four Minifigures, this is a perfect display piece for any dino fan — and it's $30 off for Cyber weekend.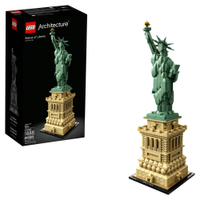 Lego Architecture Statue of Liberty: was $119 now $94 @ Walmart
Arguably one of the most famous American architectural icons, but on display in your home — and free from the stares of millions of gawking tourists. And with $25 off, thanks to Cyber Monday, it's an absolute steal.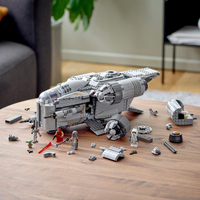 LEGO Star Wars The Razor Crest 75292 Mandalorian Starship Toy: was $139 now $97 @ Amazon
If you're a Star Wars, Mandalorian fan, you'll appreciate this great deal. This features a brick model of The Razor Crest starship, and comes with four LEGO Star Wars minifigures including "Baby Yoda", and The Mandalorian.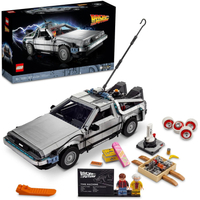 Back to the Future Time Machine: was $199 now $159 @ Amazon
So you probably won't be hitting 88mph in this vehicle, because I'm pretty sure it would fall apart at those kinds of speeds. But you can build and display one of the most iconic cars in movie history. But since this set can be built in all three versions of the DeLorean, one from each movie, you're going to have to decide which one you like best. Hint: It's definitely the one that flies.
How to spot the best Cyber Monday Lego deals
Lego, like the iPhone, is one of those products that doesn't get discounted very often — especially on the larger, more expensive sets. Even those that do get discounted outside of deals events tend to only lose a few bucks at a time. So how do you know what's a good deal or not?
One thing I've noticed over the years of hunting for Lego bargains is that it's incredibly rare to get more than a 20% discount. Even during sales events like Black Friday and Cyber Monday 20% is often the hard limit. So if you spot a set you like with an even bigger discount, odds are that the price isn't going to go any lower. Heck, even a 20% discount is pretty good, so they're certainly not to be ignored.
It's also worth noting that a lot of Lego sets go on clearance when they're approaching the end of their retail life. Sets like the Star Wars Darktrooper Attack, as seen in Mandalorian season 2, are due to cease production by the end of the year. So it's no surprise that retailers like Target have knocked a few dollars off the price tag in an attempt to clear stock.
So check out the Lego Store's "Retiring soon" section and go hunting for clearance deals. Because this could be your last chance to actually buy them without paying an inflated price on the secondary market.