Best Apps for Beer Lovers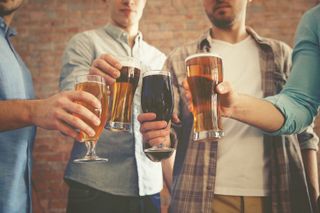 Drink It In
Mankind has been brewing beer for thousands of years, with as many varieties as there are people and places under the sun. It's the third most popular beverage in the world after water and tea, with thirsty drinkers guzzling down everything from canned, mass-produced beers to artisanal microbrewed concoctions. From social networks to brewery finders, food pairing guides to beer journals, check out 10 of our favorite beer-related apps for Android and iOS devices. (Photo Credit: Africa Studio/Shutterstock)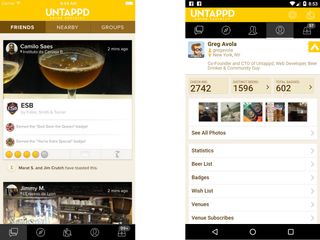 Untappd
The social network for beer lovers, Untappd (Android, iOS) allows users to easily find nearby craft beers and bars and check in, as well as find out where and what your friends are drinking. Once you've got a pint, can or bottle in your hand, you can log it in, rate it and share your tasting notes with your friends. The app can create personalized recommendations based on the tastes of you and your friends, and you can find out where you can get particular brews nearby. Untappd also includes a system of badges to reward users trying out different styles of beer and checking in at different locations.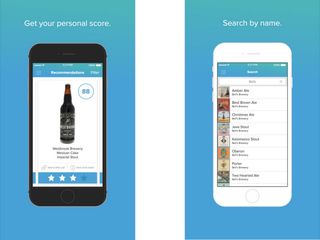 Next Glass (Android, iOS)
So you've found a style of beer that you like... what now? Next Glass (Android, iOS) is a mobile app that provides a drinks recommendation based on the beers you like. Users build a Taste Profile by rating the drinks they've tried, and the app then provides a recommendation based on that, each one rated with a score based on how well Next Glass thinks it will match your tastes. Users can rate drinks, pull up nutritional information, add drinks to a wish list for later and search for drinks by name, label, or barcode scan.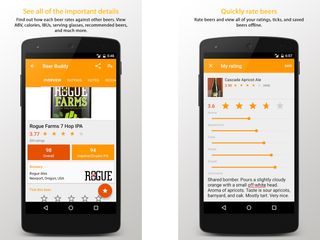 Beer Buddy (Android, iOS) (Free, $3.99)
Beer Buddy (Android, iOS) provides a rich set of features for beer lovers, such as a searchable database of beer varieties and reviews as well as a barcode scanner to quickly bring up information. Users can view ABV, nutritional information and beer reviews; they can also send in detailed reviews of their own. You can search for top lists, such as the most popular beers by country or by season, and create your own list of favorite beers, beers on tap, and more. RateBeer.com integration lets you save your ratings and ticks, and the app also includes a bar, store and restaurant finder to help you track down places that have just the right brew.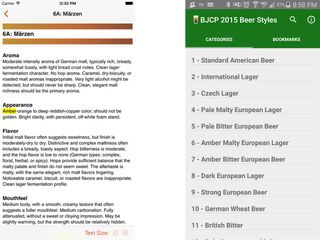 BJCP Styles (iOS) & BJCP 2015 Beer Styles (Android)
The Beer Judge Certification Program publishes style guides that help codify the world's various beer styles for brewers, judges and enthusiasts alike, and mobile apps put the BJCP's style guides within easy reach. BJCP Styles on iOS and BJCP 2015 Beer Styles on Android are mobile apps that provide you with an easily navigated list of the many styles recognized by the BJCP, complete with tasting notes, comparisons with other varieties, statistics, and examples, making them great references for enthusiasts and brewers.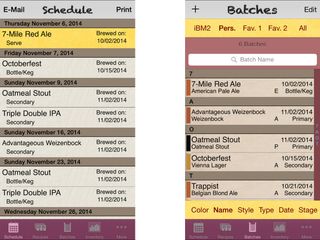 iBrewMaster 2 (iOS) ($6.99)
iBrewMaster 2 (iOS) serves as a multipurpose toolkit for home brewers, providing everything from prepackaged recipes to a batch manager and scheduler for you to easily keep track of how each batch is doing. You can access pre-installed recipes, or create your own, and then set up a new batch of beer, logging the recipe and ingredients used and schedules. The app also comes with handy calculators for a variety of brewing applications, an inventory manager to track your ingredients and equipment, comparisons of recipes with BJCP style guides, recipe importing and exporting and more.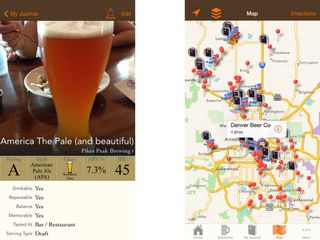 myBeerNation (iOS) ($4.99)
myBeerNation is an all-in-one beer journal and brewery finder that encourages its users to "Find It, Drink It, Review It!" A brewery finder function allows users to easily search for nearby breweries, complete with address, map, contact info, and details on tasting rooms and tours. Users can log the many breweries they've visited, as well as create entries in a detailed beer journal that holds comprehensive review of the many beers they've tasted along with attached pictures. Users can then share their beer journal entries with friends and contacts through email or social media.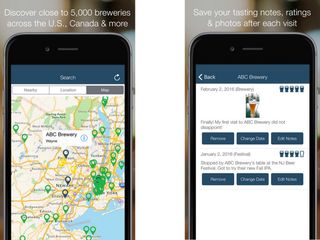 Brewery Passport (iOS)
Brewery Passport is another excellent iOS brewery finder, with a searchable directory of more than 5,500 breweries across the United States and Canada, complete with maps, contact details, ratings and reviews. Users can book tastings and tours, join beer clubs and find out about beer-related events. You can stamp your Passport when you visit a brewery to record your experience, adding photos, tasting reviews of beer, and other impressions. In addition, you can check out brewery recommendations, either by region, trail or expert picks, and collect badges as you get your Brewery Passport stamped.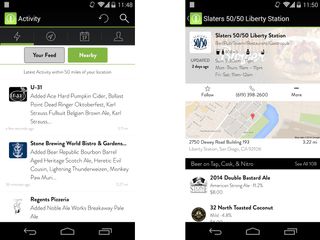 TapHunter (Android, iOS)
Looking for a new watering hole or a pub that serves your favorite variety or brand of beer? Check out TapHunter (Android, iOS), a search tool that helps you find bars, restaurants, tasting rooms and breweries and view what drinks they have on tap. Users can view a live drinks menu for each listed location and get recommendations from TapHunter for drinks and dives based on your listed preferences. Users can follow a style of drink or establishment to receive notifications when they add something new to the menu, or if a local pub suddenly has your favorite variety on tap.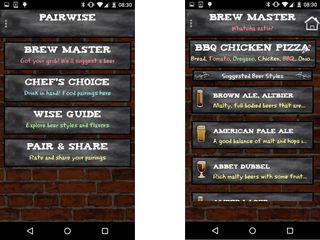 PairWise (Android, iOS)
While most beer drinkers aren't too snooty about what food they have with their pint, you can't deny that a good food pairing can really make a good beer's distinct flavors stand out. PairWise (Android, iOS) aims to find the perfect food pairing for your drink, and vice versa. If you already have a drink in hand, you can look for a good meal to go with it, and if you already have food on your plate, you can look up the perfect drink to pair with it. With a database of more than 160 beer styles, 26,000 beers, and 1,500 different dishes, PairWise is has a wide selection of recommendations.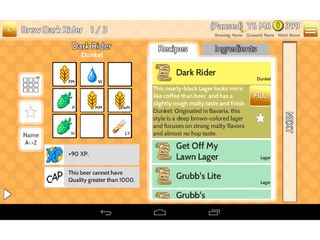 Fiz: The Brewery Management Game (Android, iOS)
Beer aficionados will work up a mighty thirst with Fiz: Brewery Management Game (Android, iOS). As head of your own microbrewery, you start out with a tiny operation selling small batches to local stores. As you grow in experience and develop new brewing recipes, you can make a name for yourself in brewing competitions, discover larger markets and improve your facilities and staff. Behind the cute pixelated exterior and the monotonous chiptune is a decent stat engine that allows you to fiddle with the quality of your beer, track sales figures and feedback and run market research in your quest to become a powerhouse brewery.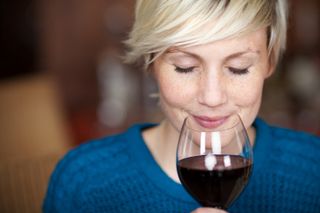 More Food and Drink
Maybe you prefer a glass of red instead of an ale. Check out our favorite apps for wine lovers. And what goes better with wine or beer than a good meal? We've found 15 top recipe apps.