Most Stunning 360-Degree Videos to Watch Now
Mind-Blowing Immersive Video
Thanks to 360-degree video, you don't have to just watch movies, sports clips and concerts; you can fully immerse yourself in them. The internet is already teeming with engrossing 360-degree clips, which run the gamut from skydiving simulators to terrifying first-person horror experiences.
You can watch these types of videos on sites like YouTube and Facebook right from your browser, but they're best experienced with VR headsets such as Google Cardboard and the Samsung Gear VR. Here are some stunning 360-degree videos you need to watch now.
Skydiving with GoPro BombSquad
GoPro Skydiving
GoPro's advanced cameras have produced 360-degree videos of everything from snowboarding to high-speed IndyCar racing, but the company's skydiving video is our favorite. "Skydiving with GoPro Bomb Squad" lets you experience the thrill of jumping out of an airplane, without the deathly fear of doing it in real life. We'd say don't look down, but we know you're going to.
Invasion!
Invasion! Sneak Peek
Not all VR videos have to scare you or get your adrenaline going; sometimes, good ol' cuteness will do the trick. Created by the director of Madagascar, Invasion thrusts you into a snowy, beautifully animated world, where you'll hang out with a virtual bunny and experience what's possibly the cutest alien invasion of all time. Invasion is proof that VR has plenty of family-friendly appeal. Who knows? We might end up watching the next great Pixar film from behind a headset.
Here and Now
Grand Central Terminal is a wonderful microcosm of New York City, filled with people from all walks of life coming in and out of the Big Apple. Facebook's "Here and Now" 360-degree video places you in the heart of the iconic train station, allowing you to witness the stories of various groups of people, from an arguing couple to a pack of excited youngsters dancing to pass the time. You'll want headphones on for this one.
Run the Jewels - Crown
Run The Jewels - Crown
Run the Jewels' "Crown" is a perfect example of how virtual reality can redefine the music video. This powerful black-and-white clip places rappers Killer Mike and El-P right in front of you. Look straight ahead, and you'll see the artists performing; turn left and right, and you'll see the stories of the characters they're talking about.
Inside the Chamber of Horrors
Inside the Chamber of Horrors
Horror films are about a million times scarier in VR, and Inside 360's "Inside the Chamber of Horrors" is one of the most terrifying examples we've seen yet. This creepy VR clip traps you in a dilapidated basement, where you're surrounded by bloody weapons and bombarded by a disturbing camera feed and a rotating cast of frightening characters. Chamber of Horrors makes brilliant use of the dark: Every time the lights go out, you'll be looking around frantically, dreading what might show up next.
Mega Coaster
Mega Coaster
Immersive roller-coaster videos are a dime a dozen on YouTube, but Discovery's Mega Coaster clip is one of the absolute best. This video places you in the front seat of Six Flags' Magic Mountain coaster, allowing you to experience every twist and turn without waiting in line. Even though it's just a video, you'll probably still get goose bumps once the ride's infamous 157-foot drop hits.
Superhot 360-Degree Review
Superhot 360-Degree Review
What better way to tell someone about a game than by putting them inside it? BBC Click's 360-degree video review of Superhot is yet another example of virtual reality's ability to shake up a long-established medium, as you can peek around the game world while Marc Cieslak walks you through the ins and outs. Superhot's time-bending shooter gameplay supports VR, so it's only fitting to see a review of the game that's just as immersive.
Star Wars: Jakku Spy
If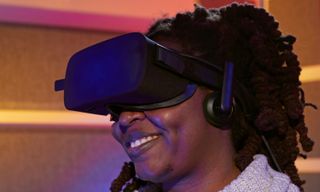 Get Your VR Fix at Tom's Guide
Looking for more immersive fun? Check out our roundup of the Best VR Headsets, as well as the best games to play on Oculus Rift and Gear VR. We've also got in-depth reviews of the Oculus Rift and HTC Vive for those looking to make the jump into high-end virtual reality.