16 Tips for the Microsoft Office 2013 Preview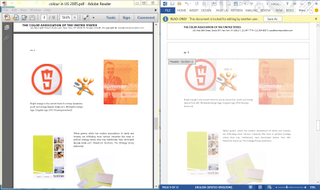 Turn PDFs into "Real" Documents
You can try out Office 2013 for free during the Customer Preview. There are more than 15 good reasons why you'll want to but here are our favorites, like the way you can open PDF files – and edit them. Not only does the PDF conversion do a mostly excellent job of giving you both the content of the PDF file and the original layout, it also puts in document elements like page numbers and headers and footers into the Word document correctly. Add more text or images so the document gets bigger and the page numbers go up the way you'd expect; open the footer and you can update the address just once instead of on every page.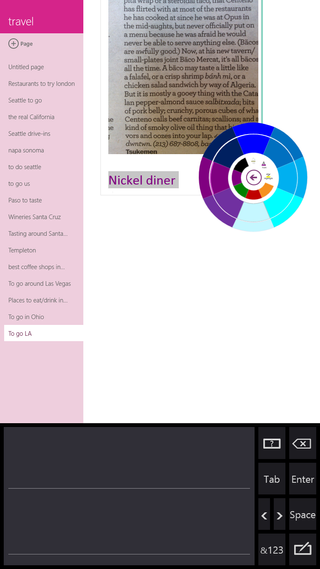 OneNote Radial Menu for Touch
OneNote for Windows 8 might be the most impressive Metro application yet; it opens your OneNote notebooks from SkyDrive and you can add handwritten notes or use the handwriting recognition. If you don't have a pen, try out the nifty context-sensitive radial menus that put tools for formatting text, editing photos, copy/pasting and more - right at your fingertips. Drag around the circular menu to pick a new color or change the size of text.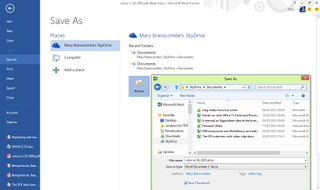 Save Documents to the Cloud with SkyDrive
Take your documents with you, not your PC. You can save files from Office 2013 applications right into SkyDrive (when you pay for the Office subscription you'll get another 25GB of storage to use). Not only can you edit them in the Office Web apps, but if you put Office on another PC you'll get the same Recent Documents menu to make it easier to get back to work.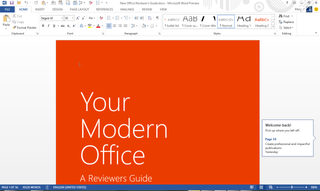 Welcome Back View
When you open a document you've worked on before, whether it's on SkyDrive or not, you might want to carry on where you left off last time. Office 2013 apps like Word pop up a thumbnail with a link to the last page you were editing (and a reminder of what's on the page). It's not intrusive; ignore it and it shrinks to a speech balloon, click anywhere and it disappears.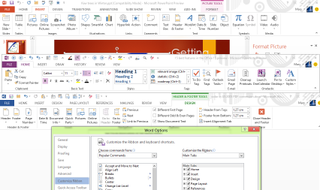 Your Custom Ribbon Layout
If you don't like the Office ribbon, Office 2013 hides it automatically. You can still open it and it's quite smart about staying open until you click a command that suggests you're going back to your document (like Insert Table) and you can still move the buttons around. If you want to keep the ribbon shut and the tools you need aren't on the context menu you can add them to the Quick Access Toolbar. And all that effort isn't wasted when you move to a new PC; you get your customized ribbon everywhere because it syncs through SkyDrive.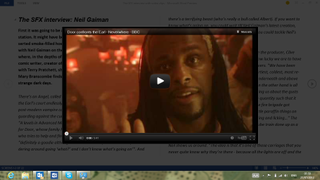 Read and Play Videos in Word
Word hasn't been just a word processor for quite a while; now you can embed videos from services like YouTube and watch them in your documents. The new reading view is good for that; it resizes text to make it easy to read on screen and when you tap on a picture of video, it pops up in a larger window so you can see it easily.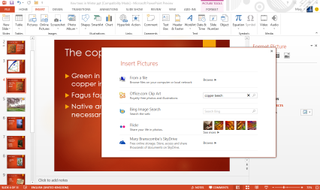 Online Photos in Your Documents
If you keep your photos on Flickr or SkyDrive you can insert them straight into your documents by browsing through them. You can also search for a photo to use on Bing (it only shows pictures with Creative Commons licences that say you can use them) or get photos and clipart from Office.com. There are a lot of great free images on Office.com and this is finally a good way to find them. There's no support for SmugMug, Picasa or other photo sites yet – but that might come.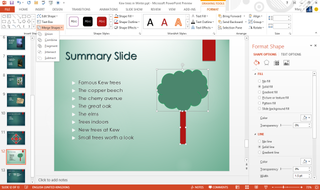 Cutout Shapes in SmartArt
If you want a star or a banner or a speech bubble, you can draw one in your document using the SmartArt shapes. If the exact shape you want isn't there, you can combine two shapes or cut one out of the other. It's certainly not a vector drawing package like CoreDRAW but it's pretty easy to use.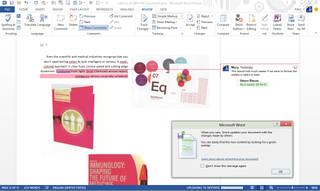 Easy Comments for Discussing Documents and Presentations
If you're working on a document with someone else, you might want to make suggestions rather than just changing things. The comment tools in Word and PowerPoint 2013 are much nicer to use than previous versions. You can reply to comments, even using the free Office Web apps. And in Word you can mark a comment as done and hide it so it's not distracting you.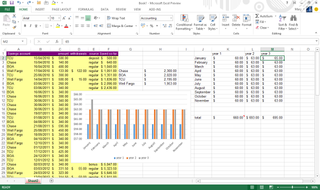 Animated Charts in Excel
Change figures that you've made a chart from and Excel animates the change in the chart so you can see what difference it makes. Here, as soon as we changed the first $63 to $65, the bars on the chart shrank down and then the taller bar for the new figure painted in from the bottom. The animation makes it clear that something happened and the new figure is larger than everything else.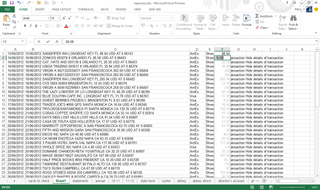 Excel Flash Fill
Hate trying to get the details of your credit card bill out of a messy online statement? The new flash fill feature in Excel can spot patterns in data when you give it a couple of examples. We typed in the first two figures and flash fill automatically extracted all the others (and it got just the dollar amounts, not the strange reference numbers for the stores we shopped at).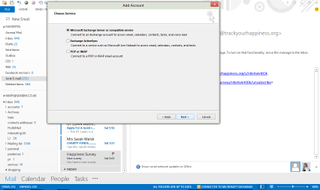 Push Email from Any EAS Webmail
Your smartphone uses the EAS standard to get your email, contacts and calendar from webmail services like Hotmail, Gmail and Yahoo! mail. Finally Outlook will get the same information from any webmail service that uses EAS without you needing any plugins or add-ons. You get your address book, your diary – and you get mail 'pushed' to you as it arrives, not just every 15 minutes or so.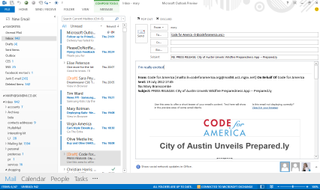 Reply to Email Where you Read it
You've got a few email messages open, and a couple of Outlook windows; now find the message you're halfway through replying to? The new inline replies in Outlook keep everything neat and tidy. You don't lose anything if you click on another message to read it. Outlook saves the draft and puts a handy reminder on the mail you're answering so you're less likely to forget to finish it. You can still open the mail in a separate window if you prefer.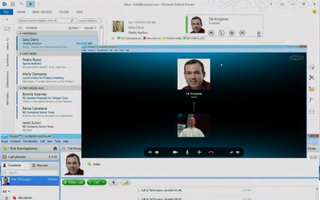 Skype from Email
This isn't in the Consumer Preview but we've seen it working and we want it. If the person who emailed you is using Skype, you get a 'traffic light' to tell you if they're online, busy or not signed in – and you can click on their name and phone or video call them straight from the email in Outlook if you'd rather call them back than send a reply and hope they get it in time.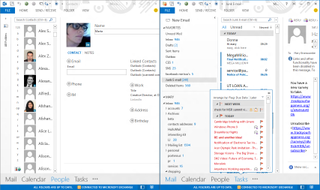 Duplicate Contacts Linked, Automatically Peek at Your To Do List
Got your Facebook contacts in your address book? If they're friends you've probably got them in twice (and maybe on Linked In too). Outlook automatically merges contacts with the same name and details into a single person. You can't change the link by hand, but out of thousands of contacts we looked at, it didn't get anything wrong. We also love the 'peek' window where you can get a quick look at your diary or to-do list without leaving the email that made you wonder about what else you ought to be doing.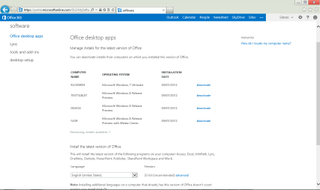 Free Office for Mac when you Buy Windows Office
Not all the new features are in Office 2013; there are also the free apps you get for iOS and Android if you buy Office as a subscription rather than as boxed software – so far that's OneNote and the Lync business video and instant messaging tool. But when Office 2013 goes on sale, if you have a Mac you'll get Office for Mac included in the subscription. It won't have all the Office 2013 features, but it will get an update so it works with SkyDrive and Office 2013.