25 Animated TV Shows That Deserve Reboots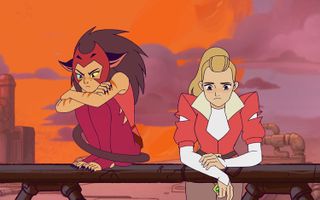 Toons that need to come back today
Looking into the not-too-distant future of television, we see a highly anticipated She-Ra reboot on the horizon. And after a few minutes of discussion here at Tom's Guide HQ, we realized that we need plenty of other reboots of our favorite animated TV shows. From classics that need a modern touch to short-lived shows that would fit in better today, our picks range from The Flintstones to Space Ghost Coast To Coast and beyond. So, join us, dear reader, for a stroll down cartoon memory lane, and if you agree, let's figure out how to beg these shows' creators to bring their masterpieces back to life.
Credit: Netflix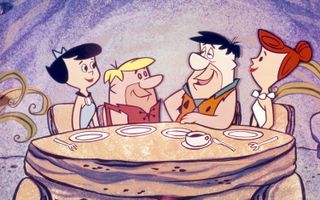 The Flintstones
Yabba dabba doo! TV's first prime-time animated sitcom is still one of its funniest, and it's about due for a refresh. For those among you who, like the titular characters, have been living in a cave: The Flintstones is a family comedy set in an absurd version of the Stone Age. Blue-collar worker Fred Flintstone, his wife, Wilma, and their daughter, Pebbles, live in the city of Bedrock, where they deal with everyday work and family situations — but with dinosaurs and lots of rock-based puns. Despite a huge pop-culture presence, The Flintstones hasn't had a regular TV series in more than 50 years, and it's high time to change that. The recent DC Comics take on Fred's family has been adark deconstruction, which would be a great jumping-off point to make the series feel topical and unpredictable again. — Marshall Honorof
Credit: Getty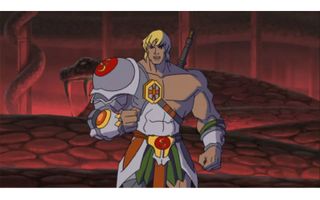 He-Man
If Adora/She-Ra are getting a reboot, it's only natural to give Adam/He-Man an update as well. And, yes, I realize that He-Man already had a reboot (that, in my opinion, was pretty awesome, animation-wise), but who doesn't want to see He-Man, Teela, Man-at-Arms and Battle Cat going toe-to-toe with Skeletor, Evil-Lyn, Beast-Man and the rest over the fate of Eternia? And let's face it, as Adam's twin brother, it's only a matter of time before we see the loincloth-cloaked barbarian sooner than later engaging in interdimensional battles with his Greyskull-powered sibling. Also, I kind of miss Orko's hijinks. — Sherri L. Smith
Credit: Mattel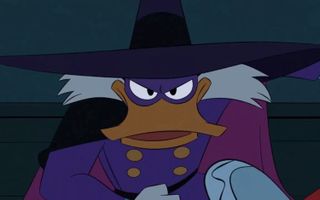 Darkwing Duck
Let's get dangerous, Disney-style. With the DuckTales reboot in full swing, complete with GizmoDuck, it's only natural to bring back the "terror that flaps in the night." The fowl superhero has already made a small cameo in the new DuckTales, leaving the door wide open for his dramatic and comedic superhero antics. Back in the '90s, Darkwing was a big part of the Disney afternoon, thrilling kids and adults alike with his deeds of derring-do and his eclectic rogue's gallery, including Steelbeak, Bushroot, Taurus Bulba and, of course, NegaDuck. With DuckTales doing so well, it's the perfect time to bring Darkwing, Gosalyn and the gang back into the fold. — Sherri L. Smith
Credit: Disney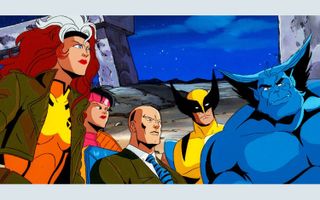 X-Men
X-Men animated series have come and gone over the years, but there's never been one as good as the 1992 iteration that aired on Fox. The Saturday morning cartoon thatdefined a generation of kids' TV had a very simple conceit: What if the X-Men's greatest comic-book adventures could appear on-screen, with as little interference as possible? As such, a whole new generation fans experienced faithful adaptations of classic stories, like the Dark Phoenix Saga, Days of Future Past and Sanctuary, complete with season-long story arcs, recurring characters and morally gray villains. A reboot of the show would be the same basic conceit — a kid-friendly, comic-based, ensemble-cast X-Men cartoon — but with some of the greatest storylines of the '90s and '00s instead of the '70s and '80s. We'd like to see Age of Apocalypse, E Is for Extinction and Avengers vs. X-Men. — Marshall Honorof
Credit: Disney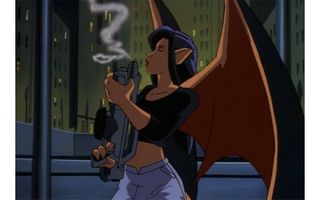 Gargoyles
Gargoyles is a mid-'90s Disney cartoon that, if you look at the plot, should never have worked as an after-school kids show. Five magical creatures that turn into stone when the sun rises — gargoyles — are ensnared in a spell that freezes them in their 10th-century European village. When the spell finally breaks, the statuesque monsters are in modern-day New York City. Sounds cute, but unlike other Disney shows of the time, Gargoyles didn't reset with a happy ending at the end of each episode. This series was dark.
The pilot itself detailed a plot in medieval times to kill all the gargoyles. In this, a cartoon from the company that brought you the Little Mermaid, the plot of the first episode is about a successful genocide. Just take that in. The show didn't lighten up much after that. It used complicated, evolving characters to wrestle viscerally with themes of hatred, revenge, trust, betrayal and trauma (from witnessing that systematic mass murder I mentioned). And don't even get me started on the epic, bottomless rage between Goliath (the Gargoyles' leader) and his long-lost love, Demona, or the long-con deception of Xanatos, a Tony Stark-type businessman who befriends the time-displaced gargoyles for all the wrong reasons.
Sure, Gargoyle's premise was kiddy, but its story was told with the emotional heft of your parents' prime-time dramas. No surprise a generation of children grew up watching it.— Kenneth Butler
Credit: Disney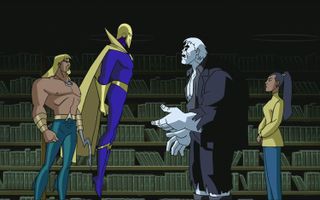 Justice League Unlimited
The beautiful thing about comic books is that "canon" is a nebulous concept at best. As such, creators have been rebooting comic book characters since the '50s, and readers have loved seeing new spins on their old favorites. Justice League Unlimited was a cartoon that made extensive use of DC's incredible roster of superheroes. Instead of focusing on just Batman, Superman, Wonder Woman and their immediate allies, Unlimited opened up the adventure to everyone from Zatanna, to Green Arrow, to Booster Gold and beyond. Restarting the story would require almost no exposition; it's the present day, and the world needs a variety of heroes to fight threats both terrestrial and cosmic. There are even some fun new DC heroes to include, like Damian Wayne as Robin. — Marshall Honorof
Credit: Warner Bros.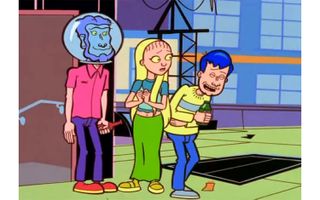 Mission Hill
The late '90s to early 2000's slacker culture was perfectly distilled, mocked and put on display in Mission Hill, an animated series from Bill Oakley and Josh Weinstein, former executive producers of The Simpsons. The series focused on Andrew "Andy" French, whose lazy, unproductive life was disrupted when his parents send Kevin, his incredibly earnest and nerdy younger brother, to live with him in the big city.
So, let's bring the Frenches to 2018, so that Kevin's love of tech can aide his brother, whose lack of a work ethic prevents him from meshing with startup culture. Maybe Kevin creates an Uber, but for gamers, that allows Andy to earn money by putting in hours on his Xbox. Any way this show happens, though, should include the iconic Brian Posehn, who voiced Andy's roommate Jim, who looked like a lazy bearded hipster while carrying on a high-paying job as an ad agent. That character doesn't need much of a tweak, though I bet he's now tracking all of our online activity. — Henry T. Casey
Credit: Warner Bros.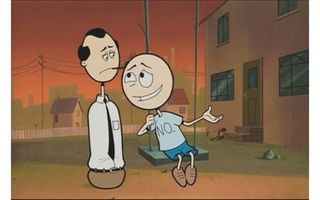 Oblongs
Meet The Oblongs, a truly nuclear family whose members are living with a plethora of disabilities, a result of to exposure to pollution and radiation from toxic sludge that flowed downhill from their upper-class neighbors. And much like any family faced with a flood with unhealthily glowing trash, The Oblongs didn't last long, with the WB airing only eight of the original 13 episodes.
This is where HBO comes in, as the premium-content network is always looking for fun, edgy comedy, and they already work with Oblongs' voice-actor, Will Ferrell, and his Funny or Die company. Today is also a perfect time for The Oblongs, as pollution is pushing the planet even further to the brink (and Flint, Michigan, still doesn't have clean water). Also, we need more shows featuring the amazing voice work of Pamela Adlon (Milo Oblong), who voiced Bobby Hill on King of The Hill. — Henry T. Casey
Credit: Warner Bros.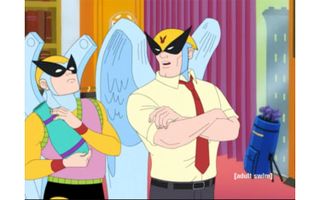 Harvey Birdman: Attorney at Law
Move over, Matt Murdock, it's time for the king of legal superheroics to return. Sure, Harvey Birdman's a little more aloof than the Daredevil of Hell's Kitchen, but this Adult Swim show needs to return and place Mr. Birdman in his rightful place as defendant to the superstars. Not only is this moment in pop culture rife with opportunity to bring superheroes (or similar, off-brand versions of them, for legal purposes) to the courtroom. Imagine Tony Stark finally being held accountable for creating Ultron, or Zack Snyder facing justice for the DCU films. And tell me you don't want to see #MeToo movement land on Wilson Fisk's front steps. — Henry T. Casey
Credit: Warner Bros.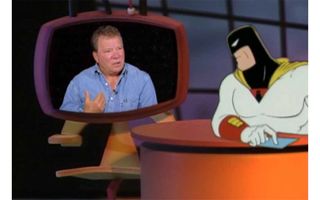 Space Ghost Coast To Coast
The first original Cartoon Network series was anything but — Space Ghost Coast to Coast was an absurdist talk show reimagining of a 20-episode, mostly forgotten, animated superhero series from the '60s. And yet, it proved the perfect launching pad for one of the funniest adult-targeted cartoons of all time. Coast to Coast was laughably slapdash in its presentation; the show mostly consisted of animation cels recycled from three decades earlier, which made it equal parts cheap and charming. Space Ghost was flanked by his producer Moltar and band leader Zorak, two characters voiced by the tragically departed Clay Martin Croker, who shared impeccable comedic chemistry with George Lowe's phantom host. And last but not least, there were the guests — a cavalcade of '90s B-list celebrities whose responses were often lifted entirely out of context, cut up and reordered to fit the episodes' narratives, which were barely intelligible on their own. Honestly, it feels wrong to request a Space Ghost revival without Croker involved, but there was always a feeling of unfinished business here, like the creators had so many more stories left to tell and only truly began to immerse themselves in the crazy right when Adult Swim took off and moved on. At least the entire series is available to watch for free on the network's website. — Adam Ismail
Credit: Warner Bros.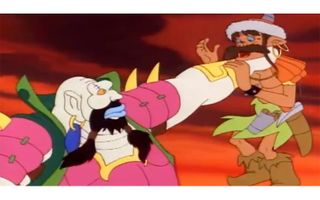 The Pirates of Dark Water
Pirates, magic, a handsome, stalwart prince — mix them all together and that's why The Pirates of Dark Water is an epic action fantasy series is ripe for a reboot. The story takes place on an alien planet where Prince Ren is trying to save the world from Dark Water, a seemingly sentient substance that's slowly devouring the planet. The key to defeating the threat lies in tracking down 13 artifacts. But Ren's journey is plagued by pirate lord and main antagonist Bloth, who wants the treasures for his selfish gain. But to aid him on his journey, Ren has a ragtag seafaring crew on his side with their own unique powers to help him succeed. Unfortunately, the series ended before Ren and his crew could get their hands on all 13 treasures, which is why this series deserves a reboot. No show should end on such an abrupt cliffhanger. — Sherri L. Smith
Credit: Warner Bros.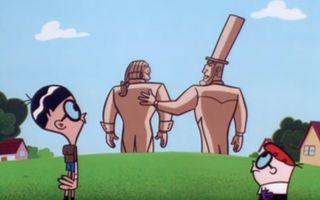 Dexter's Laboratory
Long before Cartoon Network experienced a renaissance with the likes of Adventure Time, Regular Show and Steven Universe, the channel's first period of inventive output came out of the Cartoon Cartoon series — an anthology that produced the Powerpuff Girls, Johnny Bravo and Cow and Chicken, not to mention another show further down this list. Genndy Taratovsky's effort starring as a prodigious boy genius was one of the most universally praised among them, though it's very easy to forget that we really got only two seasons of Dexter's Laboratory before new showrunner Chris Savino swooped in and functionally rebooted it for seasons 3 and 4. The later episodes therefore feel like an unnecessary reinterpretation that arrived far sooner than it needed to; the jokes don't land, the animation is rigid and everything's a little, well, off. A new Dexter's Lab that pays homage to the original — in the vein of that excellent 2016 Powerpuff Girls reboot — is long overdue. — Adam Ismail
Credit: Cartoon Network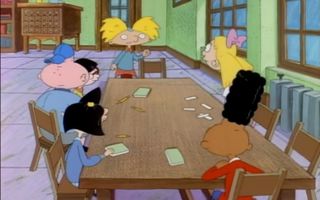 Hey Arnold!
Hey Arnold! was a surprisingly unsentimental look at urban life from a kid's perspective when it debuted back in 1994. Arnold is an imaginative city kid who lives in a boarding house with his crotchety grandpa, his polymath grandma and a whole supporting cast of zany neighbors. Cities today look quite different than they did in the '90s, though, so it's not hard to see how the series could start up again with a slightly different focus. In addition to making friends, pursuing childhood crushes and navigating the urban playground, Arnold and his band might have to deal with gentrification, public transit woes and a labyrinthine education system. Fun? Possibly. Funny? Probably. Relatable for kids today? Absolutely. — Marshall Honorof
Credit: Nickelodeon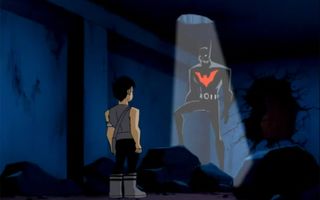 Batman Beyond
Batman Beyond was easily the most experimental cartoon in the DC Animated Universe canon, but the gamble paid off. In the not-too-distant future, Bruce Wayne is an old man, and can no longer don the bat-suit to combat crime in Gotham City. Instead, he entrusts the responsibility to Terry McGinniss: a teenager who also lost a family member to a random act of crime. Terry is more easygoing than Bruce and has a better sense of humor, but he eventually grows into his role as a vigilante, all while trying to balance his personal responsibilities. Like other superhero shows, this one would be easy to reboot. Just restart the story at the beginning, but with a twist. Perhaps this iteration of the show could take place in a setting closer to the comics, where Bruce Wayne has suffered a lifetime of loss, and time travel is relatively common. This could help Terry see the cosmic side of the DC Universe. — Marshall Honorof
Credit: Warner Bros.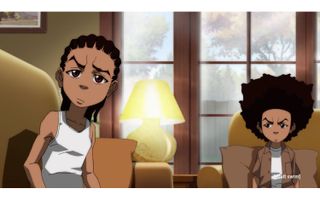 The Boondocks
Aaron McGruder's Adult Swim series, which adapted his fiercely political comic strip of the same name, burned bright before it fizzled out. It tells the stories of young African-American siblings Huey and Riley Freeman, a pair of rebellious preteens stuck in the painfully white suburb of Woodcrest, raised by the crotchety Robert Jebediah "Grandad" Freeman, who's often found getting into more trouble than his grandkids.
Huey often operates as a stand-in for civil rights leaders, while Riley's often acting out his own gangster-rap dreams, and the two got caught up with abrasive characters that acted as riffs on members of the George W. Bush administration. And since the current Oval Office inhabitant creates a need for inventive satire (SNL: you don't count), it's a perfect time for the Freeman family to return to the airwaves. Maybe this time, they move into DC instead of Woodcrest, or even a Trump hotel. And since McGruder loves to take on black culture's titans, I'm betting he'll place the ever-nonsensical Kanye in his crosshairs. — Henry T. Casey
Credit: Sony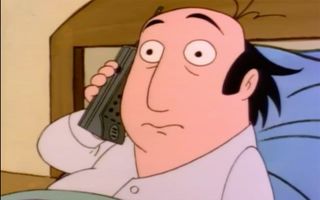 The Critic
"It stinks!" When it comes to films, these words ring as true now as they did in 1994, when The Critic debuted on ABC. This animated sitcom, which shared a lot of comedic stylings (and writers) with The Simpsons, told the story of Jay Sherman: an underappreciated film critic. Jay's audience doesn't understand his erudite takes on popcorn blockbusters, while his adversarial ex-wife wants to make his life miserable. But thanks to his kooky co-workers, his adoring son and his oddly affectionate Rockefeller-esque parents, Jay manages to stay in good spirits as he carves out a niche in New York City. A reboot would be incredibly easy: Just put Jay on YouTube, perhaps after losing his job at a traditional newspaper or TV channel. There are still plenty of bad movies to lampoon. — Marshall Honorof
Credit: Sony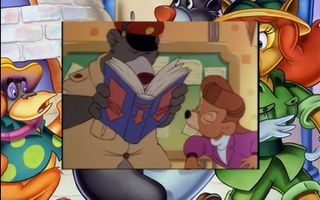 TaleSpin
What happens when you take some of the main characters from Disney's The Jungle Book, and put them in the 1930s? You get one heck of a series and a mainstay of Disney's storied '90s afternoon block. With no humans in sight, Baloo, is a lovable rogue, who owns Baloo's Air Service, an air cargo delivery business. At least he does, until scores of delinquent bills allow Rebecca Cunningham to purchase the business. The newest employee of Higher for Hire, Baloo does battle with pesky air pirates, looks for treasure and gets into comedic hijinks with his navigator Kit Cloudkicker and bartender Louie. And when they're not outwitting the air pirates, there's Shere Khan, leader of a criminal empire to contend with. If Disney were to reboot TaleSpin, I'd want them to jump to the '60s or '70s and work some sort of alternative steampunk tech into the mix. In the original, TVs and helicopters were experimental tech. I'd love to see Baloo and crew deal with microwaves, space shuttles and eight-track tapes. — Sherri L. Smith
Credit: Disney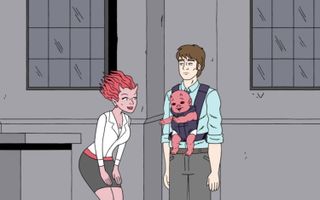 Ugly Americans
America has always been considered a melting pot. And what better way to prove it than by living side by side with all manners of demons, fairies and wizards in a nihilistic take on the U.S.A? Such was the premise for Ugly Americans, where we followed the mild-mannered Mark Lilly who works in the Social Services Division of the Department of of Integration in New York City. There, he dates his succubus boss, whose father happens to be the literal devil and a drunken wizard, only to go home to his zombie roommate, Randall. It's a funny, insightful look into the human experience that ended way too early, and would be a great series to reboot in light of the country's current socio-political climate. — Sherri L. Smith
Credit: Comedy Central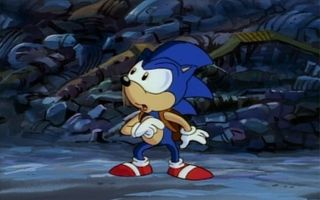 Sonic The Hedgehog
Ask any longtime Sonic fan what their preferred canon is for Sega's iconic mascot, and if they're above a certain age, chances are likely they'll answer with this 26-episode action epic from the early '90s. SatAM, as it's colloquially referred to, centered around the efforts of the Knothole Freedom Fighters — a group of rebels led by Sonic and Princess Sally Acorn that resisted Dr. Robotnik's efforts to transform Mobius' residents into mindless machines. This was the basis for the ensuing Archie Comics series that lasted for well over a decade, long after the show's conclusion at the end of 1994. Strangely, no games were ever developed based on SatAM's storyline and characters, and all the shows that followed, from Sonic Underground to Sonic X to Sonic Boom, never revisited this darker, more dramatic take on the franchise. That's quite an egregious oversight, but one that could certainly be rectified with a reboot that honestly should have happened about 10 years ago. — Adam Ismail
Credit: DHX Media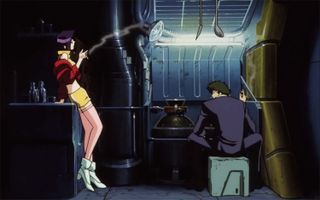 Cowboy Bebop
This is about cowboys in space, and it's one of the best Japanese anime of all time. This episodic narrative follows bounty hunters Spike Spiegel, Jet Black, Faye Valentine, Edward Wong and Ein (yes, the dog counts) all aboard the ship Bebop. What gave this show its esteemed cult-classic status was its fluid animations, epic fight scenes and overall mature themes, which are in polar contrast to anime today. The show had a loose storyline going throughout the series, but it stopped after the first season and nothing was ever resolved. I would love nothing more to see this show get a fresh start, as long as it still keeps the spirit of what the original had in mind. Basically, don't be anime.— Rami Tabari
Credit: Funimation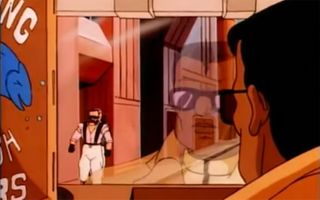 C.O.P.S.
A high-tech take on the tried-and-true cops and robbers genre, C.O.P.S. (Central Organization of Police Specialists) was like a less violent Robocop. Led by Baldwin P. Vess, code-named Bulletproof, the law enforcement agency worked to stop the criminal organization C.R.O.O.K.S. led by Brandon "Big Boss" Babel. C.O.P.S had a large cast of characters that had their own trademark talents. The show lasted only a season, but I'd love to see a gritty reboot of this show that leaned even harder to the tech angle and fleshed out hero and criminal backstories alike, particularly the relationship between Nightshade and Mace Howards. — Sherri L. Smith
Credit: Claster Television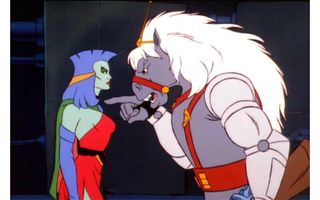 BraveStarr
Sci-fi, westerns and animations, what more could you ask for. Airing in the late '80s, BraveStarr followed the adventures of Marshall Bravestarr, a Native American who gained superhuman abilities by invoking the power of spirit animals. Partnered with Thirty/Thirty, an anthropomorphic horse, Bravestarr fought to protect the citizens of the planet of New Texas from Stampede and his band of villains, most notably Tex-Hex, BraveStarr's rival. With some modern updates and a fresh coat of paint, BraveStarr could be perfect for an audience looking for diverse representation as well as a kickass animated space western that isn't Trigun. — Sherri L. Smith
Credit: NBCUniversal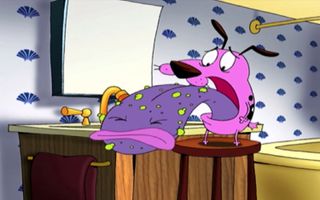 Courage The Cowardly Dog
Courage The Cowardly Dog lasted only three years, but in that time the dog left an indelible impression on a frightened youth. Nickelodeon's Invader Zim — which thankfully is being rebooted — often gets championed as the cartoon that introduced kids to horror themes and dark comedy, but Courage is arguably more disturbing. To this day, there's simply nothing like it. Courage's madcap antics and silly interactions with Muriel and Eustace provide a perfect and necessary foil to the desolate, eerie and occasionally gruesome plotlines and visuals. Creator John L. Dilworth and his team leaned on a shifting, cobbled-together animation style that combined aspects of traditional hand-drawing with computer-aided 3D graphics and textures to concoct an unsettling atmosphere. But Courage wasn't all about scares; the series finale, "Remembrance of Courage Past," is a beautiful send-off that aims for the feels and still doesn't miss, even all these years later. — Adam Ismail
Credit: Cartoon Network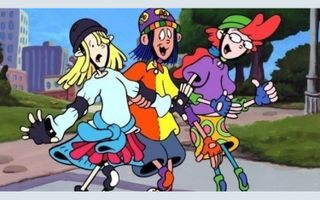 Pepper-Ann
Covering puberty, the aftermath of divorce and even defying preconceived gender roles, Pepper-Ann was ahead of its time. The first animated Disney TV series created by a woman, Pepper-Ann spoke to a legion of tween and teenage girls, trying to survive the rigors of school, friends and family life. Headstrong, smart and just a bit of a spazz, Pepper-Ann Pearson, with friends Milo and Nicky, constantly finds herself coping with such teenage insecurities as buying her first bra or dealing with her crush on eighth-grader Craig Bean. Given to flights of fancy, Pepper tends go into a fantasy sequence whenever she's facing a moral dilemma. Even though she might have been""much too cool for seventh grade," Pepper-Ann is cool enough for a reboot. — Sherri L. Smith
Credit: Buena Vista Television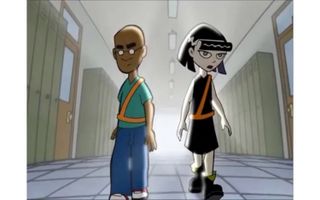 Fillmore!
Back in the 90s, Fillmore! gave me something I didn't know I needed — a crime drama set in a middle school complete with all the typical archetypes — including a stressed-out commissioner. Even better, it featured an African-American lead, Cornelius C. Fillmore, a reformed bad kid turned Safety Patrol member and his partner Ingrid Third. Using street smarts, photographic memory and plain old gut feelings, Filmore and the Safety Patrol kept the halls of X Middle School safe. Fillmore! only ran for two seasons, but I think kids today and hell even a few adults could stand to get acquainted with the middle school gumshoe with all his snarky one liners updated for a woke, sophisticated audience. — Sherri L. Smith
Credit: Buena Vista Television