20 Cool New Startups You've Never Heard Of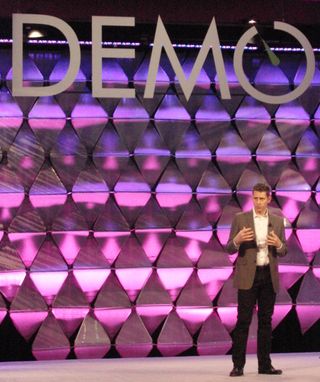 DEMO--Home Of Cool Products
When Palm launched its very first PDA, it showed it off at the exclusive DEMO conference. E*TRADE first launched at DEMO. Not everything that gets announced at DEMO makes it big, but if it's a cool new product from a company you've never heard of – it probably first launched at DEMO. So, which apps and gadgets made an impression on us from this week's DEMO conference? We learned about dozens of new concepts, but we picked the 20 best ones to share with you.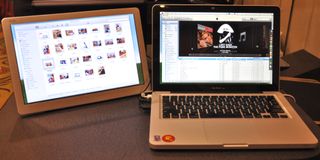 Extra Laptop Screen: The Panel by MEDL
A 17-inch laptop doesn't give you the same amount of screen space you get by using two monitors side by side. With The Panel you could spread out your windows to get more done even when you're traveling, or do email on one screen and enjoy full-screen video on the other. It plugs in via USB and at 13 inches and 2.2 pounds it's not too heavy to carry around (and unlike a 17" monster laptop, you can choose to leave it behind sometimes). The company behind it, MEDL, is looking for backers; if they find someone to bankroll The Panel it could be on sale by the end of the year for around $300.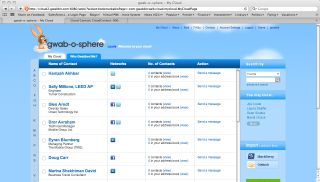 Up-To-Date Contacts from Gwabbit's Gwab-O-Sphere
Gwabbit was the top product at last year's DEMO conference: an add-in for Outlook or your BlackBerry that automatically collects contact details from everyone who mails you. This year the oddly-named (but free) Gwab-o-sphere keeps that same contact listing in sync with your contacts on Facebook and other social networks, providing you whichever listing has been updated most recently. So. if you use a Facebook app on your smartphone to call someone you'll automatically get the newly updated phone number from Outlook even if that person hasn't updated Facebook yet. Plus, you can go online and see who has used Gwabbit to put your details in their address book.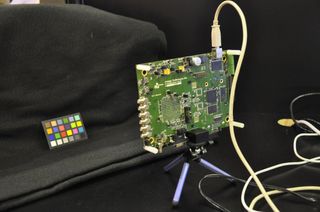 QuantumFilm's Tiny Phone Cameras
The reason cameraphones – even smartphones – still have 2 and 3 megapixel cameras instead of the 10 and 12 megapixel versions found in point-and-shoot digital cameras is that making a camera sensor that fits all those pixels into the tiny space available on a phone is expensive. The sensor that takes the picture is made of silicon, which isn't that good at absorbing light, so pictures aren't as bright as they could be. InVisage has a nanoscale camera sensor that phone manufacturers can literally paint onto the silicon. Depending on how they use it, manufacturers can make cheaper cameras that take brighter pictures, or they can spend a little more and get cameras with higher resolution and higher dynamic range that are still cheaper than the higher-resolution cameras we're used to. Look for this in phones within nine months.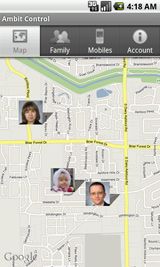 Kid Smatphone Control With Voxfon's Ambit
If you can't stop yourself from giving your kids their own smartphones, yet you're worried about what they'll install or who they'll call, Voxfon's Ambit might give you some peace of mind. It locks down the phones so you can choose what numbers they can call (or even put in their address books). It can track where they go and show you on a map. In the future it will let you choose what apps they run and what Web sites they visit. It's for Android phones initially, and soon for BlackBerry.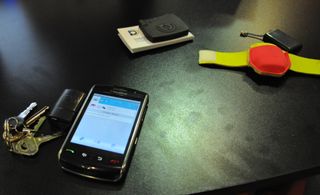 Keep Track of Phone, Keys, and Kids With Phone Halo
There are lots of apps that help you find your phone by making it ring. Phone Halo does that too, for Android and BlackBerry devices, but it also includes a fob that you can attach to your keys or your wallet. If your phone and the fob get too far apart they both ring, so you don't end up taking your phone and leaving your keys at home (or vice versa). If you do leave either of them behind, you get an email and a text message telling you the GPS location where you left them (with a map). A fun option: a brightly-colored watch-style fob for kids to wear, designed by Lady Gaga's stylist!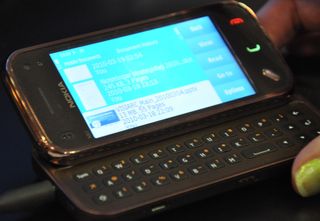 View Attachments On Phone With Mobile Documents
Rather than downloading big email attachments on your phone, Mobile Documents lets you see them as thumbnails, or in detail one page at a time – much faster. You can click phone numbers and email addresses in attachments to call or send a message without worrying about copy and paste. The service will be available first on Symbian phones first, with Android support in the works.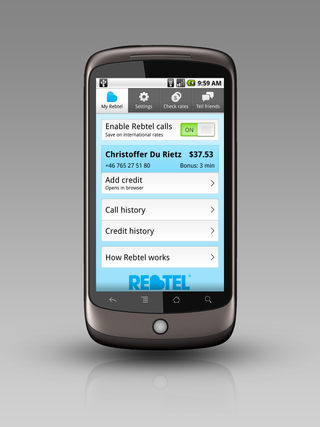 Rebtel: Free International VOIP Calls on Android
There are plenty of VOIP phone apps, but you have to have Wi-Fi to make them worth using. Rebtel's Android app makes normal phone calls via your phone's voice connection, and if you're calling any of 51 major countries, the calls are free. This exists to encourage you to use Rebtel's cheap international phone service to countries like India or Africa, but it still means you can call the UK and Europe without paying for anything more than a local call. Free international calls will be on Rebtel for iPhone and BlackBerry soon.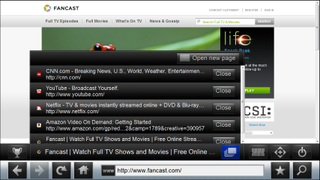 Internet Video on TV With Kylo
We saw Hillcrest's unusual Loop controller at CES this year. It is a remote control shaped like a ring you wave around to point with. Now the company has a browser designed for TV (although it runs on a PC plugged into your TV). Kylo has big friendly buttons, multiple tabs and it's easy to zoom in to read text. Using it with the Loop makes it a cinch to click on little links. But what it's really for is watching video from the Web on the big screen.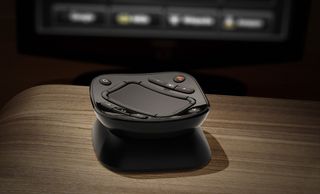 Internet Video On TV With GlideTV
Here's another unusual remote control: GlideTV makes it, with a browser designed for a PC plugged into your TV (and based on Firefox). The controller is a $99 curved touch pad that's not as funky as the Loop but it's still easy to use. With it, you can search sites like Hulu directly from the browser so you get TV shows rather than Web pages about TV shows. Or, you can navigate using the What's On pages to see thumbnails of videos by category (news, sport, drama – it's an online TV Guide).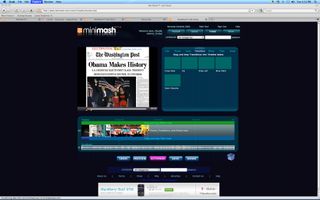 Minimash Online Video Editing
There's a video camera in most modern phones, but if you take a video, what do you do it? Minimash is a Web app that lets you turn those video snippets into Web videos ready to share with friends and family. Just drag and drop your video clips onto a timeline, mix in photos, title screens and transitions and add a soundtrack. You can post the video straight to your blog, and if you go back and change anything it updates immediately.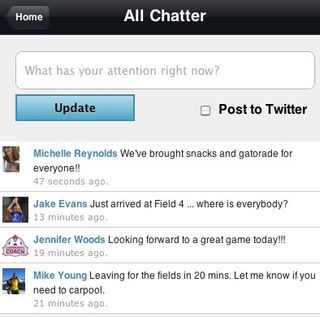 Zerista: Make Your Own Mobile App
Getting an application into an app store can take a lot of time and money. With Zerista's free service you don't need to know anything about programming to make a free mobile Web app for a club, society or sports team. You can put all the scheduled games and events in the calendar, share news and send tweets to club members, and when it's time to collect dues or raise money by selling T-shirts, the app can also serve as an e-commerce tool.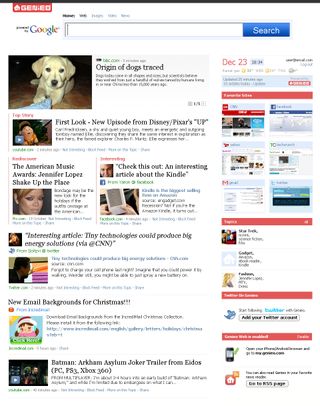 Genieo: Personalized News Site
Get headlines from your favorite sites, videos from YouTube, and updates from online friends automatically designed into an online newspaper with top stories and topics to explore. There's no need to set up a profile; Genieo watches what you do and what you click. The app runs on your PC, not a social networking site, so nobody will ever know that you are interested in both heavy metal and Taylor Swift.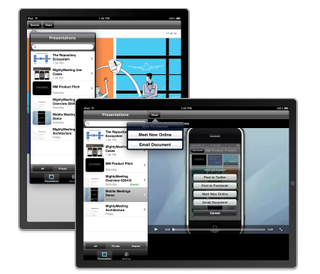 Mighty Meetings For IPad
ThiThis is the first app that Apple has let be demonstrated on the iPad--even though it was only on an iPad simulator. MightyMeetings lets you turn any presentation into an online meeting. Once a presentation is uploaded, you can share it with anyone else using an iPhone or iPad, and talk to them on the phone at the same time. The iPad's larger screen adds more controls and helps you organize your presentations, even switching from one presentation to another in the middle of a meeting.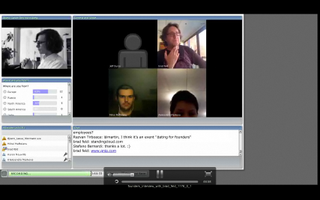 Supercool School: Make Money Teaching
If only school had been like this. Here's an online service where anyone can be a teacher. Use Supercool School to share your passions with the world, in video tutorials and online chats and even make a little money on the side. There are already all kinds of schools, from dance lessons to online dating help, to advice on how to run your own startup.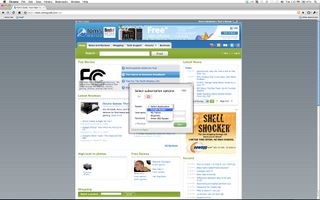 Filter Feeds with Fliptop
FliFliptop filters search results, turning a firehose worth of updates from Craigslist or a news site into a filtered stream, delivered where you want it. If the site you're searching has RSS feeds, you can use Fliptop to filter the feed down to the keywords you are interested in using the Fliptop boomarklet.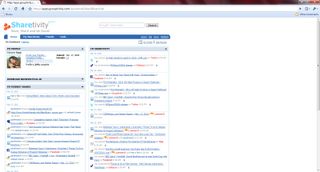 Remember What You Shared With Sharetivity
We're all sending links to our friends with Facebook and with Twitter, or even good old-fashioned email, but sometimes it's hard to remember what you sent and to who (especially if you want to go back to that link yourself). If you use Sharetivity to forward those links, they'll be stored in your account, where you can search and revisit what you've shared.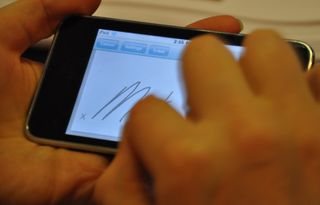 Sign Documents, Digitally with Zosh
If a document needs your actual signature, then you have to print it out, sign it, and scan it back in (or maybe fax it). With Zosh's iPhone app you simply email the entire document to the Zosh service and then just download the pages you need to sign onto your iPhone. Then, write your signature on the app screen with a finger, and you're ready to send the document off where it needs to go. Zosh puts your signature on the document.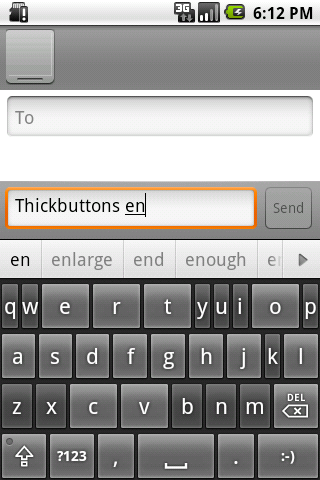 ThickButtons Intuitive Touchscreen Typing
You've used T9 predictive text on a good old-fashioned feature phone, and it sped up your typing. Now, ThickButtons promises to do the same for touchscreen smartphones. It wants to replace the on-screen keyboard with one that adjusts the size of the keys based on what you're going to type. Start with G and U and by the time you've got to I, ThickButtons has highlighted and enlarged the D (and then the E); it makes typing on Android phones a lot more accurate (and it will come to Windows Mobile soon).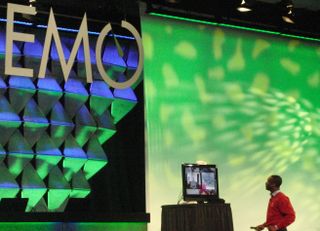 Nyoombl Greypfroot Android Video Calls on TV
You're stuck in a motel room somewhere in the middle of nowhere, and you want to call home to say goodnight to the kids. You could do it through your PC's tiny Webcam, but Nyoombl's Greypfroot app turns the room's TV into a video conference over Wi-Fi so you can see your family on the big screen. This is all thanks to a little Android-powered device that will cost about as much as a smartphone when it goes on sale.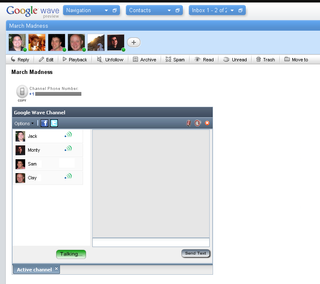 Vivox Voice Calls in Wave and Facebook
Vivox's gaming-proven voice network is coming to the rest of the Web. The same tools that power voice chat in EVE Online and Second Life are now available for Google Wave, and even Facebook. You'll be able to chat to your friends for free, at the same time that you're reading their status updates, or while you feed your virtual cows in Farmville.