15 Films and Series to Watch Before Blade Runner 2049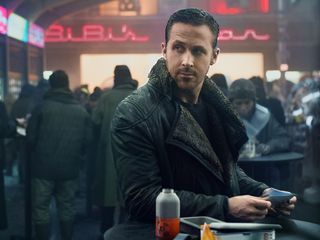 15 Films and Series to Watch Before Blade Runner 2049
The long-awaited Blade Runner 2049 is here at last, and there's a good chance that you're in a cyber-noir mood. A follow-up to the eerie 1982 classic, the new movie promises to revisit the strange world established in the original, in which Harrison Ford's cynical Rick Deckard character hunted down lost androids known as replicants. The movie has always held a special place in the hearts of film buffs, genre fans and '80s nostalgists alike. Whether you want to see other adaptations of Philip K. Dick's work or you're intrigued by androids, jack yourself into this crash course in cyborg cinema, and get ready to question your own existence.
Credit: Stephen Vaughan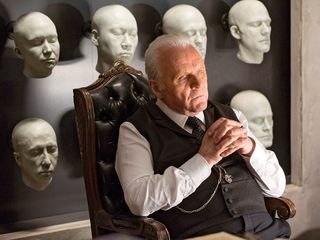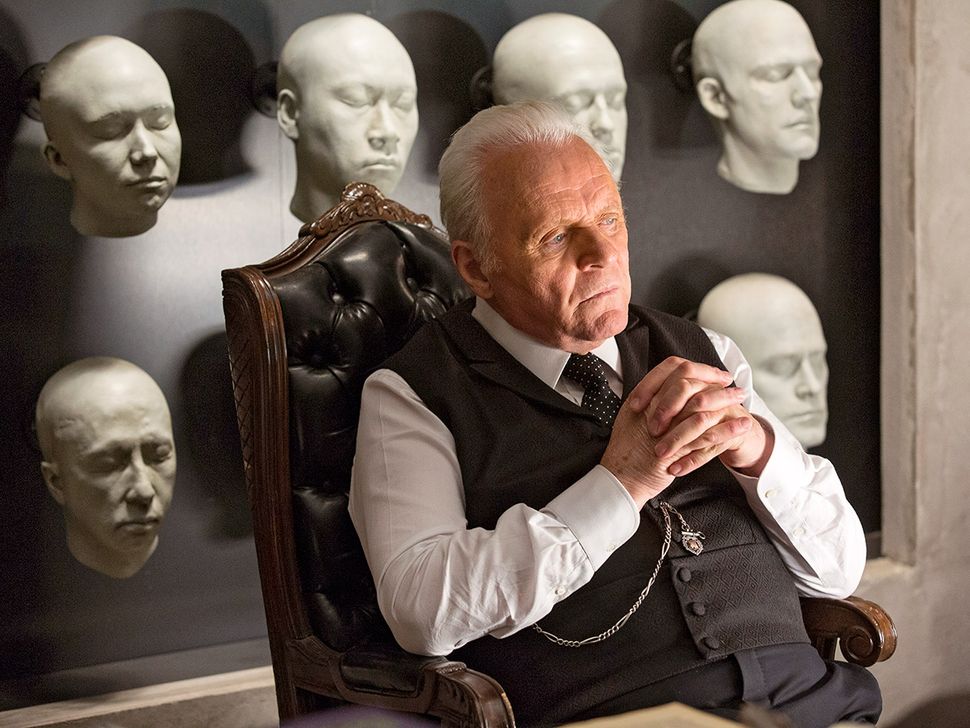 Westworld (2016)
Apparently, cyber-noir isn't the only genre that can do intense explorations of the android condition. This acclaimed HBO series has a Western tinge, mostly because it revolves around the titular amusement park — an artificial Old West world intended to be a sort of hi-tech, violent live-action role-playing game. Cool to the point of occasional frostiness, this show features a wonderful cast, including Jeffrey Wright, Thandie Newton, Anthony Hopkins and Evan Rachel Wood. Ed Harris stands out as the sinister Man in Black, an outsider on a bloody mission to find "a deeper level to this game."
Credit: John P. Johnson/HBO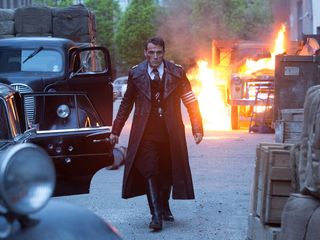 The Man in the High Castle (2015)
It's one of the most common alternate history questions around: What if the Axis powers had won World War II? Philip K. Dick explored this idea in his 1962 novel, which is the basis for Amazon's acclaimed series (still going strong, and set for an upcoming third season). In the show's version of postwar America, Japan and Germany have taken joint custody of the U.S., but a subversive film spurs on a domestic resistance. It's possible that this society is even scarier than the dark setting of Blade Runner, although at some point, there's just no use in comparing dystopias.
Credit: Liane Hentscher/Amazon Studios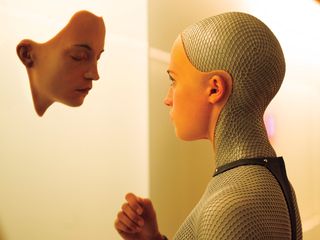 Ex Machina (2014)
It's been only a few years since this indie techno-psychological suspense story appeared, but it's already on its way to being considered a minor cinematic landmark. The story centers on two human men and an android named Ava, all stuck in a claustrophobic facility. Alicia Vikander takes on what must have been a difficult role as an android with a see-through tummy, and the plot's twists and turns play with audience perceptions right from the beginning. This is probably going to be one that people talk about for a while.
Credit: Susie Allnut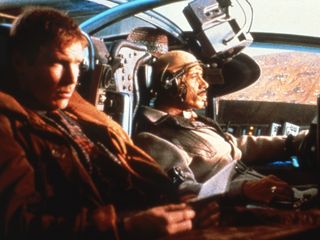 Blade Runner: The Final Cut (2007)
You could probably fill a list with different versions of Blade Runner, one of the most famous movies of the modern age to get a Director's Cut. Feel free to seek out as many of the different editions as you want. You may want to start with the 2007 Final Cut, which is supposedly the one director Ridley Scott wants you to see. At any rate, the movie itself is a must-watch story of a bounty hunter in the future who's tracking down rogue replicants. Whichever version you watch, be sure to add it to your list. Fun fact: The title and the phrase "Blade Runner" are unique to the movie and had nothing to do with Dick's source novel, "Do Androids Dream of Electric Sheep?"
Credit: Corbis via Getty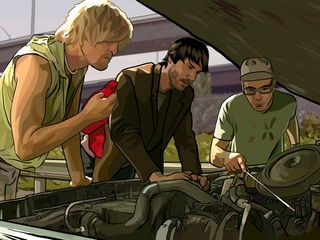 A Scanner Darkly (2006)
Give this movie points for existing at all. Something of a forgotten gem, this hallucinogenic crime story of mind-altering drugs and split personalities is worth the trip for its unique rotoscoped animation alone. The visuals serve as a perfect fit for the bizarre imagery and creeping paranoia infusing Dick's story. Keanu Reeves is a cop in way over his head on an enforcement case attempting to disrupt the flow of a potent drug dubbed Substance D. Memorable moments include a dude with a bunch of eyes, as well as the scramble suits, cloaking devices that mask the wearer's voice and constantly change appearance to make them impossible to track.
Credit: Everett Collection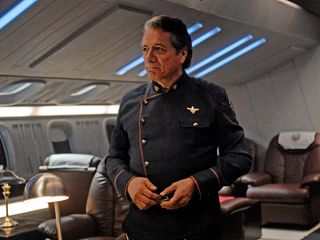 Battlestar Galactica (2004)
This (mostly) cherished and addicting remake of the 1970s space series is possibly the only on-screen examination of robot personhood to rival Scott's film. Like many epic sci-fi dramas, the series finale is a polarizing topic to this day, but the road leading there is paved with captivating characters and gripping ethical questions. In this reboot, survivors of a cataclysmic war between humans and the android Cylons desperately search for a new home on a planet with a familiar name. Edward James Olmos and Mary McDonnell are the parent figures for an entire generation of fans who grew up with this show, but Katee Sackhoff steals the show as the freewheeling, swaggering Lt. Starbuck. The mystery surrounding the various Cylon models will keep you guessing for seasons.
Credit: Carole Segal/SyFy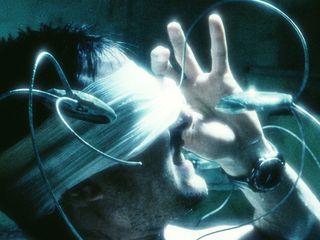 Minority Report (2002)
A movie that's getting scarier by the day, Minority Report presents a washed-out world where people can be arrested before they commit a crime and Tom Cruise hasn't yet embarrassed himself on Oprah. Cruise's character is part of the Precrime division, until his number comes up and he finds himself fighting the system instead. Arguably the next best Dick adaptation after Blade Runner, it's an entertainingly bleak, ahead-of-its-time vision from Steven Spielberg. It also spawned a short-lived TV show.
Credit: Twentieth Century Fox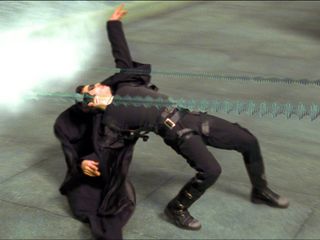 The Matrix (1999)
As far as cyborg/AI sentience stuff goes, there's probably more to chew on in the sequels than the initial Matrix film itself. Still, you can't talk about digital worlds, dominant computers or virtual reality without this movie coming up somewhere. The story of Neo (Keanu Reeves) learning the truth behind reality and joining a band of rebels against the forces behind the virtual-reality Matrix feels like an amped-up version of the reality-versus-robots conflict that Blade Runner established in the first place. This film has cooler shades, though.
Credit: Warner Bros.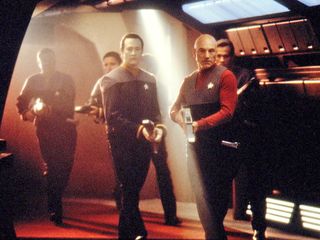 Star Trek: First Contact (1996)
Usually considered one of the finest of all Star Trek films, First Contact is both a great look at the wider history of its universe and a big, crowd-pleasing outing for the Next Generation crew. Their enemy is the Borg, the all-assimilating army who travel space in a cube and want nothing less than to absorb the entire universe. The entire cast is in top form, and there are lots of great moments, including character development for Data, entirely too much alcohol for Counselor Troi and a creepy performance from Alice Krige's as the Borg Queen.
Credit: Sygma via Getty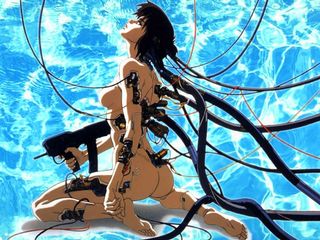 Ghost in the Shell (1995)
If nothing else, the controversy surrounding the recent live-action remake of this important anime should inspire you to check out the original, which is kind of the reverse of Blade Runner. Motoko Kusanagiand her partner, Batou, are cyber-enhanced crimefighters who face off against an unseen force wreaking electronic havoc. If you enjoy this movie, you'll have plenty more media awaiting in the same franchise, including several sequels, animated series and manga adaptations.
Credit: Everett Collection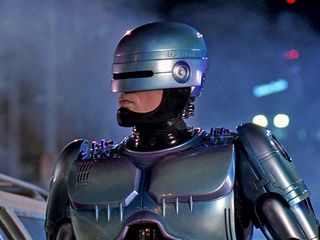 RoboCop (1987)
These days, it's probably easier to see the intentional comedy buried in Paul Verhoeven's satirical sci-fi crime thriller than it was back in 1987. Peter Weller's reanimated cyborg policeman may not look as sleek as a replicant, but he still deals with a lot of the same identity issues, as he grapples with his past while taking on an obligatory evil corporation. Ronny Cox is a hoot as a sleazy villain, and the way Weller defeats the ED-209 robot is a true stroke of genius. Maybe after you watch it, you'll understand why so many people seem to want a RoboCop statue in Detroit.
Credit: Orion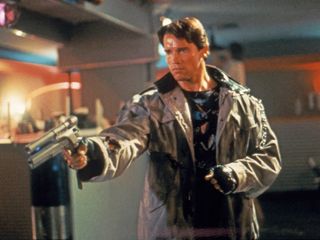 The Terminator (1984)
One of Schwarzenegger's signature roles began in this now-legendary thriller. Many people will tell you that the sequel is the best in the franchise, but it's probably a good idea to start here and learn the stakes of the series. Linda Hamilton's Sarah Connor goes from a normal woman to the savior of the future as she fights for her life against a seemingly unstoppable android killer. The depiction of machine intelligence may be less nuanced than Blade Runner, but it's still a significant and influential beginning to the Terminator saga, and also works as a sci-fi/horror movie.
Credit: Corbis via Getty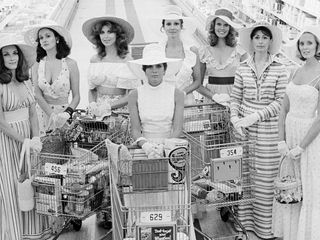 The Stepford Wives (1975)
How serious are you about spoilers? Unfortunately, simply including this seminal cult film in the list is kind of a giveaway for its big, famous twist — something many people know without ever having seen it. Let's just say there's a dark secret behind the picture-perfect community of Stepford and its ominous Men's Association — one that the poor new arrival Joanna is about to discover. Like several of the films on this list, The Stepford Wives has left a large cultural imprint, and filmmaker Jordan Peele cited it as an influence on his hit horror flick Get Out.
Credit: Getty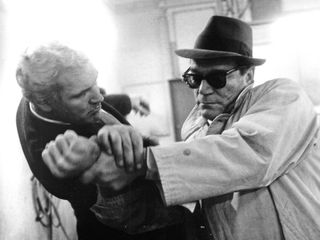 Alphaville (1965)
We're going several decades back for this sci-fi noir film, one of the keystones of the genre. Just because you're an arthouse film from a famous French New Wave director doesn't mean you can't have a story about an evil computer. The film's protagonist, Lemmy Caution, is a clear inspiration for Deckard, and may be the only futuristic P.I. with a cooler name. All of this movie's allusions to poetry don't disguise the fact that it's a classic man-versus-machine story — a theme Blade Runner fans will pick up on quickly.
Credit: Getty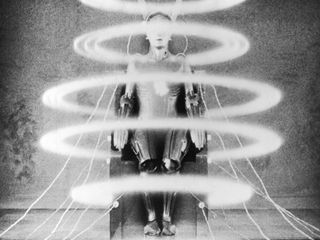 Metropolis (1927)
Fears of the uncanny valley are nothing new. For proof of that, you need look no further than this classic. Long before computers, 3D printing and even AOL, there was this cautionary portrait of an unjust future world. Probably the film's most famous image is that of the android Maria, who figures into an evil scheme to thwart the working class. So many of the human/robot fears we see in the cinema seem to come from Metropolis. It's also one of the few cases where you'll see a mechanical form turn into a human, rather than a human face falling off to show circuit boards.
Credit: Everett Collection