Here Are the Silliest Apps to Celebrate April Fools' Day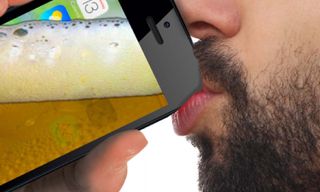 The Weirdest Apps We Could Find
When apps first became all the rage, we all rolled our eyes at the plethora of fart apps. And nearly a decade into the start of the smartphone era, there are still plenty of those to go around. But developers have since refined their sense of humor to encompass a much wider variety array of silly apps. To mark April Fools' Day, we've dug up the 15 best of those time-wasting, weird, occasionally useful, and downright bizarre apps to come out on Android or iOS devices. (Image Credit: iBeer by Hottrix)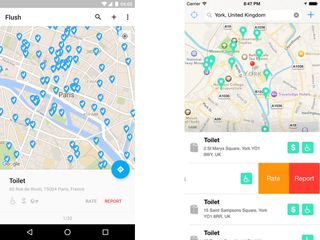 Flush Toilet Finder (Android, iOS)
Now this is one of those apps that sounds absolutely silly, until the time comes that you need it. Flush Toilet Finder (Android, iOS) uses your location sensors to checks its database of more than 200,000 public and paid toilets worldwide. The app can show you nearby toilets on a map, with information such as whether the toilet requires a fee or key, and if there's handicapped access. Neat features include the fact that Flush Toilet Finder functions even when offline; it can integrate with Google Maps to provide directions to a selected restroom.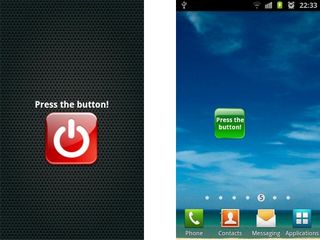 The Most Useless App Ever (Android)
This app is exactly what it says on the tin: The most useless app ever, unless you like pressing buttons that do nothing. If that's the case, this app is perfect for you. Unlike the infamous "I Am Rich" app, at least this one has the decency not to rip you off a few hundred dollars.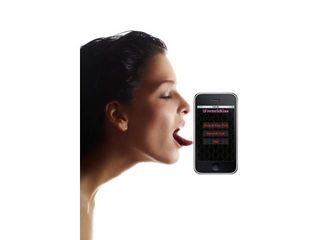 iFrenchKiss (iOS) & Give A Kiss (Android)
Do you require quantitative, scientific analysis of your kissing technique? Well, there's an app for that. iFrenchKiss claims to use a proprietary "kissing analysis engine" to rate your skills with the French kiss and the classic smooch. All you have to do is make out with your iPhone screen. To quote the app description: "Use common sense and do not slobber all over the device." A similar app on Android is Give A Kiss.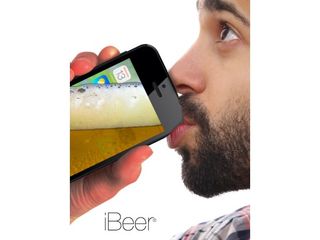 iBeer (Android, iOS)
Being the designated driver sucks when everyone else is enjoying a drink or two and having a great time. Enter iBeer (Android, iOS), the app that lets you pretend to knock back a cold one with your smartphone's touch screen completing the illusion. Using your phone's sensors and some visual trickery, the app realistically mimics a glass of beer. Tilt to drink it! The app even comes with a realistic burping noise to complete the illusion.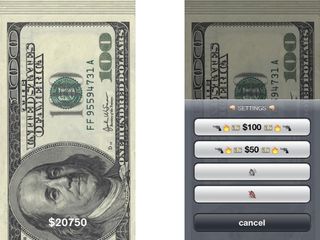 $1000000 (iOS)
Ever wanted to feel like a million bucks? You can, with $1000000, which displays a virtual wad of money on your smartphone screen that you can flip to as if you were counting a bundle of bills. A handy little counter at the bottom tracks the amount for those times when you lose your count after the 300th or 400th Benjamin.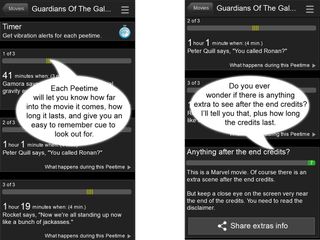 RunPee (Android, iOS)
Depending on who you ask, RunPee (Android, iOS) is either silly or pure genius. The app keeps a database of movies, and then tells you the best time in the movie for you to run and take a pee break. Each "PeeTime" tells you how far in the movie it is, as well as providing a handy reference line or scene. The PeeTime gives you how a window of time for how long you've got to heed nature's call before something good happens, and the app also comes with descriptions of whatever you've missed in scene. Or you could just decide not to guzzle down that oil drum-sized soft drink before the movie.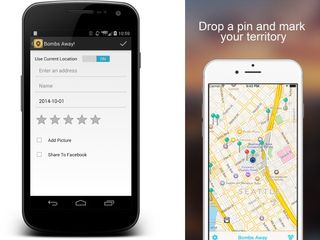 Places I've Pooped (Android, iOS)
Some people keep lifelogs of the cities they've visited, the books they've read, or the movies they've seen. Other people feel compelled to share the places they've pooped at. The Places I've Pooped app (Android, iOS) lets you track the places you've done your business, complete with shareable map pins. You can share the places you've left your mark, follow your friends and find out where they've pooped, and even get notifications when they've dropped a new pin. The Android app (same concept, different dev) includes the ability to add a rating of the places you've pooped, as well as photos. We don't know if this is an improvement, or a terrible, terrible idea. Probably both.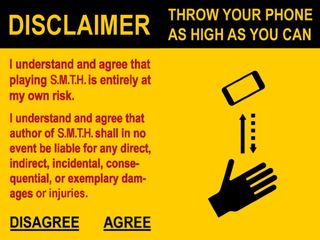 S.M.T.H. (Android)
S.M.T.H. or Send Me To Heaven challenges its players to throw their phone up in the air as high as possible, with the phone's sensors keeping score. Do we need to explain why this is a terrible idea? Note the massive disclaimer before playing. That said, if you really do want to see it through, you can track daily, weekly and global leaderboards.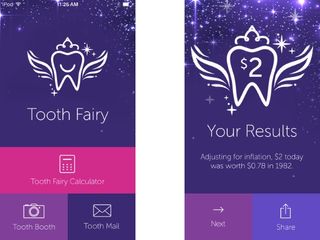 Practical Money Skills for Life's Tooth Fairy Calculator App (Android, iOS)
Parents, have you ever agonized over how much the tooth fairy is supposed to leave under the pillow? Well, wonder no longer with Visa's Practical Money Skills for Life's Tooth Fairy Calculator App (Android, iOS). Users enter their age, gender, education, state and other factors in order to see how much money the tooth fairy left in comparable households (based on a 2014 survey), as well as see how inflation and time have affected that amount. A "ToothBooth" allows you to take photos with filters and frames, and you can also have the tooth fairy send your child a personalized email. I guess it's nice to know the Tooth Fairy adjusts for inflation?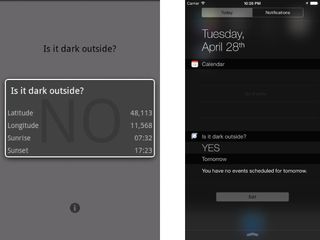 Is It Dark Outside (Android, iOS)
Why bother to look out a window to check if it's dark outside when you could just check your smartphone? Is It Dark Outside (Android, iOS) uses your phone's GPS sensors and time zone to tell you whether or not it's dark outside, as well as informing you of sunrise and sunset times, based on your latitude and longitude.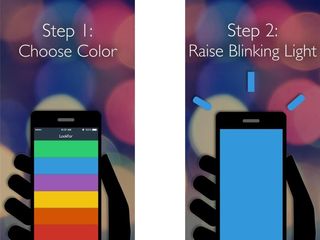 LookFor (Android, iOS)
LookFor bills itself as "The World's Dumbest App", but it's also quite clever in the simple execution of a concept. LookFor (Android, iOS) is designed to help people find each other in a crowd. Users simply choose a color, which begins flashing on your smartphone's screen. Then, you raise it up so that the blinking signal makes you easy to pick out in a crowd.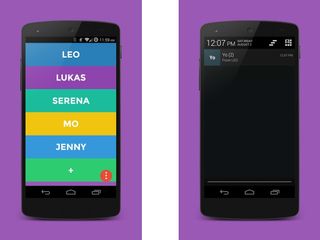 Yo (Android, iOS)
We can't quite tell whether Yo (Android, iOS) is the stupidest or most brilliant thing ever. It's a super-simple messaging app that really only does one thing: just select a contact and the app sends a simple "Yo". Mind-blowing. So mind-blowing that it actually managed to secure $1 million in seed funding. Brilliant? Stupid? Addictive? We'll let you make the call on this one.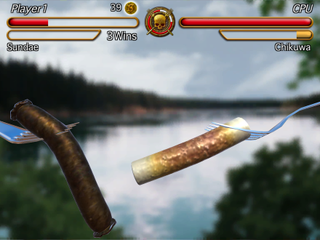 Sausage Legend (Android, iOS)
When you imagine duels, most people picture six-shooters, smallswords, or katanas. How about Bratwursts at dawn? Sausage Legend (Android, iOS) is a mobile fighting game that has you dueling against the AI or hotseat human players armed with a variety of sausages and street food from around the world, each with their own stats and unique special abilities and modeled in all their floppy, mystery meat glory in the app's physics engine. Honestly, it's an F2P advertisement-packed grindfest with mechanics that seem like a bit of a crapshoot (or maybe you just need to "git gud"?), but it's got hilarious novelty on its side for a few rounds, at least.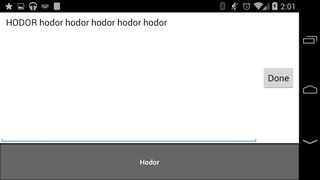 The Hodor Keyboard (Android)
Now, you too can match the eloquence of Hodor, the gentle giant of the Game of Thrones series, with the Hodor Keyboard, a one-button Android keyboard app that lets you go "Hodor" (or "hodor", or "HODOR") to your heart's content. From the description: "Extra bonus: If your passwords are Hodor, this is by far the fastest way to log in."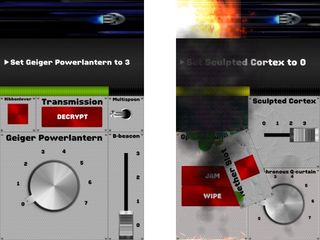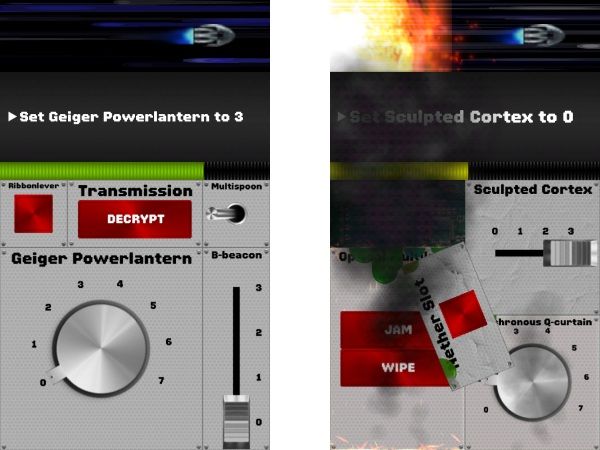 SpaceTeam (Android, iOS)
Reattach the Electronic Grabber, activate the Multi-Spoon and set the Contaminant Hypnothruster to 3! Spaceteam (Android, iOS) is a cooperative party game of science fiction technobabble, in which players race to avoid disaster. Every game features chaos, confusion, teamwork and a whole lot of shouting. Each player's screen is composed of an instrument panel of buttons, switches and sliders; as impending doom races toward the ship, players have to execute timed tasks, barking out instructions to other players while also paying attention to their own screen. Conveniently, this party game supports cross-platform multiplayer between Android and iOS players. How many missions can you accomplish before your eventual demise?