14 Essential Mass Effect Andromeda Tips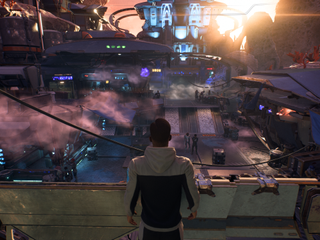 Welcome to Andromeda
Mass Effect: Andromeda is a fun and gorgeous new beginning for BioWare's beloved sci-fi role-playing series, but the it can also be overwhelming. With its vastly upgraded combat system, massive open worlds and intricate crafting system, Andromeda gives you a dizzying amount of stuff to wrap your head around as you attempt to settle down in a brand new galaxy.
Fortunately, we've spent an inordinate amount of time exploring Andromeda for ourselves, and we're ready to help. From combat and multiplayer basics to falling in love with your fellow crewmembers, here are 14 tips for making the most out of your time with Mass Effect: Andromeda on PC, PS4 and Xbox One.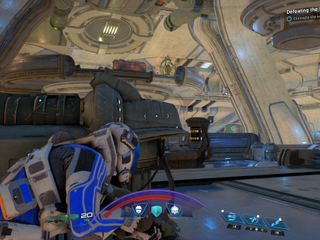 Take Cover Often
While there are some exceptions, you should generally always seek cover in combat if you don't want to get ripped apart fast. The game's new cover system works automatically, meaning all you need to do to is walk up to whatever object you want to hide behind.
You can swap the game's camera left to right by clicking the right analog stick on your controller or pressing U on your keyboard, which is crucial to getting a better vantage point while in cover. Pro tip: Your Nomad vehicle makes a fine piece of cover, so be sure to park it strategically before hopping out to kill bad guys in the game's many open worlds.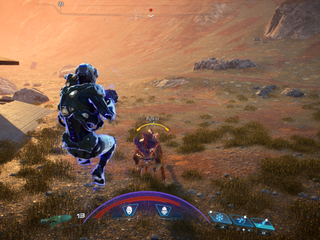 Master the Jump Jet
Andromeda switches up Mass Effect's gameplay by giving your character a "jump jet," which allows you to jump high up, float in the air and quickly dash to evade attacks. Mastering and combining these new moves is key.
For example, to cover more ground, you can dash while jumping, or you can make shorter, more precise jumps by tapping the jump button instead of holding it. Holding the aim button while in midair will let you hover and take out enemies while under cover, but be careful not to expose yourself up high for too long. Finally, don't forget that you can use the melee button while in midair, which results in a delightfully satisfying ground pound.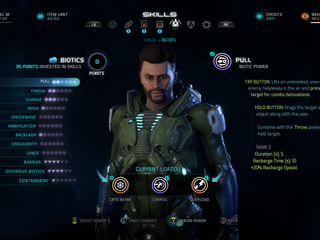 Experiment with Skills
Andromeda lets you freely unlock and equip a ton of combat, tech and Jedi-like biotic abilities, many of which can be combined to devastating effects. For example, using biotic power Pull to drag an enemy out of cover and following up with Throw to knock your foe out of the sky is a classic power combo. There are plenty of even more devastating, and fun, combinations that you can create as you gain more skills.
Investing in skills will eventually unlock Profiles, which give boosts to your combat, biotic and tech abilities depending on which one you pick. Be sure to experiment often with different skill and profile loadouts to see what best suits your playstyle, whether you want to be an aggressive melee fighter, a biotic wizard or a tactical soldier.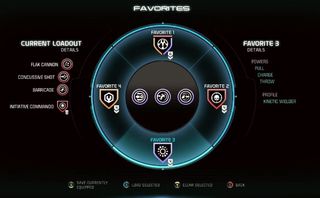 Save Your Loadouts
The game doesn't do a good job telling you this, but once you've found a few Skill/Profile loadouts you like, you can save up to four of them for easy access mid-battle. To save your current loadout, open the Skills menu and hit the Favorites button to assign it to one of four slots. Then, when you're out fighting, you can open the weapon wheel and select Favorites to go from an acrobatic biotic warrior to a tech-heavy engineer with the press of a button.
Photo: Electronic Arts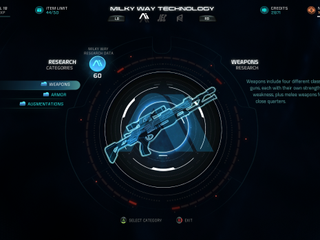 Get Crafty
Andromeda's research and development system is daunting, but you can use it to craft some pretty awesome weapons and gear pieces. You get research points mainly by scanning objects and corpses in the game's various worlds (so scan often!), and you can spend those points on blueprints for weapons, armor and other items. You'll need to accumulate a variety of materials to develop these blueprints into useable items, which is where the grind begins.
Selecting any main planet from your Galaxy Map will show what materials can be found on that world, and deconstructing unwanted items from your inventory will also yield materials. When you're out exploring on the Nomad, be on the lookout for resource-mining zones on your map. You can also get research points and development materials from Strike Team and Cryo Pod rewards, which we'll get to in a bit.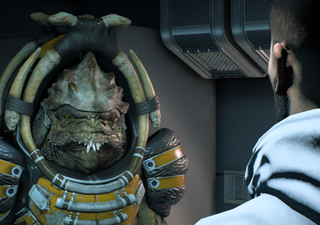 Talk to Your Crew Often
Talking to your crew on the Tempest in between missions is optional, but it's pretty much essential if you want the full Mass Effect experience. These discussions will unlock side quests, important loyalty missions and, if you play your cards right, steamy romance sequences — and is it really Mass Effect without intergalactic lovemaking? Perhaps most importantly, chatting with your crew adds lots of interesting backstory to the game's very likeable supporting cast.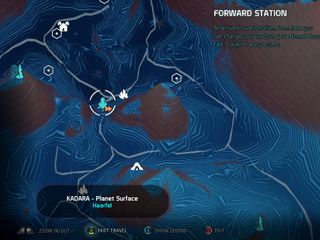 Use Forward Stations and Fast Travel
When you first touch down on one of Andromeda's fully explorable planets, one of your first priorities should be establishing Forward Stations. These mini-bases let you reload, change weapons and squadmates, and call in the Nomad, but more importantly, they serve as fast-travel points. Once you have a lot of stations established, you can instantly travel across Andromeda's huge areas with the press of a button. This will come in handy once you find yourself needing to trek to the far reaches of a planet to finish a quest.
Bonus tip: want to leave a planet immediately while driving around in the Nomad? Just hold the Y or Triangle button.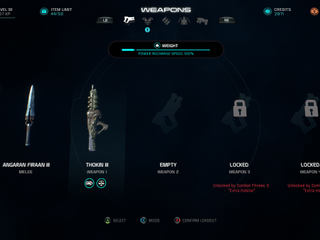 Weapon Weight Matters
The more weapons you carry, the slower your powers will recharge. If you want frequent access to your powers, bring a single, lighter weapon to battle, such as an assault rifle or pistol. Rather have more firepower than special abilities? Stock up on shotguns and sniper rifles and go to town. The weapon weight system works the same across solo play and multiplayer.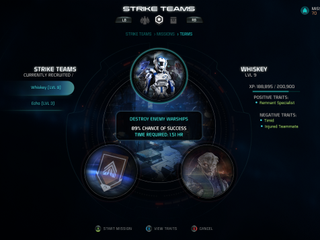 Utilize Strike Teams and Get Your Rewards
The Strike Team menu (accessible on your ship and in the multiplayer menu) allows you to send squads to perform timed missions, from which you can collect rewards, usually within a few hours. The game tells you the chance each squad has at successfully completing a mission, so aim for missions with higher percentages. Strike Team missions labeled with the orange Apex logo can also be completed in real time via the game's multiplayer, if that's more your style. You can even manage your Strike Team missions on the go with the Apex HQ mobile app, which is free on iOS and Android.
As you increase Andromeda's viability and level up your Nexus base, you'll awaken a variety of military, science and commerce experts who, just like Strike Teams, dole out rewards passively in timed bursts. Checking in on the Strike Teams and AVP terminals on your ship every few hours will yield lots of key loot, including research points, materials and consumables.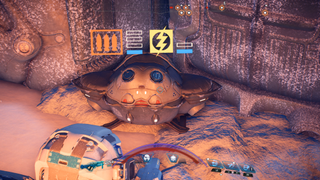 Look Out For Ammo and Health Crates
Most combat areas are filled with a handful of health and ammo crates, so be sure to keep an eye out for them to stay alive and loaded. Ammo crates have orange and yellow icons over them; health crates are blue and red. In multiplayer, visiting ammo crates in between waves is essential.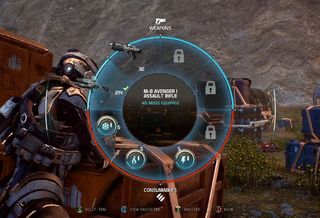 Don't Forget Consumables
It's easy to forget about Andromeda's consumables (one-time use items that give a specific boost), but they can be an invaluable tool mid-fight. If you want to unload some damaging incendiary ammo or need an extra shield boost, open the weapon wheel and use one of your equipped consumables. You can buy consumables at shops and earn these resources as rewards, and you can pick which ones to bring to battle at the pre-mission loadout screen.
Photo: Electronic Arts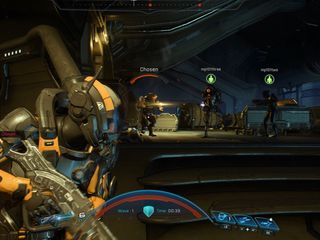 Stick with Your Squad
It might sound obvious, but you won't get very far in Andromeda's multiplayer mode as a lone wolf. Sticking with your squad ensures that there will be someone to revive you if you're downed, and will allow you to perform powerful power combos with your pals. This also extends to single-player to an extent, as your AI teammates can be knocked down in the heat of battle.
Photo: Electronic Arts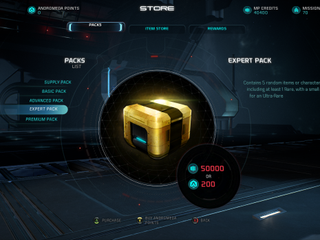 Save Your Multiplayer Credits
You can spend your in-game multiplayer credits on Packs, which unlock new characters and gear. While it's tempting to spend your credits as soon as possible, we recommend saving up for the Expert (50,000 credits) and Premium (100,000 credits) packs. You'll have to wait longer to unlock stuff, but you'll be rewarded with rarer, more powerful characters and items. You should also play the multiplayer tutorial, which provides an easy way to get some free packs.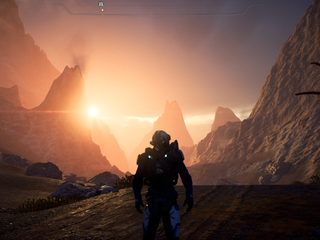 It's Okay to Ignore Side Quests
Andromeda is the biggest Mass Effect game yet, and you'll discover some cool stuff if you decide to wander off the beaten path. However, spending too much time in the game's open world can lead to a rabbit hole of tedious side quests that might burn you out before you get a chance to enjoy the story, which is where this game really shines.
You won't be penalized for sticking to your main mission, which you can find in the Priority Ops folder of your Journal. Just remember that it's always OK to drop what you're doing and get back to the story; Andromeda's vast open worlds and multitude of side quests will still be waiting for you whenever you're feeling adventurous.