Nectar Mattress review in brief
Well suited to back and stomach sleeping
Not so comfy for lightweight side sleepers
Regulates temperature well
Note, we're reviewing the UK Nectar mattress here – for the US review, toggle the flag dropdown in the main navigation bar.
The Nectar Mattress, also known as the Nectar Memory Foam Mattress, is one of the most popular bed-in-a-box models you're likely to come across and is certified as climate neutral. Over the years Nectar Sleep has become synonymous with affordable sleep comfort, and this particular mid-range bed sits near the very top of our best mattress guide and has consistently scored high reviews since its release.
All of Nectar's mattresses come with a 365-night risk-free trial and Forever Guarantee, both of which are impressive considering the lower price point (which is made lower by almost-constant Nectar sales and Nectar promo codes). However, and as we' go on to explain in this in-depth Nectar Mattress review, this best-selling memory foam mattress is not without its (minor) faults.
Nectar Mattress specs
Best for: Back and stomach sleepers; couples
Type: Mattress in a box
Trial: 365 nights
Guarantee: Forever
Firmness: Medium-firm (6.5/10)
Materials: Memory foam; polyester; CertiPUR certified foam
Depth: 25cm
Sizes: Single, small double, double, king, super king
Like its biggest rival the Emma (read our Emma Mattress review for more on that one), the Nectar is an all-foam model rated as a 6.5 out of 10 on the firmness scale. It includes five different layers to handle support, pressure relief and temperature regulation, placing a focus on better airflow to keep you cooler during sleep.
From our experience, the Nectar doesn't offer the same level of softness and cushioning as the Emma and has a firmer feel. This makes it a better choice for back and stomach sleepers, as these are positions that require extra spinal support. Because it isolates motion well, we also recommend it to couples and restless sleepers sharing a bed. Why? Because the your movements won't be transferred so easily to your bed buddy.
We tested the Nectar Memory Foam Mattress over a three-month period, and recruited various members of our testing panel to put it through its paces too. Our review covers comfort, support, motion isolation, pressure relief and more, and we have also analysed a wide range of user reviews to glean what customers think of it. Here's what we discovered during our testing period…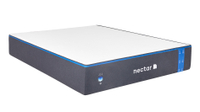 See the Nectar Mattress at Nectar Sleep
The Nectar is hardly ever sold at the advertised RRP – typically, it's around 45% off. You can expect to pay around You'll be able to get a double for around £483.45 (officially, £879), with a king size often reduced to around £521.95 (was £949). You'll have a full year to test it out at home, so if you change your mind, Nectar will collect the mattress and refund your money.
Nectar Mattress review: materials
The Nectar is a pure memory foam mattress
It is made with five different layers
The zipped cover was a little baggy on our model
There are five different layers to the Nectar Memory Foam, beginning with a quilted cooling cover that disperses excess heat. We're always keen to test out the temperature regulating performance of any all-foam mattress in a box models because, in years gone by, they were known for retaining heat.
The Nectar's breathable feel is backed up by a dynamic support layer made from foam. While this foam is designed to be temperature-regulating, this isn't a specialist cooling mattress – if you sleep very hot, you're better off choosing one of the best cooling mattresses instead.
To reduce pressure points, the Nectar Mattress has a layer of pressure-relieving memory foam for better sleep comfort. The support layer is created with seven different zones of support to target different areas of your body, and all of it is supported by a base that stops your mattress from moving around.
Nectar now also makes a range of hybrid models, which add springs. For the same price, you can pick up the entry-level option (read about that in our Nectar Hybrid Essential mattress review). There's also a mid-range option, and a more advanced version, which we tested for our Nectar Premier Hybrid review. The Premier is also available a foam-only mattress. Learn more about the full range here.
Nectar Mattress review: prices and deals
The Nectar sits in the mid-range price bracket
Basically never sold at full price (usually 45% off RRP)
Double size officially £849, expect to pay around £484
The Nectar is well-priced for the level of comfort and support on offer, and considering that you also get a full year's risk-free trial to test it out, coupled with a Forever Guarantee. The average trial is 100 nights, with 10-year guarantees being the industry standard, so Nectar's offerings are very generous by comparison.
When on sale, the Nectar Mattress is often reduced by 40 to 50%, reducing the price of a double size to around £484 (RRP £879). At certain times of the year, such as during the Black Friday mattress deals event, you'll see lower prices. The official RRP of this mattress has gone up by £100 or more across all sizes over the course of 2022, and so has the price you'll typically pay (so a Double was originally £749, usually on sale for £426).
Here is the current official pricing for the Nectar Mattress:
RRP Single: £699 (expect to pay £385)
RRP Small double: £869 (expect to pay £478)
RRP Double: £879 (expect to pay )
RRP King: £949 (expect to pay £522)
RRP Super king: £1,059 (expect to pay £583)
How does it compare to similar models in terms of cost? The Emma Original is one of Nectar's biggest rivals, being a similar foam-only bed-in-a-box brand.
Again, there are regular Emma mattress sales and deals to consider, but typically an Emma will cost you in the region of £100 less than a Nectar across all sizes. You'd usually pay around £380 for a double Emma Original (compared to £484 for Nectar), and a king size Emma is typically £425 (compared to £522 for Nectar).
You do get a shorter trial of 200 nights at Emma (that's still plenty of time) and a 10-year guarantee, which falls far short of the Nectar Mattress but is still ample considering how long a mattress lasts on average.
If you're considering graduating to a mid-range hybrid, you can expect to pay much more than you would for the Nectar. One of our favourites, the DreamCloud (read our DreamCloud Luxury Hybrid Mattress review) is priced around £742 with typical DreamCloud mattress sale pricing.
Nectar Mattress review: firmness and comfort
Most comfortable for back and stomach sleeping
Perhaps too firm for lightweight side sleepers
Cradles without sucking you in
The Nectar has a medium-firm feel, rated at a 6.5 out of 10 on the firmness scale. It's firmer than other comparable memory foam mattresses we have tested, but it still has a light cradling effect. However don't expect to sink right into this one, as it cradles while keeping you more on top of the mattress.
That's a good compromise and one that lends itself well to heavier bodies and couples sharing a bed, as the Nectar Mattress distributes weight evenly across its entire surface.
Overall, we enjoyed sleeping on it and definitely noticed an improvement in our sleep posture during the three-month testing period. During the first week we felt as though it were perhaps too firm to be considered a good side sleeper mattress, but our testing panel was split on this…
The lighter weight members did struggle with hip and shoulder pain during longer periods of side sleeping, but those with an average or heavier body weight found it to be just right; comfortable yet supportive, with good pressure relief. So consider body weight as an important factor when deciding whether the Nectar is right for you. For a mattress that comes in three different levels of firmness, see our Brook + Wilde Lux mattress review instead.
It's a similar feel to what we reported in our Simba Hybrid mattress review, but there's plenty of focus on comfort layers with the Nectar Mattress. After an initial breaking in period, the foam softened up a little more and we were sleeping better and, crucially, waking up feeling less stiff after sleep.
Mattress firmness is very subjective and depends on body type, weight, sleep style and who you do or don't share a bed with. To help you figure this out, Nectar Sleep offers a 365-night risk-free trial – if you change your mind during this time, the brand will collect the bed and refund your money.
Nectar Mattress review: performance
Good motion isolation
Edge support could be betterDurable build quality
For this Tom's Guide mattress review we tested a double size Nectar Memory Foam (measuring 135 x 190 x 25cm) over a period of three months. We always have a lead reviewer plus a testing panel, as we know that the ideal bed for one person can feel different to the next. To further expand our base of informed opinions, we also analysed a high volume of Nectar Mattress user reviews to understand what customers think of it too.
We tested the Nectar in terms of pressure relief, motion isolation, edge support, cooling, and ease of set up. Here's what we found…
Setup
Score: 4 out of 5
The Nectar was delivered to our front door via BJS Home Delivery. We received email and text confirmation four days ahead of our delivery date, then on the day we received an email reminder, plus a text confirmation an hour out to narrow down the delivery slot. Delivery is free to mainland UK, although the brand is currently able to deliver to some areas of Scotland, Northern Ireland, and offshore islands like the Isle of Wight. As standard, the box is delivered to your door.
The Nectar Mattress is heavy, even in a double size, so if we'd recommend getting someone to help you carry the box upstairs if your bedroom is on a different floor. It comes in a reinforced cardboard box emblazoned with a Nectar Sleep logo, and inside sits the compressed and rolled mattress.
There's also the option to pay an extra £25 for Premium Delivery. With this service, the couriers will carry the mattress to your nominated room, but they will not unpack it or take the packaging away. If there's no lift available, they'll only carry it up to the second floor of a building. Other companies offer more comprehensive 'Premium' delivery options for people who can't manage unpacking a mattress, so it's a shame that the Nectar option is relatively limited.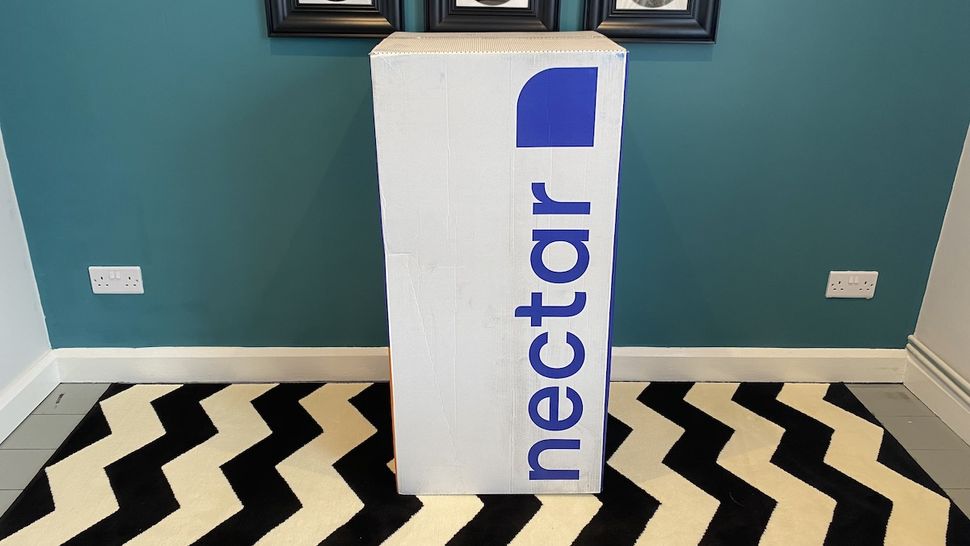 Like other comparable models, the Nectar Memory Foam comes with a small blue plastic cutting tool to help you glide through the protective plastic covering without damaging the quilted cover.
From removing the rolled mattress to cutting open the plastic covering and getting the Nectar onto our bed frame, the process took a matter of minutes. Nectar says it can take 24-72 hours to fully inflate, so you'll be waiting a while to sleep on this one. In the interests of fair testing, we left it to inflate for 72 hours.
As we have noted when testing other beds, we do not like the amount of plastic that we have to deal with when opening a mattress and would very much like to see manufacturers making an effort to be more eco-friendly with their packaging. Companies in America are now switching to recycled paper coverings, so we should be looking at similar approaches in the UK.
Off-gassing
Score: 3 out of 5
The Nectar has a strong off-gassing smell that lingered after unboxing until the next morning. We first gauged this 'new mattress smell' without opening a window to see how pungent it was, then we opened a window and left it on a latch for 12 hours to see what that did to the smell.
It did dissipate eventually, but it was definitely among the strongest we have experienced so far. We'd therefore recommend opening your window before unboxing the Nectar Memory Foam, and, if safe, leaving it open for several hours afterwards while the mattress is expanding.
Pressure relief
Score: 4.5 out of 5
This test is carried out to determine how well a mattress reduces common pressure points, such as the hips, back and shoulders. When you sleep on a mattress that isn't right for you, you will experience pain in those areas (and others), leading you to toss and turn to find a comfy resting spot. That can lead some people to mistakenly think they have a sleep problem when they don't. You can learn more about this in our feature answering can a mattress cause back pain.
During our review period, we found that the Nectar Mattress held true to its word in terms of pressure relief, and reduced pressure points in all sleeping positions – with one caveat. The side sleepers of a light body weight on our testing panel didn't find it comfy for long and had to keep flipping from one side to the other. So do keep this in mind if those criteria apply to your body type and sleeping position.
Otherwise, the Nectar Memory Foam is a reliable choice for pressure relief among back, stomach and combi sleepers. It doesn't suffer a dip in performance when there are two of you sharing a bed, and we have couples of different weights and sleep styles on our testing panel.
In addition to sleeping on the Nectar, we placed a 25kg (55lb) weight in the middle of the mattress to get an indication of sinkage. We measure it at 2" – the Emma measured at 3.5" – which backs up our opinion that the Nectar cradles while allowing you to remain on top of the mattress. This is much better for getting out of bed, and for combination sleepers looking to shift position without feeling stuck.
Motion transfer
Score: 4.5 out of 5
How well a mattress minimises motion being transferred from one side to the next is an important consideration for people sharing a bed – and definitely if one of you is prone to restless sleeping. If you don't have good motion isolation you're more likely to feel every move your bed partner makes and your sleep will be disturbed too.
The Nectar Mattress does a great job of reducing motion transfer for couples, even those with different body weights and sleep schedules. Its five-layer design certainly helps here, as does the layer of support foam.
In addition to asking single and co-sleepers on our testing panel to test the Nectar's motion transfer, we also performed a drop test using an 8kg weight and a wine glass. The glass didn't topple even when the weight was dropped mere inches away.
Temperature regulation
Score: 4 out of 5
We understand the instinct to run screaming from an all-foam mattress if you sleep on the warmer side, but the hot sleepers on our testing panel had no issues with the Nectar Mattress. We're not saying it felt cool, but it didn't overheat either. So we'd describe the temperature regulating as decent for a mid-range model.
There are a few features to thank for this, starting with the cooling polyester cover. There's also a layer of open-cell foam, meaning it's more breathable than standard foam.
For full transparency, we slept under a 10.5 tog duvet for the first run of tests, then switched to a dedicated cooling duvet. We slept equally comfortably under both, which shows that the Nectar works hard to dissipate excess heat and to create a more neutral temperature.
Durability
Score: 4 out of 5
We tested the Nectar over a three-month period, and while this is much longer than the average review period, it's still just a snapshot in time compared to how long you will be sleeping on it for. Therefore, we're talking about durability based on our experience of the build and materials so far.
The Nectar Mattress is well-made and while the zippered polyester cover was a little baggy in a few areas, overall the build felt durable. The good news is that you get a Forever Guarantee on this model. According to Nectar: 'if something is faulty with your mattress, we'll repair or replace it, for as long as you own it.'
We would still recommend that you read the brand's terms and conditions to see what is and isn't covered, but this is one of the most generous guarantees we've seen for a model of this price. We'd recommend covering it with a good mattress protector to safeguard against stains and spills.
Nectar Sleep recommends any bed frame for use with this model, though it doesn't recommend placing the mattress directly on the floor or on a plastic base.
Nectar Mattress review: what did other people think?
As well as our own experiences, we also look at customer reviews to give you a broader picture of what you can expect. The only reviews on the Nectar site are pulled in from TrustPilot, and mix together reviews for all of Nectar's products, as well as just for the brand itself. They're still good for getting a general vibe of the brand, though. At time of updating (November 2022), the brand had an average of 4.3* out of 5, over 12,200+ reviews. 72% of these are 5* reviews, and 8% are 1*. The Nectar Team has replied to many of these reviews, including the negative ones.
Looking specifically at reviews on the Nectar Memory Foam mattress, the positive user reviews focus on comfort and support, in addition to the responsive customer service. One back sleeper described how, ' My husband and I have been waking up pain free and well rested. We like to sleep at different temperatures and different firmness, but the mattress is so comfortable.' On a similar theme, another said: 'I have a lot less pain in the morning and I sleep well at night.'
A four-star review tallied with our initial experience, with the customer explaining how, 'It felt too hard at first. Now I'm use[d] to it and find it hard sleeping on anything else.'
The critical reviews focus on firmness (it's too firm), plus delivery days and the quality of the free bedding. One customer experienced hip pain from the Nectar and said: 'I have not had a decent sleep since getting my new mattress two plus weeks ago. I wake up more times in the middle of the night than previously.'
The firmness was a factor in returning the Nectar Mattress for another reviewer too: 'The Nectar mattress would be great for those who like a firm mattress but it is not for us. Also, the odor from the foam that other reviewers mention was there, but that didn't bother us as much as the firmness.'
Firmness is highly subjective, and there are tens of thousands of Nectar Mattress user reviews praising it for a 'perfect balance of soft and firm'. That's why trial periods are so important, and with 365 nights risk-free you'll have plenty of time to make your mind up. You may be offered a comfy mattress topper to add softness too.
Should you buy the Nectar Mattress?
We recommend the Nectar Memory Foam for most sleepers as it's well-priced for the durable build and for the focus on breathability, comfort and pressure relief. From our experience and from analysing user reviews, we are confident in recommending the Nectar to back and stomach sleepers firstly, and to couples sharing a bed who enjoy a firmer feel.
We would not recommend it to lightweight side sleepers who like a lot of sink-in cushioning around their shoulders, hips and knees, nor would we recommend it to any person who enjoys a soft mattress.
However, if you enjoy a medium-firm bed and want good pressure relief, motion isolation and temperature regulation, and all for a reasonable price and with a Forever Warranty, then the Nectar Mattress will fit the bill.
Nectar mattress review: Also consider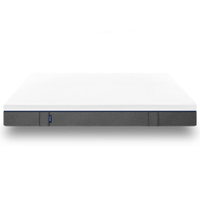 Emma Original mattress
Another ultra-popular, all-foam mattress in a box, Emma is one of Nectar's biggest UK rivals. It's softer than the Nectar, making it ideal for side sleepers who want a bit more cushioning around their joints. It can sleep slightly warm in hot weather. While prices fluctuate, it's usually a fair bit cheaper than the Nectar.
Read more in our Emma mattress review.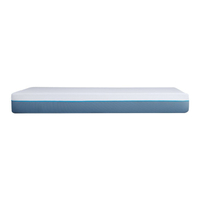 Simba Original Hybrid mattress
If you can afford to spend a bit more, we rate SImba's beds very highly. The flagship hybrid model combines foams and springs, the latter creating a more responsive sleep surface, and allowing for better breathability compared to all-foam mattresses like the Nectar Original.
Read more in our Simba Hybrid mattress review.