If you told me a year ago that I'd spend $400 on a Prime Day deal for a 4K Blu-ray player in 2023, I would have laughed at you. And I would have been very worried — because it's the kind of thing that I know I'd do, even if that truth is a bit deep down.
Moments ago, I finally hit 'buy' on the Panasonic DP-UB820-K 4K Blu-ray player for $399 at Amazon. It's $100 off the sticker price, and only $5 shy of the all-time low price for this model (set in May 2020). This purchase is one of those things I've been researching in my free time for months and months now, and here's why I felt confident enough to pay PS5 money on this Blu-ray player.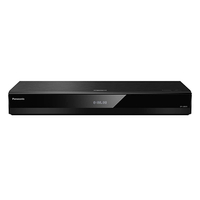 Panasonic DP-UB820-K 4K Blu-ray player: was $499 now $399 @ Amazon
While I bought this 4K Blu-ray player for its Dolby Vision and Dolby Atmos support, it's got much more than that. Alexa and Google Assistant support is built in, and it also features upscaling for converting 1080p video to 4K, and Panasonic's Hollywood Cinema Experience processor and 4K High Precision Chroma Processing for better color output and detail.
This all started over the last few years when my love of movies resurfaced, and I began to re-invest in optical media. I've got that addictive personality for collecting stuff, and now I've got a respectable library of over 100 movies and at least a dozen TV seasons — and since my most recent purchases are in 4K, I'd like to see them perfectly. Yes, I own many of the best streaming devices, but optical media drastically improves quality and reduces compression.
And then I found out that neither the PS5 nor the Xbox Series X I own support Dolby Vision, the premium HDR (High Dynamic Range) standard when it comes to optical media. The Series X and S offer it for streaming apps and gaming, but not for disc playback. Annoying, right?
Why does that matter? As Tom's Guide previously explained Dolby Vision television sets "should deliver a more dynamic, brighter and livelier image" than regular-old HDR, though some of the metrics that get us there are supposedly coming from sets that aren't even out yet. And I didn't buy the damn-good and annoyingly-expensive LG C2 OLED TV to watch movies on it at poorer standards than it can offer.
So, I bought Sony's UBP-X700/M 4K Blu-ray player last year, thinking that would be that. It's normally $259, which is annoying, but I accepted it. And then it just kept freezing mid-movie, ruining a couple of movie nights when guests laughed and said "this is why we have streaming."
The more I researched things, the more I learned that Sony's 4K Blu-ray players have a reliability issue. I even got a replacement unit, which did nothing to fix the issue. I waited too long to try and fix it all, and now I see that all as a sunk cost experiment. And a reason to warn people to never buy Sony Blu-ray players.
More online research brought me to the Panasonic DP-UB820-K 4K Blu-ray player, the least-expensive Dolby Vision-capable 4K Blu-ray player with a decent reputation. The excellent @UltraHDBluray twitter account and YouTuber Films at Home both recommended it, too. Unfortunately, its $500 MSRP gave me sticker-shock that practically left me swearing.
Then, today (July 12), on the second day of Prime Day, I saw that the DP-UB820-K's price had dropped even further from earlier this week, down to $399. I thought for a second, realized how much this mattered to me (I'd put so much time into thinking about it), and hit buy. I can't wait to report back.
Oh, and if you need another reason to consider owning your favorite movies or TV shows, consider how streaming services keep kicking shows and titles off. That's why I bought the HBO Max original Station Eleven on 4K Blu-ray.
Prime Day 2023 — Quick links