If you're shopping for OLED TV deals, it's pretty hard to beat the absolute cheapest — and this is the cheapest 65-inch OLED TV I've ever seen.
The Vizio 65-inch 4K OLED TV is $998 at Walmart right now after a huge $501 discount. This Vizio OLED TV is a slightly older model, but you're getting an OLED TV with a large screen for an incredible price.
Update: As of Feb 28 this OLED TV deal is still in stock but we would act fast.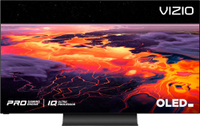 Vizio 65" OLED 4K TV: was $1,499 now $998 @ Walmart
Vizio's OLED TV is in stock and on sale. The 65-inch 4K OLED TV packs Vizio's IQ Ultra CPU and the company's ProGaming Engine, which is designed for Xbox and PS5 gameplay. It supports Dolby Vision HDR, DTS Virtual X, Vizio SmartCast, and a host of digital assistants for hands-free control of your TV. In our Vizio OLED TV review, we said it offers more for your money than most competing OLED TVs. This is the lowest price we've ever seen for any 65-inch OLED.
The Vizio OLED TV is on our list of the best budget TVs, as we think it's the best-value OLED on the market. Granted, it's a slightly older model, but there's still plenty to love about it.
The picture and audio quality of the Vizio OLED TV are both strong, with vivid colors, true blacks and no details lost. Viewing angles are also good enough that you'll have a great view of the TV no matter where you sit in the room. It has a sleek design, too, with ultra-thin bezels and a profile less than three-eighths of an inch thick.
While it didn't make our list of the best gaming TVs, the Vizio OLED TV still isn't half bad for gaming. It has a 120Hz refresh rate and HDMI 2.1 support for the best possible frame rates. Its 21 millisecond lag time isn't ideal, but unless you're trying to go pro, your gameplay won't be hugely affected by it.
While testing the Vizio OLED, we had some minor issues with color accuracy. This TV also can't upscale content to 4K as well as LG and Samsung TVs can. However, for the price, it's not too hard to forget about these flaws.
For comparison, the 48-inch LG A2 OLED for $599 is the absolute cheapest OLED TV available right now. The LG A2 is a good TV, but it has its limitations: its 48-inch screen isn't the biggest, it has a 60Hz refresh rate and there's no HDMI 2.1 support. If you can afford it, the Vizio OLED will be worth the upgrade for many.
Still looking for your perfect TV? Stay tuned to our TV deals coverage for the best sales. Or, Samsung just slashed $500 off this 65-inch QLED TV.