If you've been putting off buying a new air conditioner for the summer, well, I commend you for suffering through one of the hottest spells the U.S. has ever seen. But why not put your sweating aside with a Prime Day deal on one of the best smart air conditioners I've tested.
The Midea U smart air conditioner is now $379 on Amazon, which is 16% off its regular price. That's a pretty cool deal for one of the most innovative — and efficient — air conditioners I've tested.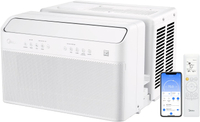 Midea U-Shaped Window Air Conditioner: was $449 now $378 @ Amazon
The Midea window air conditioner's design lets you slide your window between its two halves, which allows more light in, and helps insulate your home better. This deal is for the 10,000 BTU model, which is meant for rooms around 500 square feet in size. It comes with a remote, but can also be controlled via an app, Alexa, and Google Assistant.
When I tested the Midea for our best smart air conditioners page, I was very impressed with its design, which serves a number of purposes. Because it uses your window, rather than flimsy plastic baffles to block the outside, it offers much better insulation. And, because it doesn't block your window, it allows more light in, too. A third benefit is that your window will also block the noise of the air conditioner from coming inside your house, too.
Apart from its design, I also liked that the Midea uses inverter technology to cool your home. Unlike older compressor-style air conditioners, inverters are not only more efficient, but they're also a lot quieter, too; no more waking up in the middle of the night to your AC suddenly cranking on and off. The efficiency is nice, too, especially when electric bills go up in the summer.
The Midea U is quiet enough so that I can have it on in my home office during video calls, and not have to worry about the noise drowning out my conversation. I also like that, because it's connected, I can control it from my phone, program it to turn on and off at set times, and connect it to Alexa routines. If you want to know more, be sure to check out my Midea U smart air conditioner review.
So don't swelter any more, and check out this Prime Day deal before it's gone.