There are plenty of Black Friday deals to choose from this week. However, one of our favorite discounts comes courtesy of Amazon, which is offering one of the best outdoor security cameras at a fraction of its cost.
For a limited time, you can get the Blink Outdoor 4 Camera on sale for just $71 at Amazon. That's 40% off and the lowest price we've ever seen for this camera.
Recent updates
Update (Nov. 20): This deal is still live; we've also added in a few other buying options, too.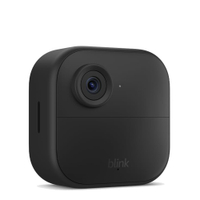 Blink Outdoor 4: was $119 now $71 @ Amazon
The Blink Outdoor is a fully wireless home security camera that records video in 1080p, lets you store video locally (or in the cloud), and has a two-year battery life. The Editor's Choice camera holds a spot in our list of the best home security cameras. It's currently on sale at its lowest price ever.
Price check: $71 @ Best Buy
I've tested dozens of home security cameras, and while there are a lot under or around $100, not all are great. But the Blink Outdoor is an exception: This small, wireless camera can be mounted just about anywhere; it produces very good 1080p video; and its two AA batteries will last up to two years on a charge.
In our Blink Outdoor 4 review, I also liked its comprehensive app, which lets you create custom motion zones, clip length, and more. New to this generation of camera is person detection, which helps you save on battery life. However, you have to sign up for a subscription, which starts at $3/month to store 60 days of rolling footage in the cloud.
Another neat feature of the Blink camera is that you can store video locally on its base station — you just have to bring your own USB key.
If one camera isn't enough, Blink is selling two Blink Outdoor 4 cameras and a base station for $99, a 50% savings over the regular price.
The Blink Outdoor 4 captures night time video pretty well, but if you want a bit more illumination, I also recommend this deal...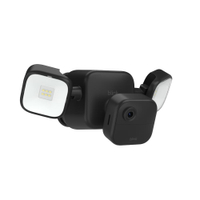 Blink Outdoor 4 Floodlight Camera: was $159 now $79 @ Amazon
This combo kit pairs the Blink Outdoor 4 with a pair of 700-lumen floodlights that can be mounted almost anywhere. This deal cuts the price in half.
Price check: $80 @ Best Buy
I tested the Blink Outdoor 4 Floodlight accessory a few months after the camera came out; I was impressed with how easy it was to install — it comes with a special clip for vinyl siding, so that you don't have to drill into the side of your house. The lights were also very bright, easily illuminating an area of at least 15 feet in front of them. The Floodlight accessory is powered by four D-cell batteries. You can purchase the Floodlight with a Blink Outdoor 4 for $79, or purchase the Floodlight separately for $39.
Not exactly what you're looking for? No problem — because there are plenty of early holiday sales you can shop right now. Make sure to check out the best Ring video doorbell Black Friday deals, as well as our Black Friday deals roundup for the best bargains of the day.