They're not the newest model, but the 2nd-Gen AirPods are the cheapest wireless earbuds you can get from Apple. That's why it's worth paying attention they go on sale.
Right now the AirPods (2nd Gen) are $99 at Amazon. That's $60 off their usual price, making them the cheapest AirPods deal you can get right now. There are other models out there with fancier features, but if you just want good-quality audio and easy connectivity with your Apple devices, the AirPods (2nd Gen) offer great value for money.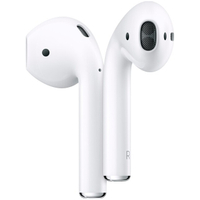 Apple AirPods (2nd Gen): was $129 now $99 @ Amazon
The AirPods 2 are still very capable wireless earbuds. There's no ANC, but you get solid audio performance and up to 5 hours of playback time. The standard lightning charging case gives up to 24 hours of additional charge, and a 15-minute quick charge nets 3 hours of listening time. Hey Siri voice control handles your every command, and adds up to a great deal for you.
The AirPods (2nd Gen) have been succeeded by the AirPods 3, which added Spatial Audio and adjustable EQC. But while these features are useful, they're not essential — if you just want the basics, the AirPods (2nd Gen) are some of the best value wireless earbuds you can buy today.
The 2nd-Gen AirPods are lightweight and comfortable to wear, and they deliver great audio quality. Vocals sound clear and bass comes through strongly. It would be great if there were adjustable EQ settings to get a customizable sound. However, not everybody wants to mess around with settings while they're listening to music, so it's far from a deal-breaking omission.
The touch controls on the AirPods are simple but effective, and the H1 chip means the AirPods pair quickly and easily with other Apple devices.
We also like 2nd-Gen AirPods on calls. Your voice will come across clearly with little interference from background noise, and you'll be able to hear other participants clearly too.
While there are longer-lasting earbuds out there, the AirPods (2nd Gen) still put in a good time. Our reviewer got 4 hours, 49 minutes out of the AirPods, and this extends to 24 hours of listening time when used with the included charging case. In addition, a 15-minute quick charge gets you 3 hours of listening time.
At just $99, the AirPods 2 are a great buy for Apple fans. Looking for more options? Check out our headphone deals coverage.