The Amazon Halo Rise is a sleep tracker that doesn't require you to strap anything to your wrist. It also doubles as a wake-up light and smart alarm. For the first time ever, it's on sale at Amazon.
Currently, you can get the Amazon Halo Rise on sale for $99 at Amazon. That's $40 off and the lowest price we've ever seen for it. It's also one of the best Sleep Week deals we've seen.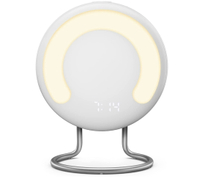 Amazon Halo Rise: was $139 now $99 @ Amazon
The Amazon Halo Rise is a no-contact sleep tracker designed to help you improve your sleeping habits. It also doubles as an alarm clock and wake-up light. In our Amazon Halo Rise review, we called it one of the most interesting sleep tech products to ever hit the market. We also like how it integrates with existing Alexa-powered devices in your home.
The Halo Rise made its debut in November of 2022. It's a minimalistic-looking device that can blend into any room. However, it was made to live on a nightstand next to your bed. A semi-circle-shaped lamp lines half the Halo Rise's face. The light is used to simulate sunrise, but it also functions as a smart light which you can use when reading in bed. When paired with your Echo display or speaker, you can control the light via voice commands.
Via the accompanying Halo app, the Halo Rise can display your daily sleep score, time asleep, time awake, and a chart detailing your sleep stages. In our Amazon Halo Rise review, we found that the data seemed accurate based on data we collected from the Oura Ring and Apple Watch Ultra.
The Halo Rise will show you averages for your time asleep, how long it takes you to fall asleep, and disturbances/overall sleep efficiency. It can even wake you up at the optimal point in your sleep cycle, so that you feel well rested when you awake.
The Halo Rise includes six free months of Halo membership. After your trial is up, you can cancel it or it will auto-renew for $3.99/month. Membership includes additional features like workouts and nutrition to enhance your sleep. However, we think you can get the most from your Halo Rise without the added subscription.
Though we were skeptical at first, the Halo Rise is a fun device that can indeed help you get a better night's sleep.