If you sleep hot and are shopping the early Black Friday deals looking for a new cooling bed for less, Nectar may have what you're looking for. Right now you can save 33% on the Premier Copper Hybrid at Nectar Sleep, bringing the price of a queen size down to $1,499 (was $2,249), which is very competitive for a cooling bed of this quality.
Nectar features highly in our official best mattress guide for its pure memory foam bed, and the Premier Copper is the next step up. It's also the brand's most breathable mattress, designed with a raft of cooling technology to prevent overheating at night.
As we mentioned in our Nectar Premier Copper Hybrid mattress review, this bed also provides excellent support for side sleeping, thanks to a combination of classic memory foam and eight-inch layer of insulated coils and springs, boosting comfort levels and overall breathability. There's 33% off thanks to this pre Black Friday mattress sale, plus you'll get free shipping, a 365-night trial and a lifetime warranty. That's excellent value for money on a top-rated mattress in a box.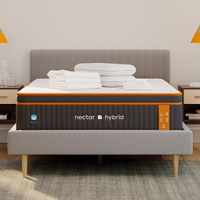 Nectar Premier Copper Hybrid mattress by Nectar
Was: $1,499
Now from: $799 at Nectar Sleep
Saving: up to $1,100
Summary: During testing, we found the Nectar Premier Copper to be one of the most effective temperature regulating mattresses on the market, thanks to its intricate layer of coils and springs and cooling technology designed to wick away heat. However, you don't have to be a hot sleeper to appreciate the Nectar Premier Copper Hybrid. Nectar rates this mattress as a 6-6.5 out of 10 for firmness level (making it a medium-firm), which we would agree with. This comfort level means it's well suited to side sleepers, as it could prove to be too soft for stomach sleepers.
Benefits: 365 night trial | Lifetime warranty | Free shipping
Price history: While 33% is undoubtedly an excellent saving, it is worth nothing that this is a pretty standard saving from Nectar. We've seen Nectar offer as much as 40% discount in the past, so it could be worth holding to see what discounts Black Friday brings.
Do you need a cooling mattress?
For those who hail from hotter climes, suffer from hot flashes or just generally run a little hot, the best cooling mattresses will help you keep your temperature regulated throughout the night. Natural mattresses are an excellent choice for cooler sleep too, so take a look at brands such as Awara, Birch and Avocado Green – check out our guide to the Avocado mattress deals for the latest offers.
However, if your budget doesn't allow for a brand new mattress (or you're just hanging on to see if you can grab a Black Friday discount), a cooling mattress topper is the next best thing. As part of our roundup of the best mattress toppers on the market, we rated the Casper Comfy Mattress Topper as the best for hot sleepers.