if you're the proud owner of a Google Pixel, or plan on picking up the Google Pixel 8 or Pixel 8 Pro, then this is one deal you do not want to miss out on. Google's Pixel Stand 2 wireless charger has just dropped to $59 in an early Prime Day deal over on Amazon. That's 25% off the normal price, and just $6 higher than the all-time low.
The Pixel Stand 2 is what finally convinced me that wireless charging was actually worthwhile. It's also the only way for a Pixel phone to reach the fastest possible wireless charging speeds. That alone makes this a must-have purchase for Pixel owners — with everything else coming as an added bonus.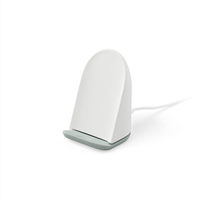 Google Pixel Stand 2: was $79 now $59 @ Amazon
Get the fastest possible wireless charging speed on your Google Pixel, including the new Google Pixel 8 — all while turning your phone into a miniature smart display. Plus, built-in fans can keep your phone nice and cool, and avoid any nasty heat build-up.
I was never a particularly big fan of wireless charging until I got the Pixel Stand 2. Chargers I'd used were all slow and inefficient, leading to an unnecessary amount of heat build-up. Better ones were out there, but with such high price tags I never actually gave them a shot. Owning a Pixel 6 Pro and picking up a Pixel Stand 2 changed all that.
While it is a bit bulky compared to using a regular phone stand, there's no doubting the Pixel Stand 2's effectiveness. For Pixel owners that means unlocking the fastest possible recharging speeds, and a feature that turns your phone into a miniature smart display as soon as you pop it down. It's like having a mini Nest display you can pick up and carry around in your pocket.
And if you ever need wired charging in a pinch, the Pixel Stand 2 is powered by Google's 30W fast charger — complete with USB Power Delivery. So you can always pop out the power socket and plug it into your phone. That includes non-Pixel devices, provided they support USB-PD. That's a pretty helpful loophole for the Pixel Stand 2's 15W non-Pixel limit as well.
This isn't the lowest price the Pixel Stand 2 has ever gotten, but it isn't that far off. While we may see prices drop a little lower once Prime Day and the Pixel 8's release day arrive, this is still a pretty significant savings.