Now is the time to secure your Mother's Day gifts as the annual celebration of moms is this Sunday (May 14). And if you're hoping to buy the perfect present and save a little money at the same time, you might want to head over to Best Buy.
For a limited time, Macy's gift cards are discounted at Best Buy. There are multiple denominations on sale right now but the biggest savings is on a $200 card gift which has dropped to just $160, that's a discount of $40. You can also score a $100 Macy's gift card for $80 or a $50 Macy's gift card for $40.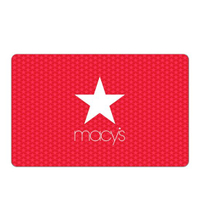 Macy's digital gift cards: up to $40 off @ Best Buy
Best Buy has reduced multiple Macy's gift cards with the biggest saving being $40 off a $200 card, dropping it down to $160. These cards can be used to purchase pretty much anything at Macy's online store or at any physical location nationwide. These are perfect for scoring a Mother's Day gift at a reduced price.
Macy's digital card gifts can be redeemed at either Macys.com or any Macy's retail store nationwide. Because you get the cash value of the card to spend, with these savings you're essentially getting free money, so if you're planning to make a Macy's purchase in the near future there is no reason not to stock up.
Right now Macy's is running a whole load of sales to celebrate Mother's Day and some of the biggest savings include up to 25% off clothing, jewelry and accessories when using discount code MOM. So head over to the Macy's Mother's Day sales landing page and start shopping for the perfect gift as there's limited time left to order and have it arrive in time for Sunday.
Alternatively, if you're really stuck for ideas, you could give your mom a Macy's gift card and let them pick out the perfect gift themselves. Of course, that's the lazy option, and really it's the thought that counts most. So go the extra mile and pick something nice for your mom. They'll probably appreciate it no matter what you select, and you don't need to tell them you got the present with a discounted gift card either!
This Best Buy deal is set to run through the rest of the day (Tuesday, May 9), so if you want to save on your next Macy's purchase, be sure to pick up your discounted gift cards as soon as possible. Definitely don't delay getting a Mother's Day gift until the last minute, or it'll cost you.